22 DAYS IN JAPAN
From historical sites to volcanic mountains and modern Japan.
---
Days
Day 1: Arrive at Tokyo Narita Airport
Stay
Hilton Tokyo Narita Airport
Hotel option
Sky Heart Hotel Narita
Hotel option
Narita Tobu Hotel Airport
Hotel option
Transit
Narita International Airport (NRT)

Photos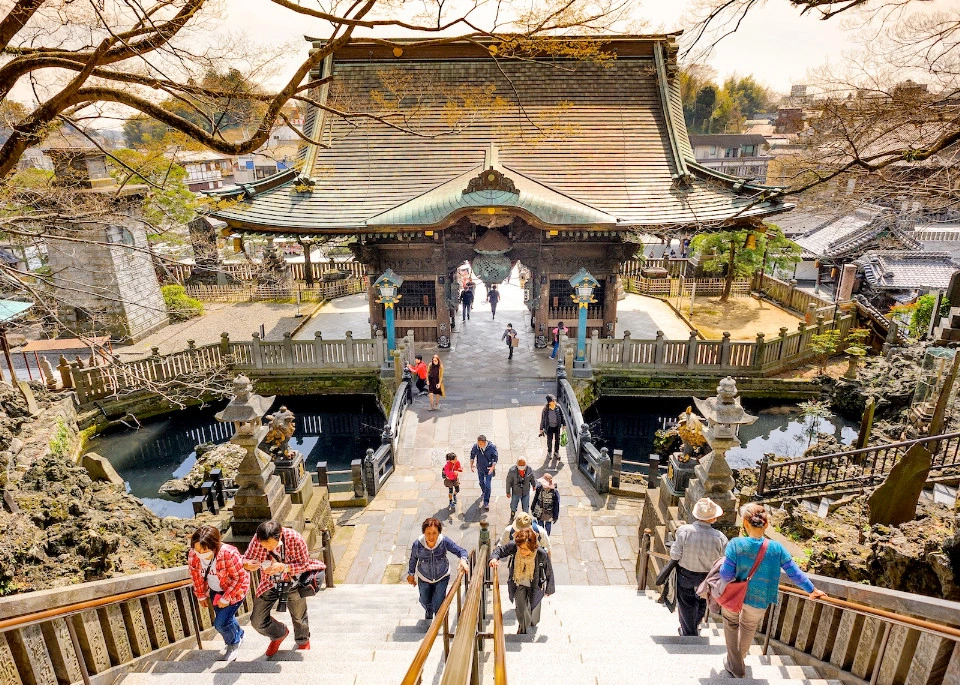 Day 2: Nagasaki (Day 1)
Visit
Nagasaki City
Take limo bus to city center from NGS
Glover Garden
Glover Garden (グラバー園, Glover-en) is an open air museum in Nagasaki that exhibits mansions of several of the city's former foreign residents and related buildings. It is located on the hill where Western merchants settled down after the end of Japan's era of seclusion in the second half of the 19th century.
Oura Church
Oura Church (大浦天主堂, Ōura Tenshudō) is a Catholic church in Nagasaki. Built towards the end of the Edo Period in 1864 by a French missionary for the growing community of foreign merchants in the city, it is considered the oldest standing Christian church in Japan.
Meganebashi Bridge
Meganebashi (眼鏡橋, lit. Spectacles Bridge) is the most remarkable of several stone bridges that span the Nakashima River in downtown Nagasaki. The bridge, which gets its name from the resemblance it has to a pair of spectacles when reflected in the river water, is a popular tourist attraction and is designated as an important cultural property.
Mount Inasa
Mount Inasa (稲佐山, Inasayama) is a 333 meter high mountain close to Nagasaki's city center. The summit can be reached by ropeway, bus or car and offers great views over the city. In fact, the night views from Mount Inasa are ranked among Japan's three best night views besides the views from Mount Hakodate and Mount Rokko. Several television and radio antennas and an observation deck with restaurant are located at the summit.
Eat
Dejima Wharf
Nagasaki Dejima Wharf is a commercial complex where visitors can enjoy meals while gazing out at the scenery of Nagasaki Port. A variety of kinds of restaurants and cafes are available here, including locally-sourced fresh seafood cuisine, fashionable dining bars, popular Chinese dishes such as medicinal herb hot pot, shops that sell latte art and gelato, and more.
Nagasaki Shinchi Chinatown
Nagasaki Shinchi Chinatown (長崎新地中華街, Nagasaki Shinchi Chūkagai) is the oldest Chinatown in Japan. The district in downtown Nagasaki stretches over approximately one city block dissected by intersecting lanes and is home to a variety of shops and restaurants. It is the best place to eat Nagasaki's famous, Chinese-influenced dishes, Chanpon and Sara Udon.
Stay
Luke Plaza Hotel
Hotel option
Garden Terrace Nagasaki Hotel & Resort
Hotel option
Station Hotel Nagasaki Suwa
Hotel option
Photos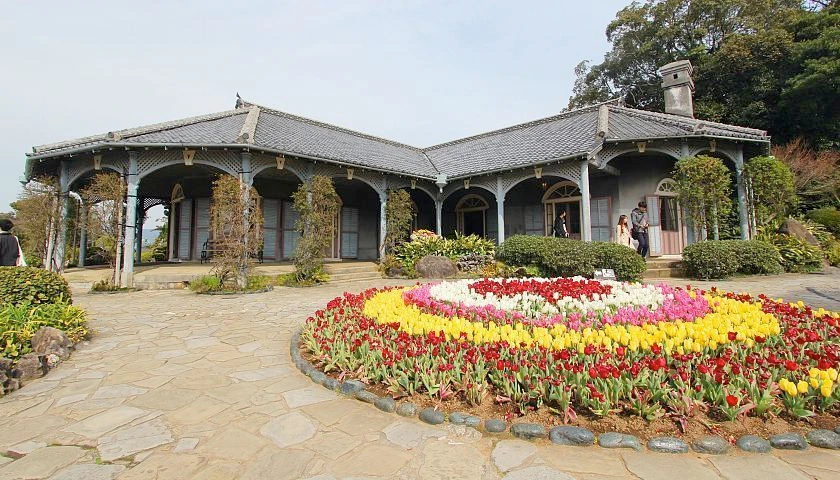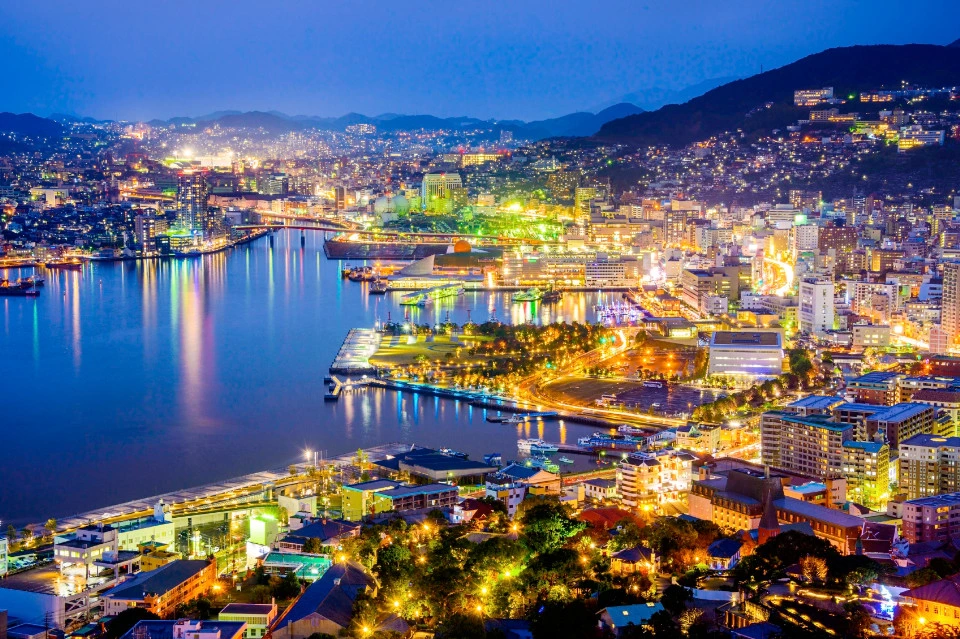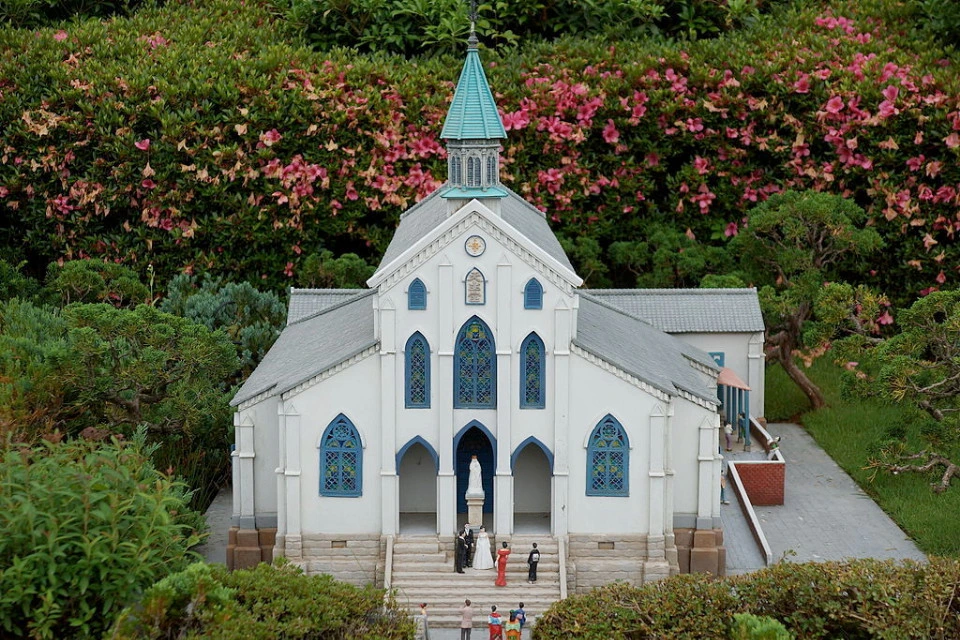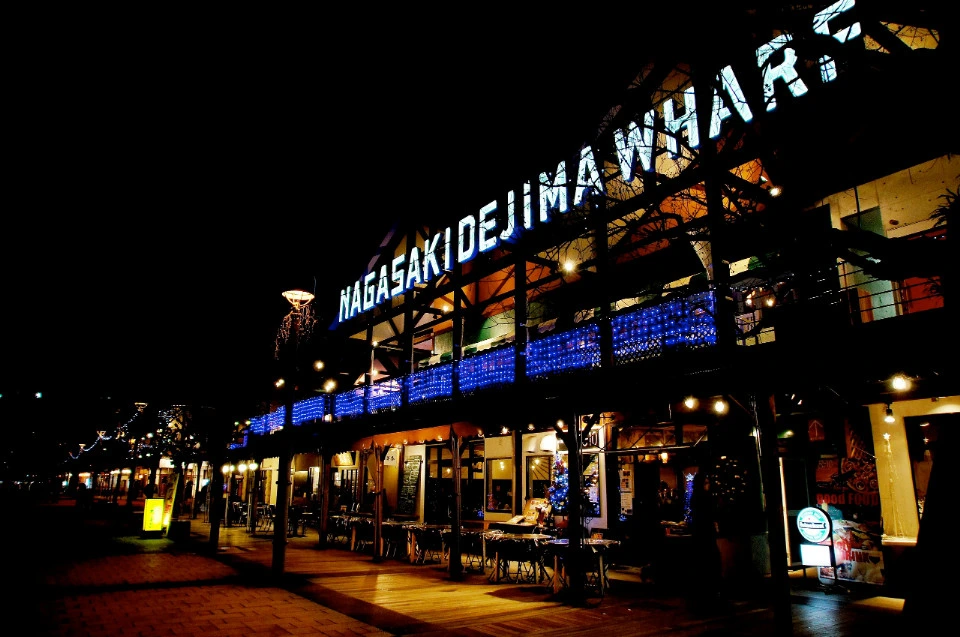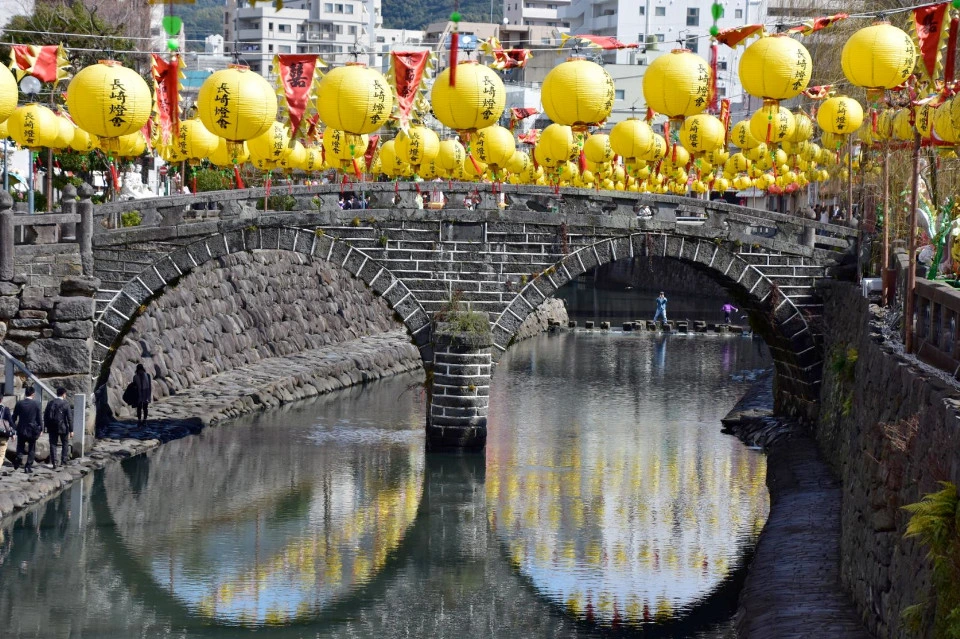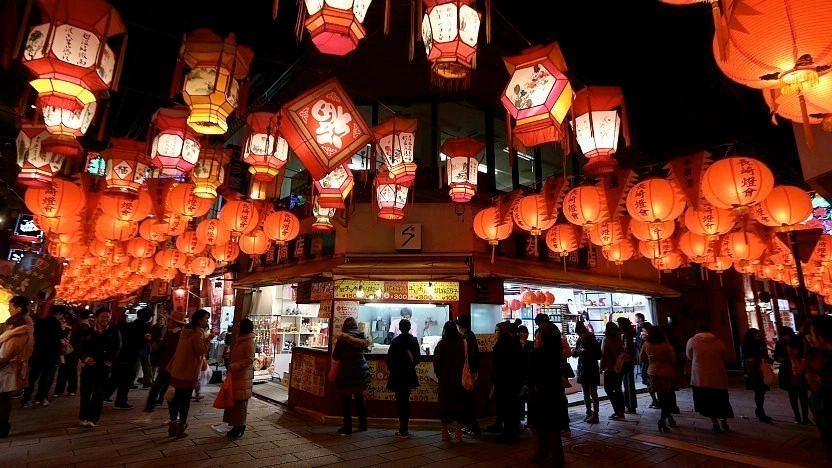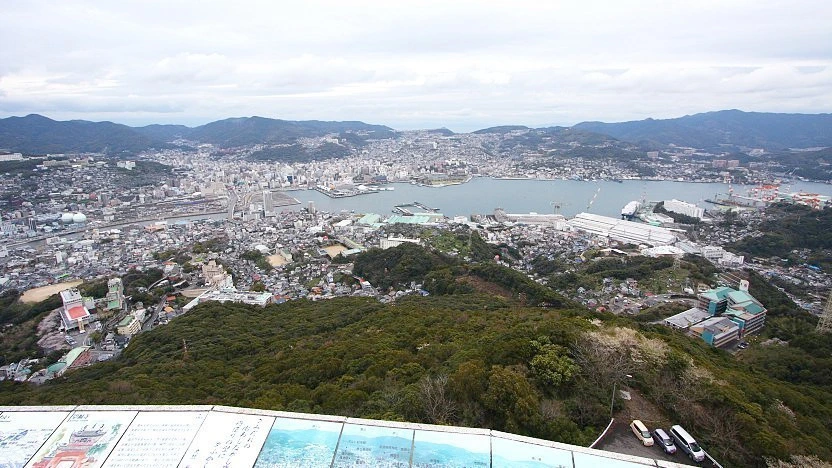 Day 3: Nagasaki (Day 2)
Visit
Peace Park
The Nagasaki Peace Park (平和公園, Heiwa Kōen) is a tranquil space that commemorates the atomic bombing of Nagasaki on August 9, 1945, which destroyed a significant portion of the city and killed tens of thousands of inhabitants. The complex is comprised of two parks and a memorial museum.
Nagasaki Atomic Bomb Museum
Built in remembrance of and out of respect for the victims and survivors of the atomic bomb, the museum presents an imposing exterior. The inside exhibits are no less harrowing and cover the history of Nagasaki both before and after the bomb.
Urakami Cathedral
Urakami Cathedral (浦上天主堂, Urakami Tenshudō) is a Catholic church in Nagasaki with a tragic yet interesting history. Today a working church housed in a large, European-style, red brick building, the cathedral is home to various relics that survived the atomic bombing.
Nagasaki Prefectural Art Museum
The Nagasaki Prefectural Art Museum (長崎県美術館, Nagasaki-ken Bijutsukan) is a modern and spacious complex attractively located by the port of Nagasaki. The museum, which was designed by famous architect Kuma Kengo, opened in 2005 and contains permanent collections of art related to Nagasaki as well as a large collection of Spanish art. In addition, it also hosts temporary exhibitions.
Sanno Shrine one-legged Torii Gate
The Sanno Shrine, situated 900 m from the center of the blast, was instantly obliterated by the explosion and the 4000°C heat wave vaporized nearby trees. The only thing that remained is the torii arch standing on a single pillar, reminding us of the tragedy that took place.
Nagasaki Museum of History and Culture
Nagasaki Museum of History and Culture (長崎歴史文化博物館, Nagasaki Rekishi Bunka Hakubutsukan) is a well-executed, modern museum dedicated to Nagasaki's history as one of Japan's major international trading ports. The fairly large, permanent exhibition is spread over two floors and is comprised of various sections, each focusing on a different facet of Nagasaki's rich history.
Photos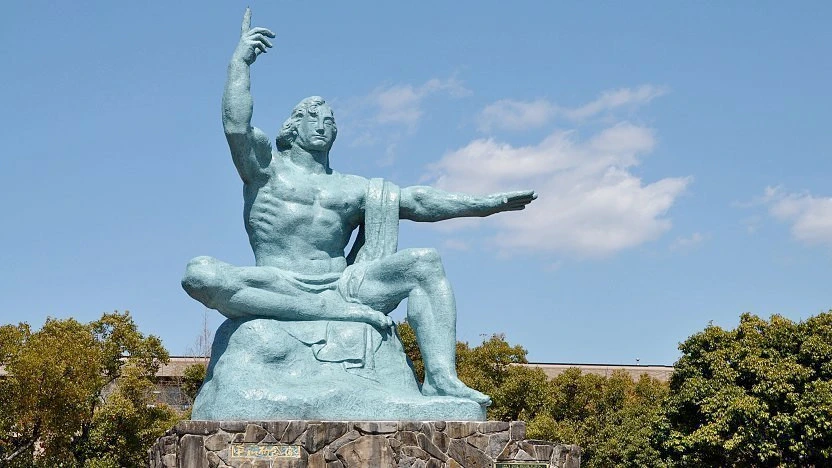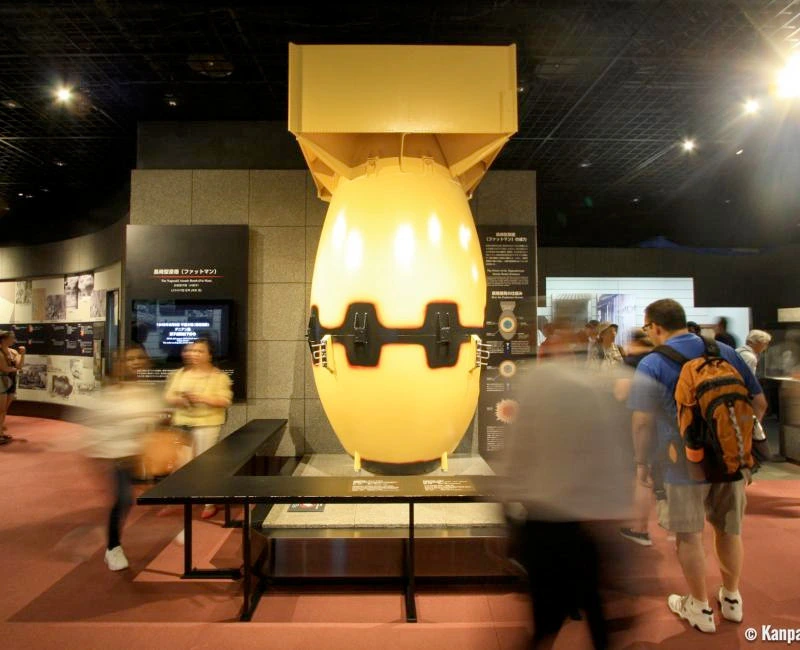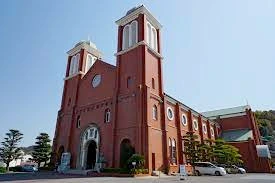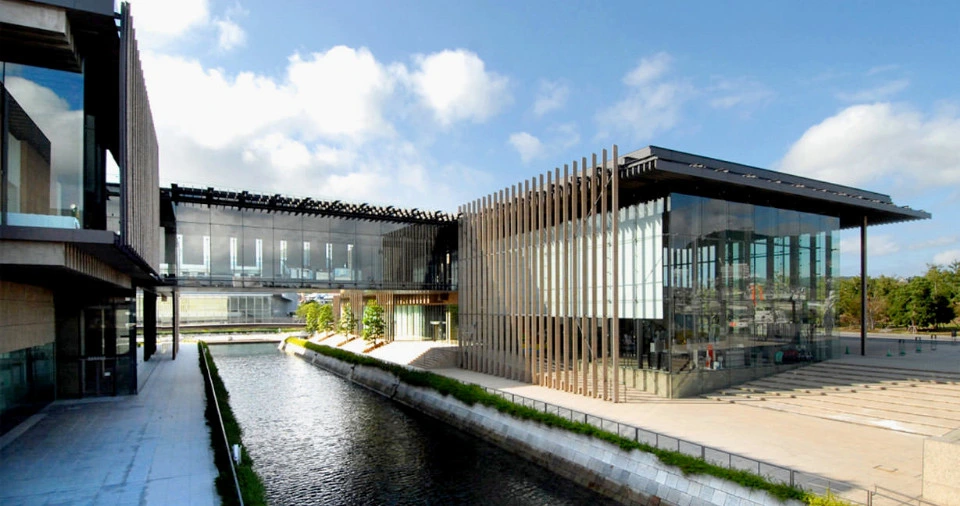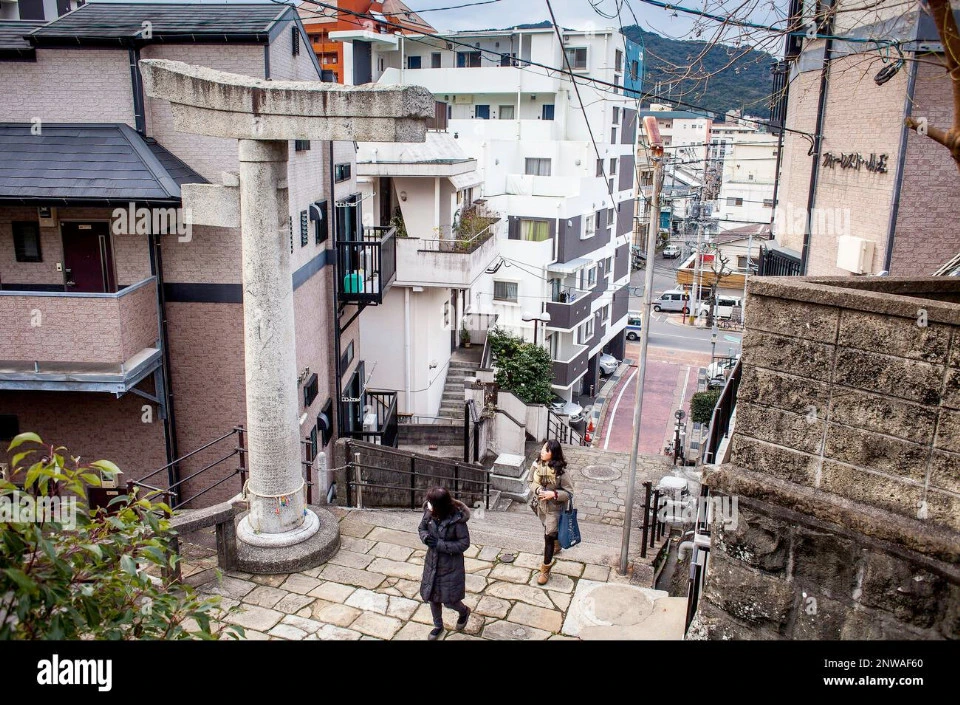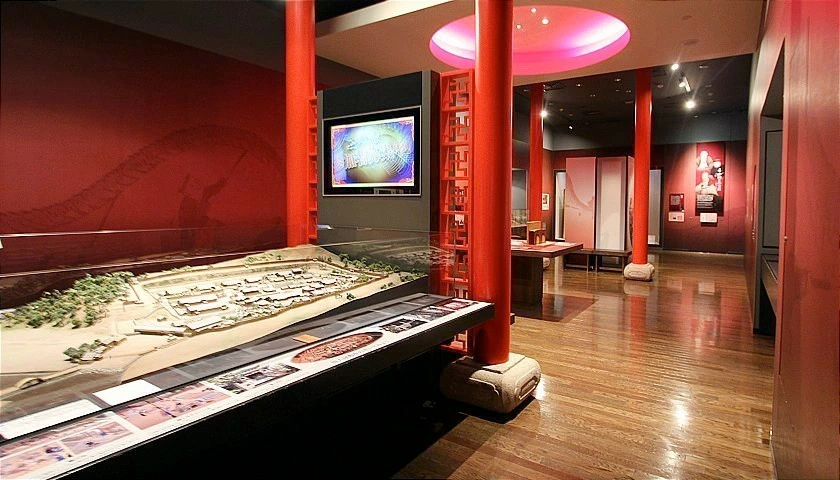 Day 4: Fukuoka (Day 1)
Visit
Fukuoka

Fukuoka Tower
Fukuoka Tower is Fukuoka's tallest building and the tallest seaside tower in Japan. Commanding the skyline at the western edge of Fukuoka's coast, it is one of the city's most iconic buildings.
Fukuoka Castle Ruins
The ruins of Fukuoka Castle (福岡城跡, Fukuokajōato) are located in the middle of the city in Maizuru Park, named after the castle's alias, Maizuru Castle. During the Edo Period (1603-1868), Fukuoka Castle used to be the largest castle on Kyushu, but it was almost completely torn down after the Meiji Restoration as an unwanted symbol of the feudal past. Nowadays only ruined walls and a few turrets remain.
Fukuoka Art Museum
Surrounded by the greenery of Ohori Park, the Fukuoka Art Museum has a unique permanent collection comprised of a gallery of ancient Buddhist statues paired with a gallery of paintings and sculptures by modern artists like Miro and Dali. Besides the permanent collection, the museum also holds a variety of special temporary exhibitions.
Ohori Park
Ohori Park (大濠公園, Ōhori-kōen) is a pleasant park in central Fukuoka with a large pond at its center. There is a walking path around the circumference of the pond that is just a little over two kilometers long and is popular for jogging, walking pets and leisurely strolls by the water.
Eat
Yatai Mamichan
Yatai street food stalls come alive after sunset across Fukuoka and are typically in service from 6 pm to 2 am. The yatai food stalls are only closed one day a week, but which day depends on the stall, as each is different, meaning that there's always an opportunity to visit no matter what day of the week! This makes it perfect for dinner, or an after-drink snack stop to soak up the alcohol before heading home.
Transit
Nagasaki Station

Shimoyamato Station

Photos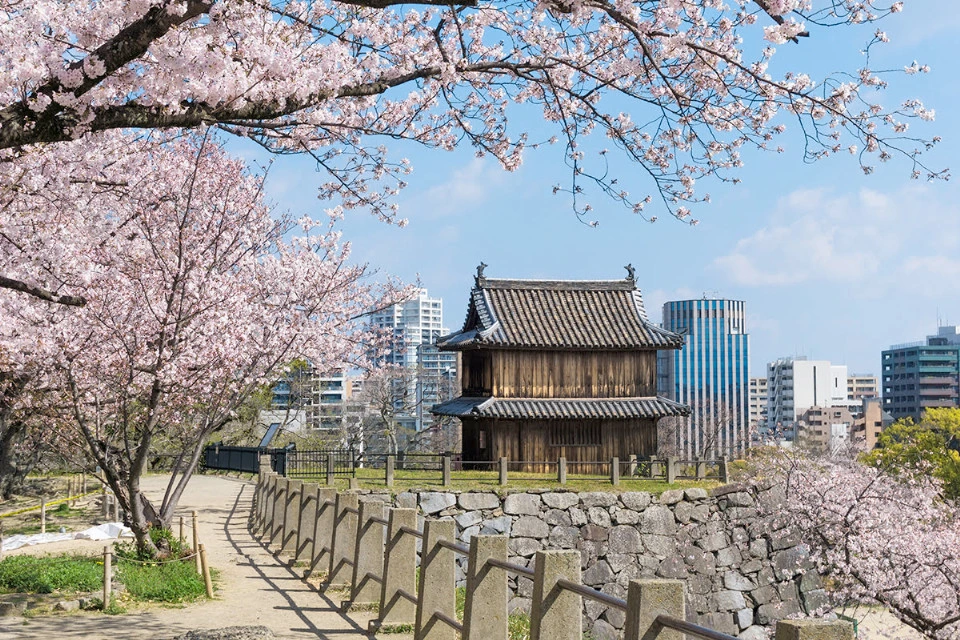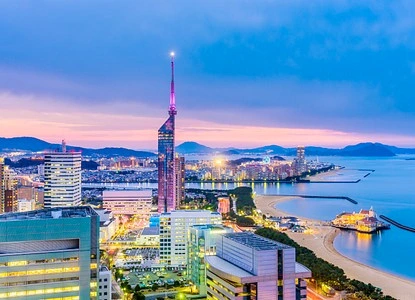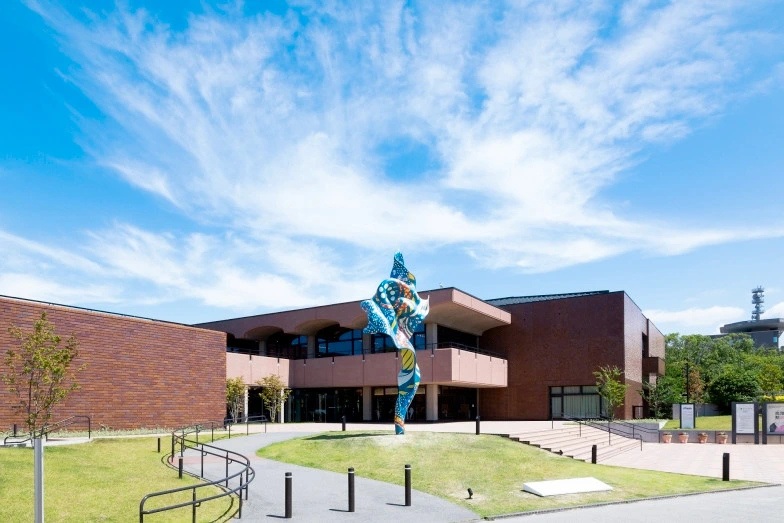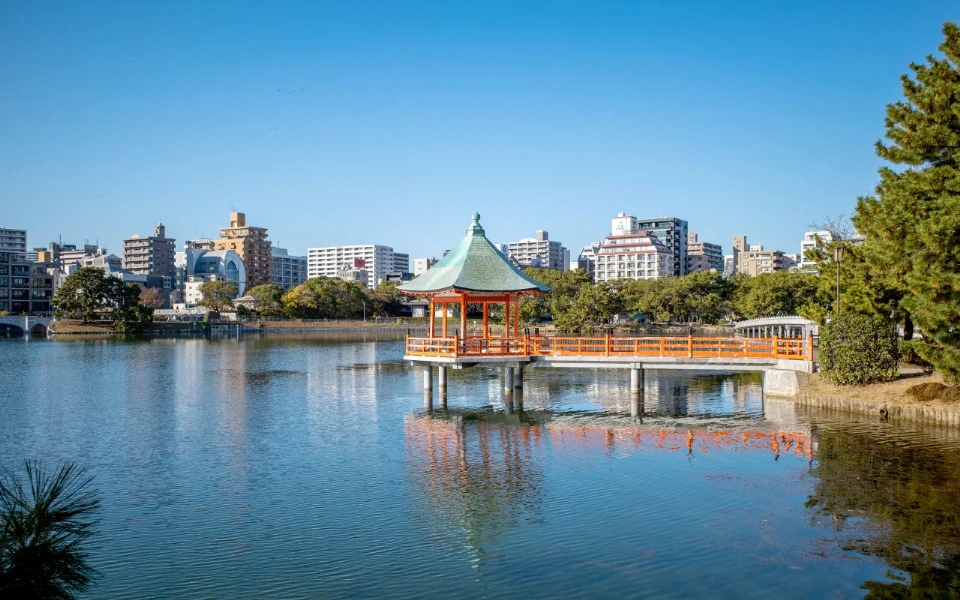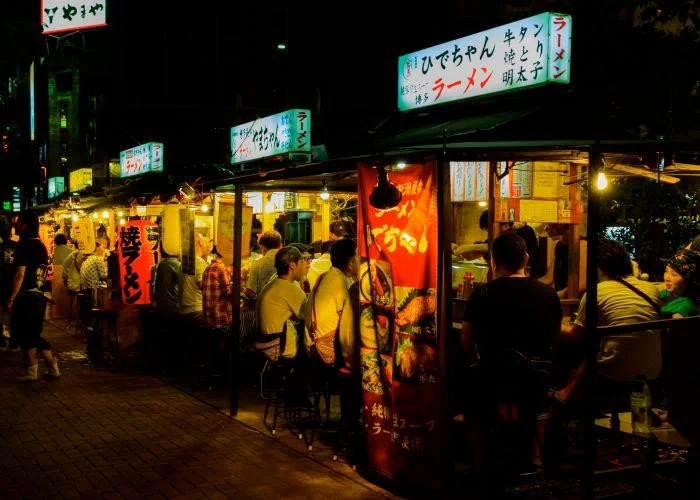 Day 5: Yufuin / Fukuoka (Day 2)
Visit
Yufuin

Fukuoka

Yufuin Floral Village
Surrounded by hills and mountains, the series of houses and stores are so small that an average adult can touch their roof. Each building is carefully decorated with flowers, bushes and lamps above the doors. Apparently, the inside is just as intriguing, regardless if it's a garage or a store.
Yufuinchō Kawakami
Pool-like sprawls of naturally heated onsens surrounded by endless pristine nature and quaint small-town energy
Canal City Hakata
Canal City Hakata (キャナルシティ博多) is a large shopping and entertainment complex, calling itself a "city within the city". Attractions include about 250 shops, cafes and restaurants, a theater, game center, cinemas, two hotels and a canal running through the complex.
Tenjin Underground Mall
Tenjin, located in central area of ​​Kyushu Fukuoka. The Tenjin Underground Shopping Area (common name: Tenchika) is a shopping center underground. Near 150 shops are lined up along the streets of a total length of 590m that was inspired by 19th Century Europe.
Transit
Shimoyamato Station

Yufuin Station

Photos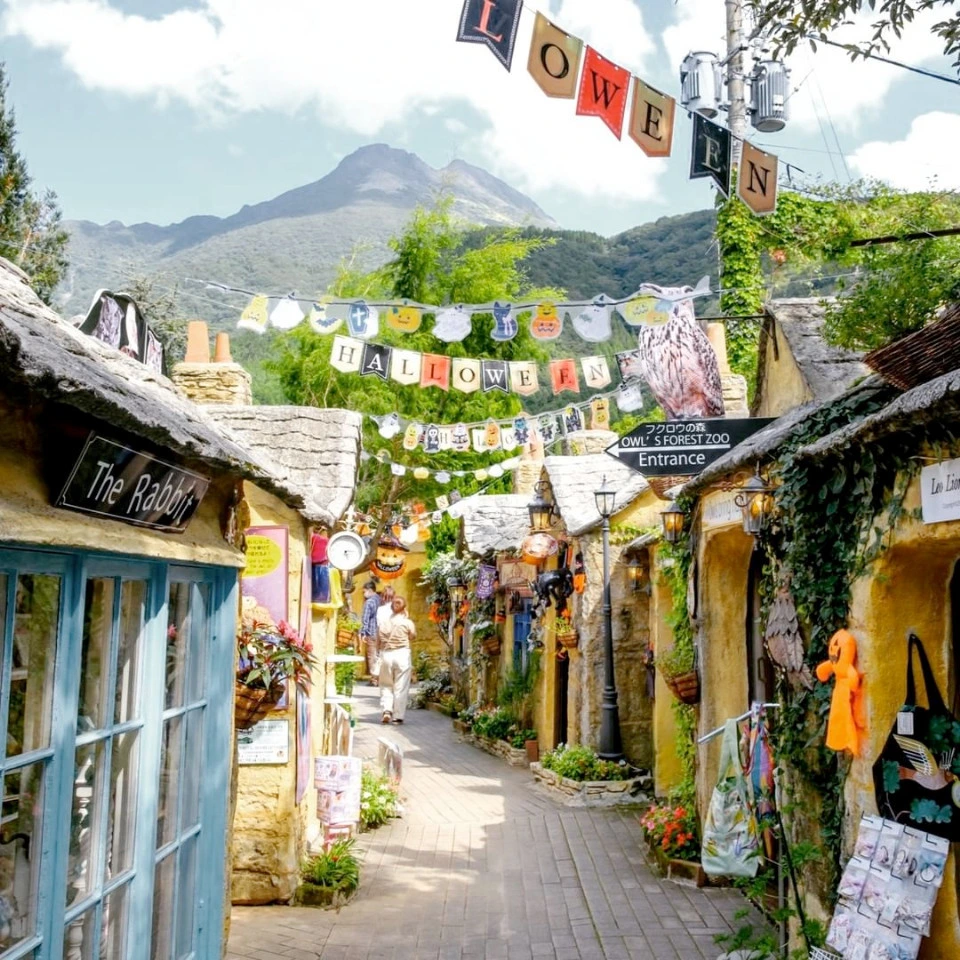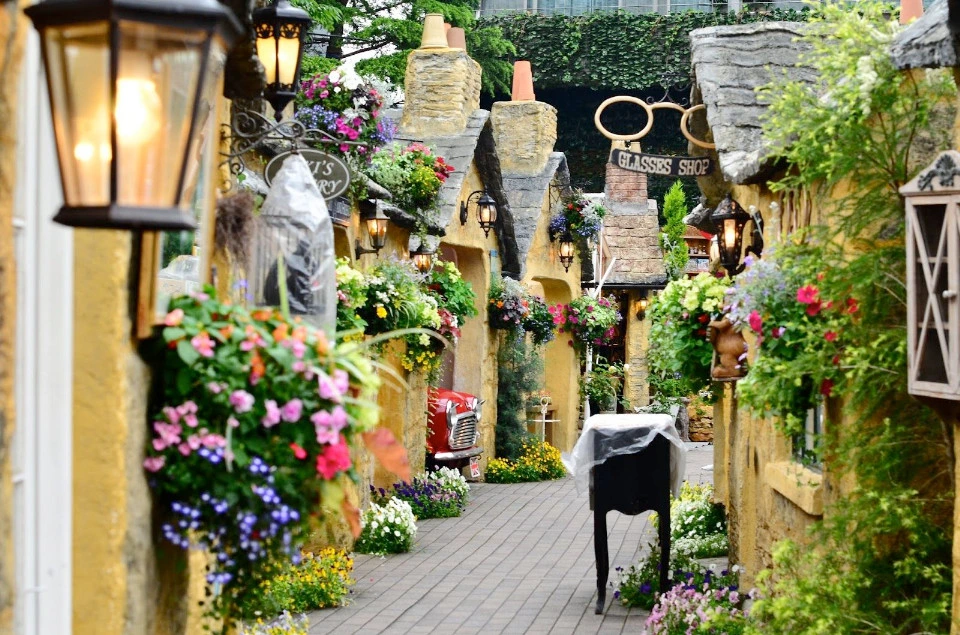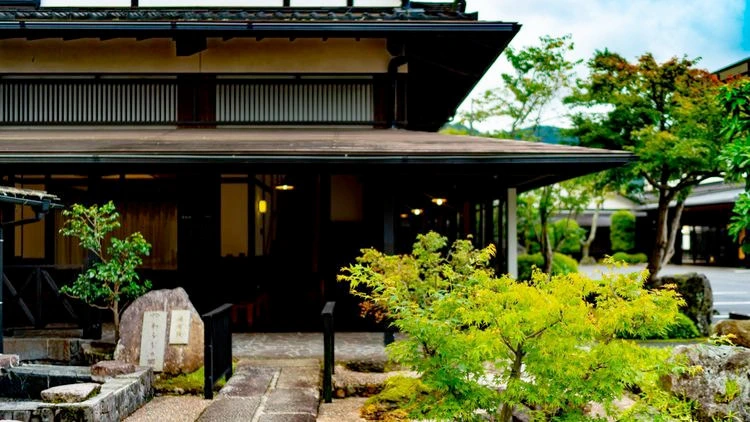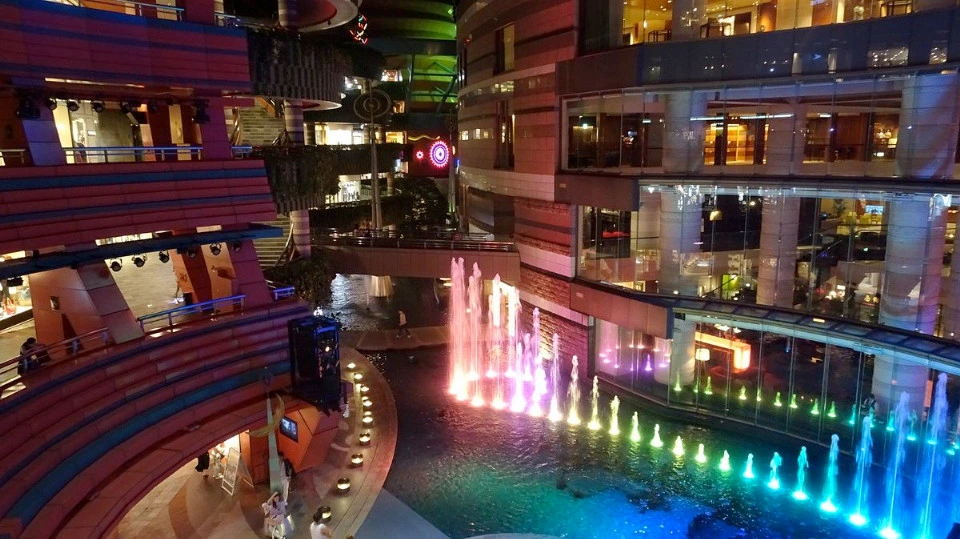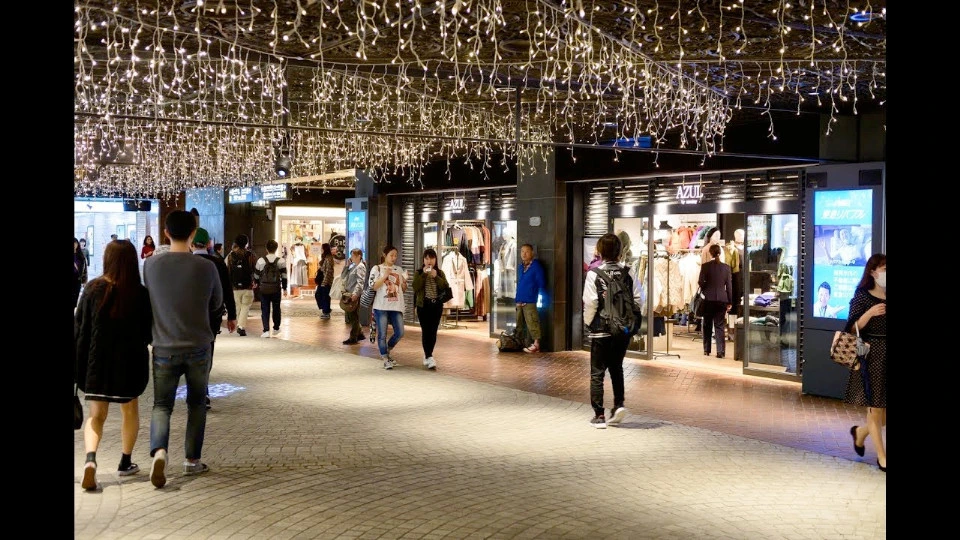 Day 6: Fukuoka (Day 3)
Visit
Fukuoka

Kushida Shrine 櫛田神社
The Kushida Shrine of Hakata is one of the oldest shrines in Fukuoka. Famous for its Hakata Gion Yamakasa Festival, this shrine has many amazing attractions such as the largest otafuku mask in Japan and a fountain where people pray for eternal youth.
Hakatamachiya Furusatokan
This facility introduces visitors to the way of life in Hakata, mainly during the Meiji and Taisho eras (1868-1912 and 1912-1926). Machiya Hall has been designated a Cultural Property of Fukuoka City. There are displays of traditional crafts, and exhibits relating to the history and culture of Hakata in the Exhibition Hall, and you can join in a traditional crafts workshop here. You can purchase various souvenirs in the Souvenir Shop, including traditional crafts and confectionery.
Uminonakamichi Seaside Park
Uminonakamichi Seaside Park (海の中道海浜公園, Uminonakamichi Kaihin Kōen), is a sprawling, family-oriented park located on a narrow peninsula across the bay from central Fukuoka. The park is made up of several different areas including flower gardens, playgrounds, sports fields, a water park, a zoo and large open spaces and lawns perfect for picnicking.
Transit
Kumamoto Station
30-40 minutes
Photos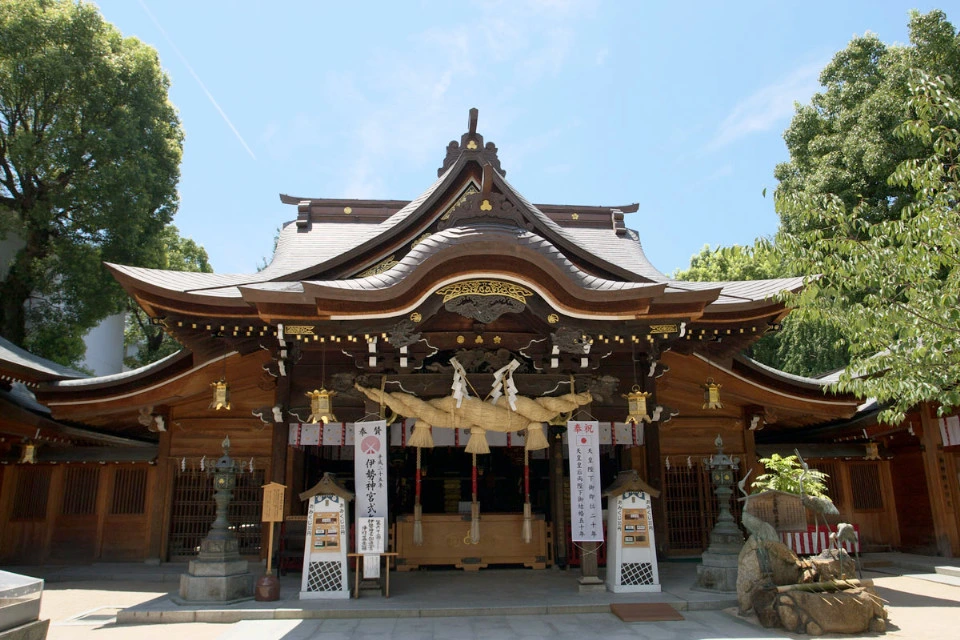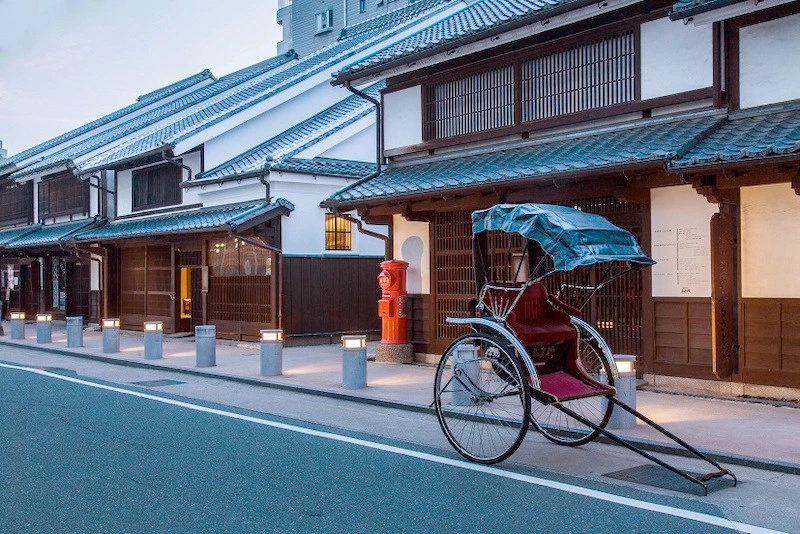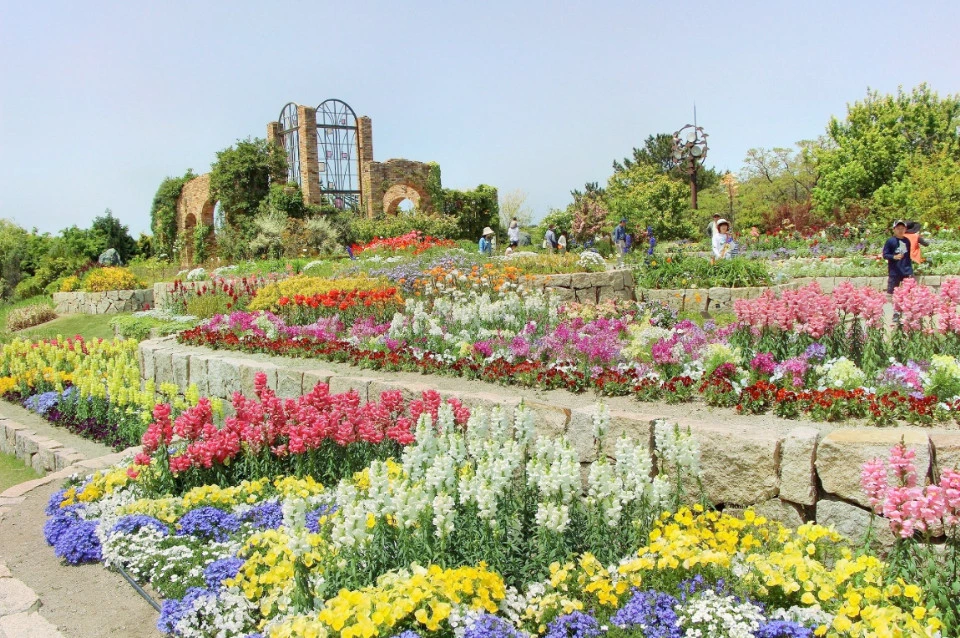 Day 7: Kumamoto
Visit
Kumamoto

Kagoshima
2.5 hour drive from Kumamoto by car.
Suizenji Koen
Suizenji Garden (水前寺成趣園, Suizenji Jōjuen) is a spacious, Japanese style landscape garden in Kumamoto, best enjoyed by strolling along a circular path. It was built by the Hosokawa family in the 17th century. The garden reproduces the 53 post stations of the Tokaido, the important road, which connected Edo with Kyoto during the Edo Period, in miniature form, including a small Mt. Fuji.
Kumamon Square
Kumamon Square is the" "office" "of the famous mascot Kumamon of Kumamoto Prefecture. The bear mascot was created in 2011 to improve public relations in Kumamoto. Kumamon works as an official of the prefecture and is with the dual roles of sales manager and sales manager Happiness Manager for Kumamoto Prefecture.
Kumamoto Castle
Kumamoto Castle (熊本城, Kumamotojō) is one of the most impressive castles in Japan. With large castle grounds and a variety of buildings, Kumamoto Castle offers its visitors one of the most complete castle experiences in Japan.
Sakura no baba Josaien
In the Edo Period (1603-1868), a bustling town sprawled at the foot of Kumamoto's formidable castle. Today, that town looks quite a bit different, but you can still find a taste of the old days at Sakura-no-baba Josaien, an Edo-themed complex just down the hill from Kumamoto Castle.
Photos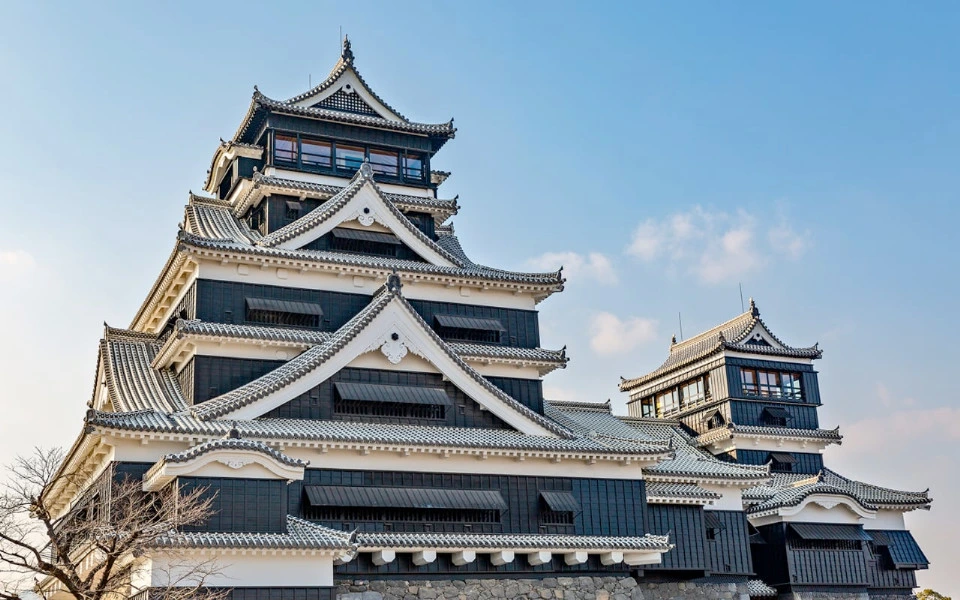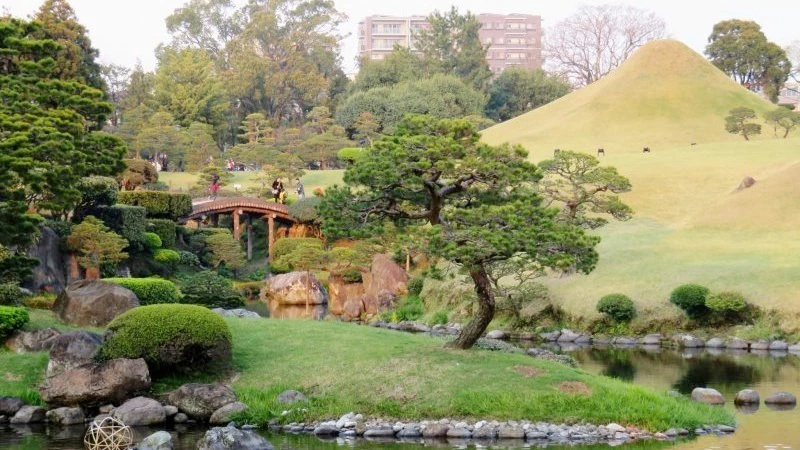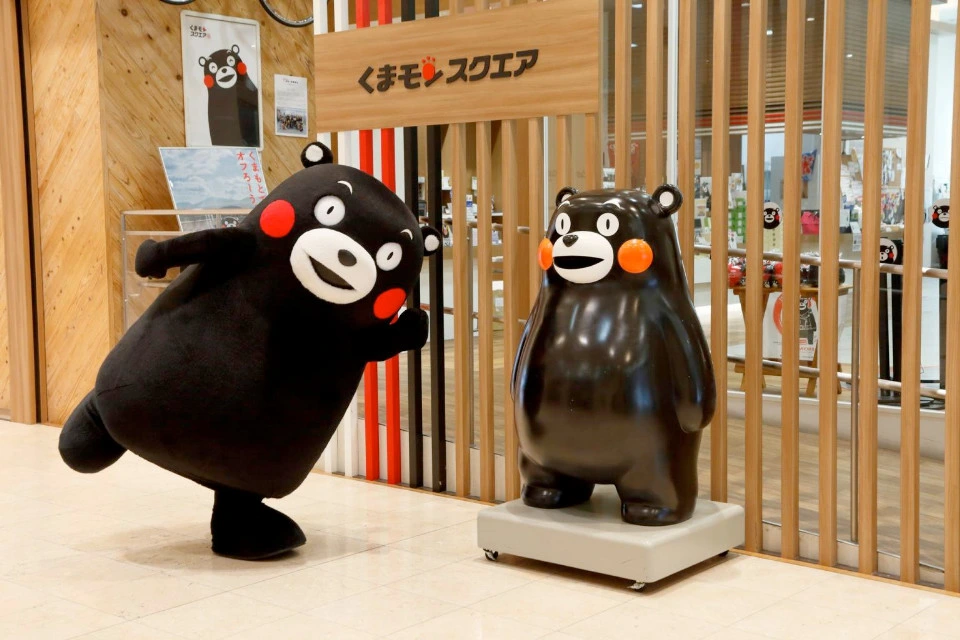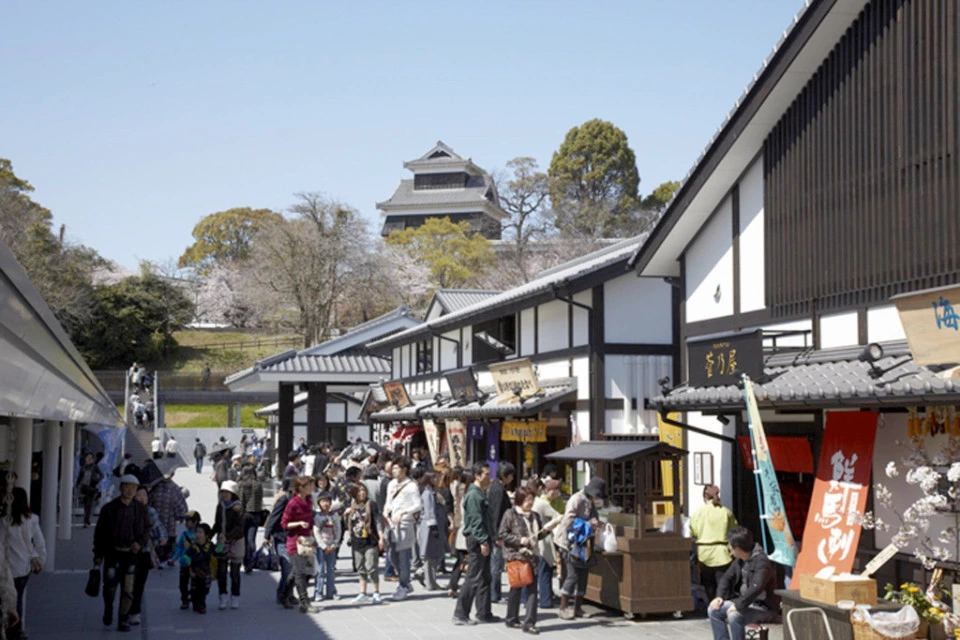 Day 8: Kagoshima
Visit
Kagoshima
2.5 hour drive from Kumamoto by car.
Sakurajima
(Via ferry) Sakurajima (桜島) is one of Japan's most active volcanoes and the symbol of Kagoshima. The volcano smokes constantly, and minor eruptions often take place multiple times per day. Located in the middle of Kagoshima Bay, Sakurajima is the area's most prominent geographic feature, having an elevation of 1117 meters and a circumference of about 50 kilometers.
Arimura Lava Observation Deck
Free observatory on the Taisho lava field at the foot of Minamidake offering mountain views.
Sakurajima Volcanic Shore Park and Footbath
"Sakurajima" Yogan Nagisa Park is situated on the shore, an eight minute walk from Sakurajima Port. There is a 100-m long footbath, one of the longest in Japan, fed by a natural hot spring from 1,000 m underground is in the park. The terra-cotta colored water contains iron. Why not relieve your travel fatigue in the footbath while viewing Kinko Bay in front and Sakurajima behind? You can purchase Sakurajima's original towels at the Sakurajima Visitor Center and Rainbow Sakurajima Inn.
Shiroyama Park Observation Deck
Shiroyama Park (城山公園, Shiroyama Kōen) is a park in downtown Kagoshima that extends over Mount Shiroyama. With an elevation of 107 meters, the mountain formerly served as the site of a castle fortification, which led to its name. Shiroyama literally means "castle mountain" in Japanese. The castle's former grounds at the base of the mountain now serve as the site of the Reimeikan Museum.
Tenmonkan Street
Tenmonkan Street in Kagoshima-shi is known as the biggest and most thriving shopping street in Kagoshima. This street is lined with many souvenir shops where you can buy all kinds of local specialties, cakes, and confectionaries of Kagoshima.
Photos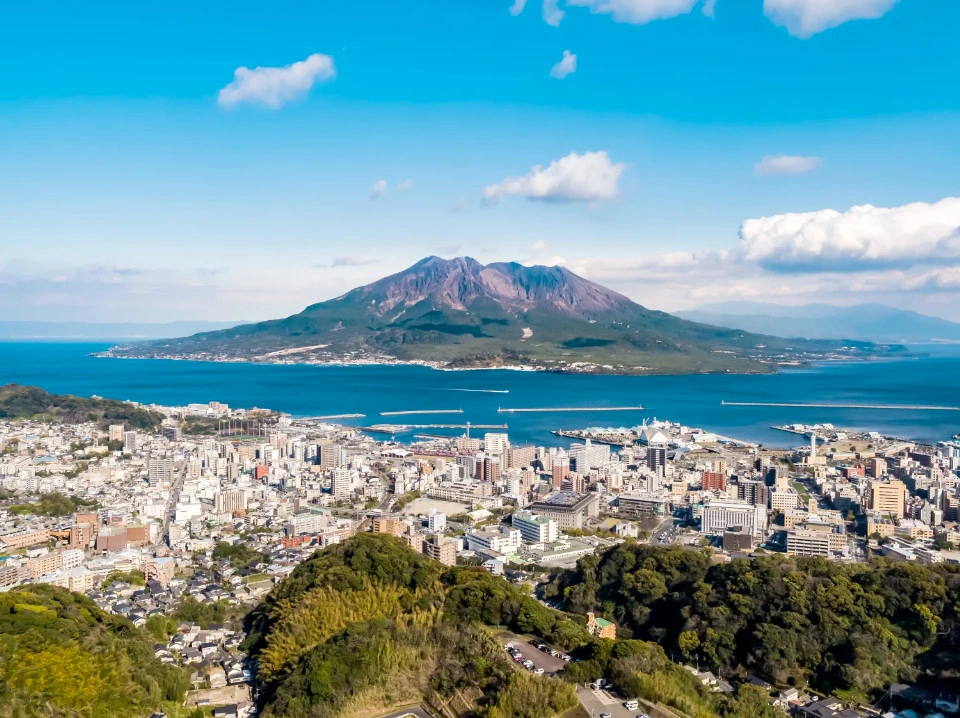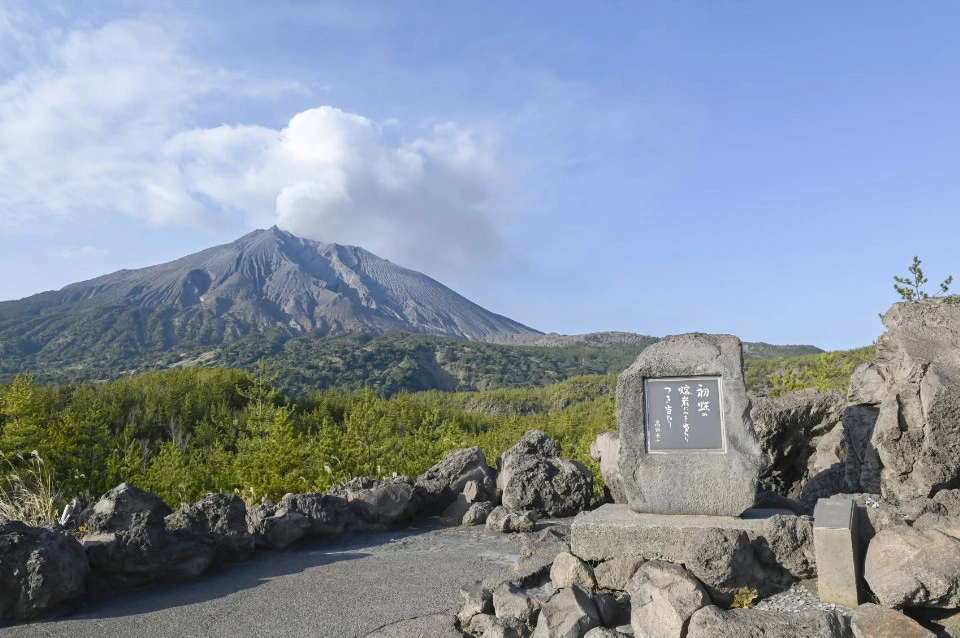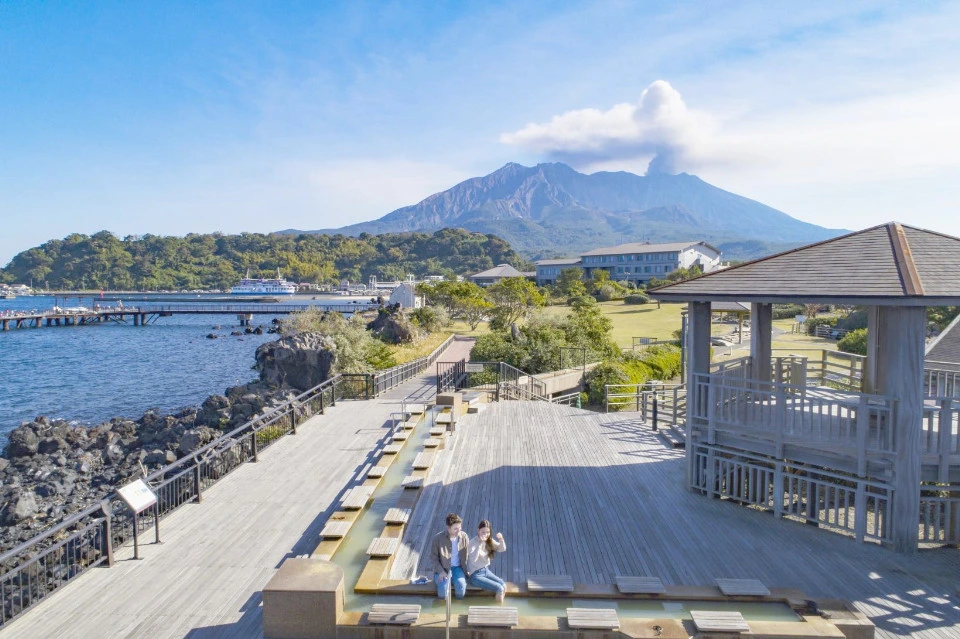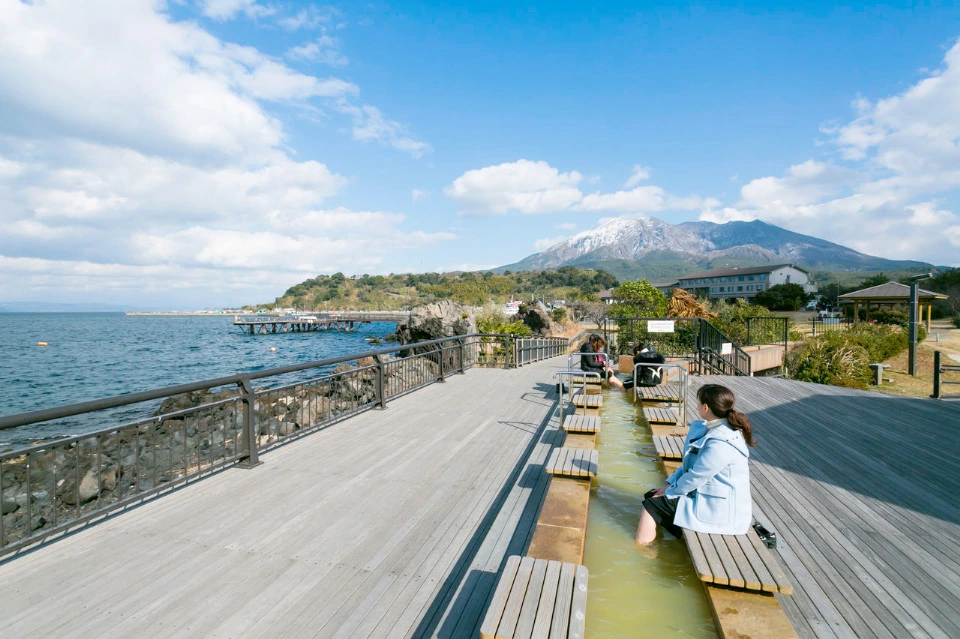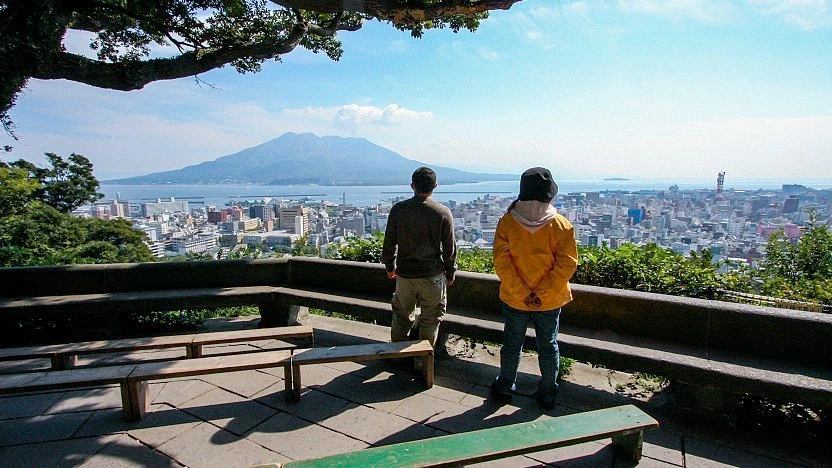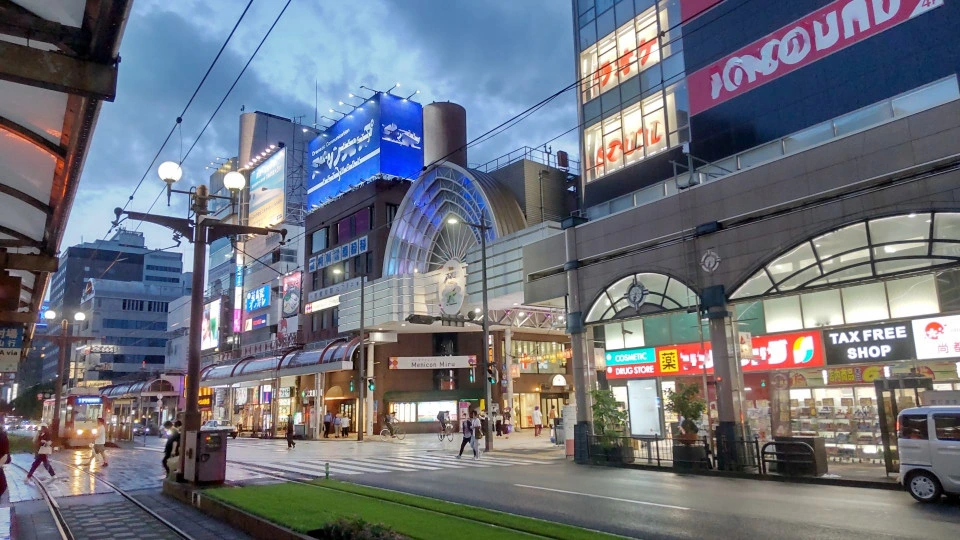 Day 9: Kagoshima / Miyazaki
Visit
Kagoshima

Miyazaki
2 hour drive
Sengan-en
Senganen Garden (仙巌園), also known as Isoteien (磯庭園), is a Japanese-style landscape garden along the coast north of downtown Kagoshima. One of the garden's most striking features is its use of Sakurajima and Kagoshima Bay as borrowed scenery. The garden also includes small ponds, streams, shrines and a bamboo grove.
Eat
Nishitachibana Street
Tachibana-dori, is the main street in Miyazaki packed with (department)stores, small boutiques, restaurants, cafés, convenient stores etc.
Photos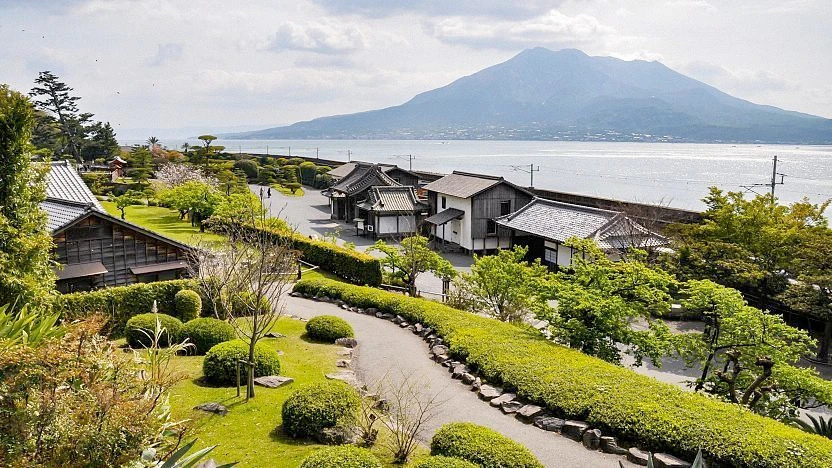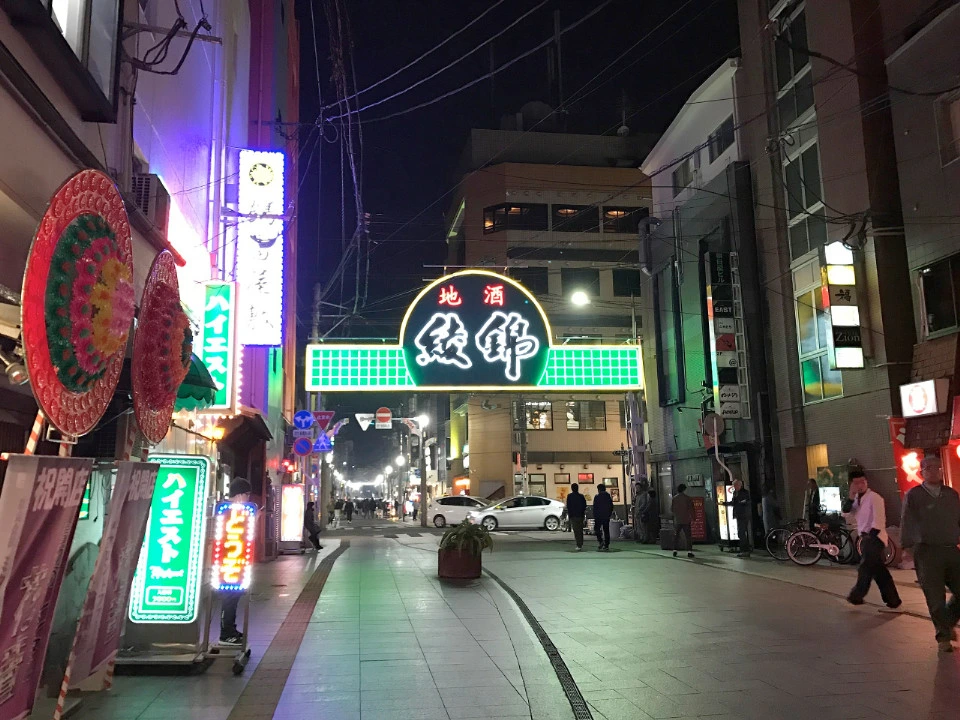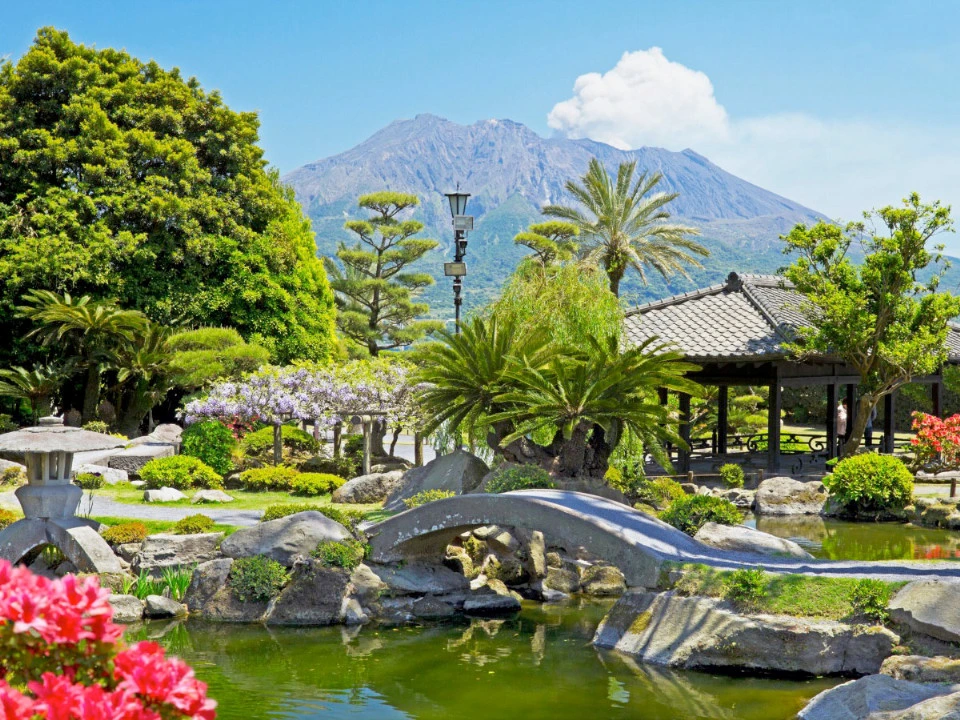 Day 10: Miyazaki
Visit
Miyazaki

Udo Jingu Shrine
Udo Shrine (鵜戸神宮, Udo Jingū), located on the Nichinan Coast south of Miyazaki City, is dedicated to Yamasachihiko, the father of Emperor Jimmu, the mythical first emperor of Japan. This brightly painted shrine is set in a cave on the side of a cliff overlooking the ocean and so enjoys a spectacular view. There are a few legends concerning Emperor Jimmu and this cave, although it is unclear whether he was born here or visited here as a baby. However, the one thing the stories have in common are the breast shaped rocks in the cave wall which are said to have nourished him.
Sun Messe Nichinan
A nod to the famous Moai of Easter Island, the Sun Messe statues are the only replicas allowed to be made of the originals in the entire world. You'll find them in this quirky amusement park along the Nichinan coast in Miyazaki.
Station Phoenix road
This is a roadside station in Miyazaki City. Located near the Horikiri Pass on the Nichinan Coast it is a great spot to take a break while on a drive. The observation deck overlooks the wave-like rocks known as the demon's laundry rocks and the ocean. Soft serve ice cream made from Miyazaki mango, hyuganatsu citrus, ashitaba (Angelica keiskei) and other special produce are popular, and special local products are also available at the onsite store.
Horikiri Pass
It is a pass to the south of Aoshima Island of 4 km, from which the blue sea of southern region and the washing rocks of the ogre can be seen beneath and pass full tropical atmosphere with the roadside trees of phoenix and flowers being in blossom.
Miyako Botanic Garden Aoshima
Aoshima boasts a botanical garden that radiates a tropical atmosphere. You can enjoy subtropical flowers and trees that grow naturally in Aoshima such as Livistona (Biro), Jacaranda, and Bougainvillea, which is also the name of Miyazaki's Airport. There are also greenhouses with fruit trees such as guava and star fruit. With the blue azure sea and colorful flowers, you will easily feel refreshed in Aoshima.
Devil's Washboard
This jagged bed of rock stretches eight kilometers along the coast of Aoshima Island, just south of Miyazaki's city center
Aoshima Shrine Torii
Aoshima Shrine is on a small island, accessible by bridge and marked by a large red torii gate on the beach. It is known as a lucky shrine for marriage
Photos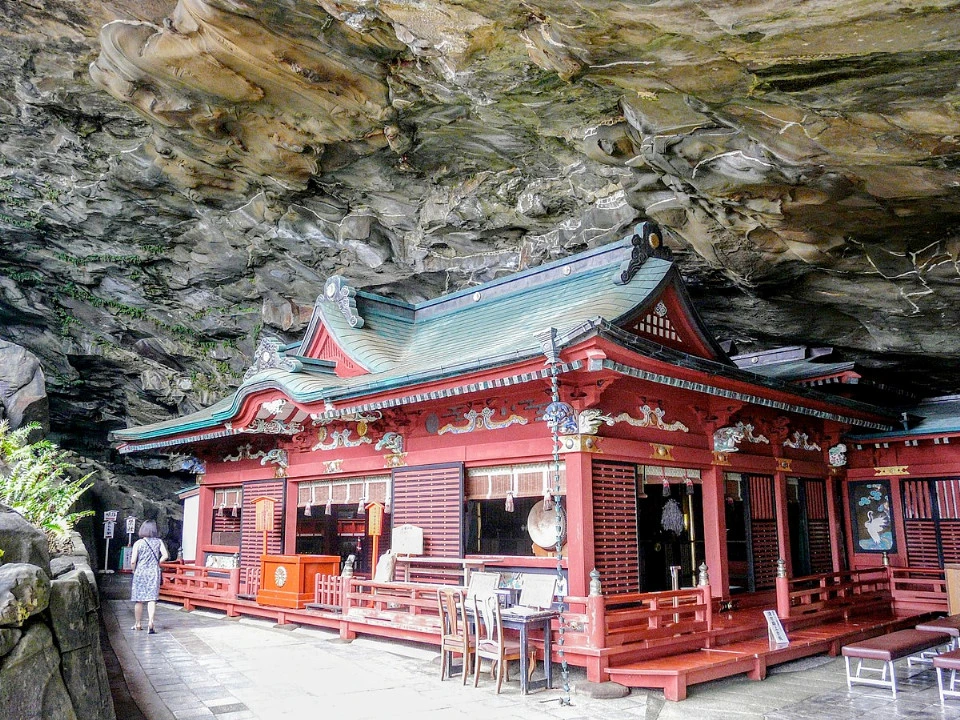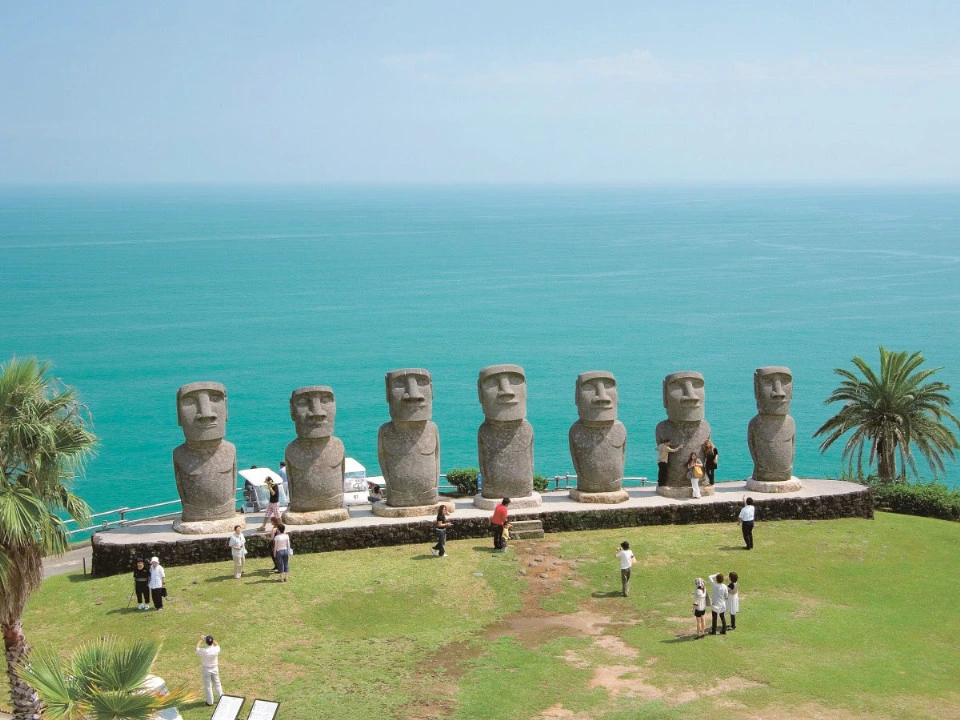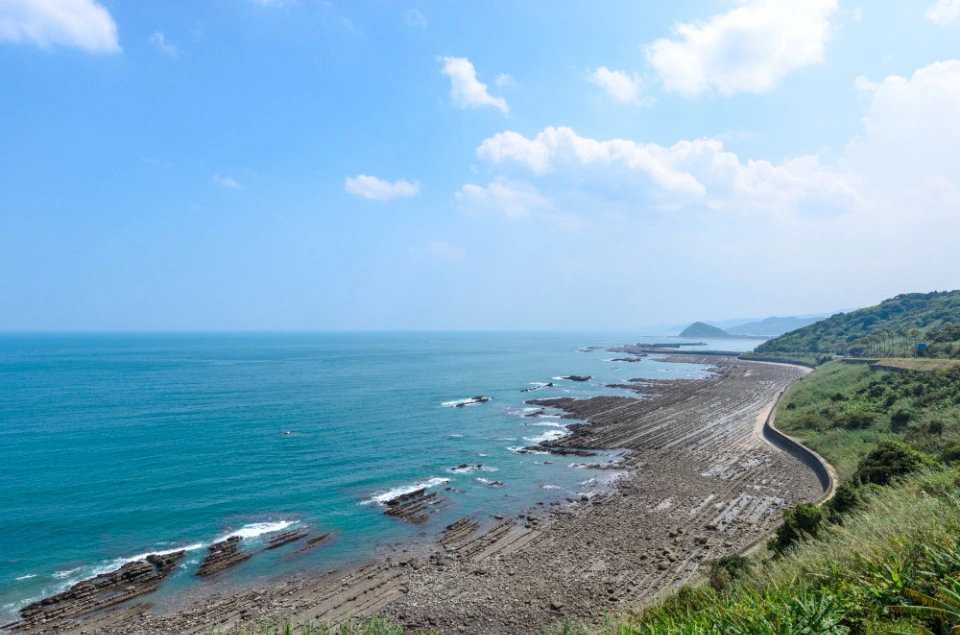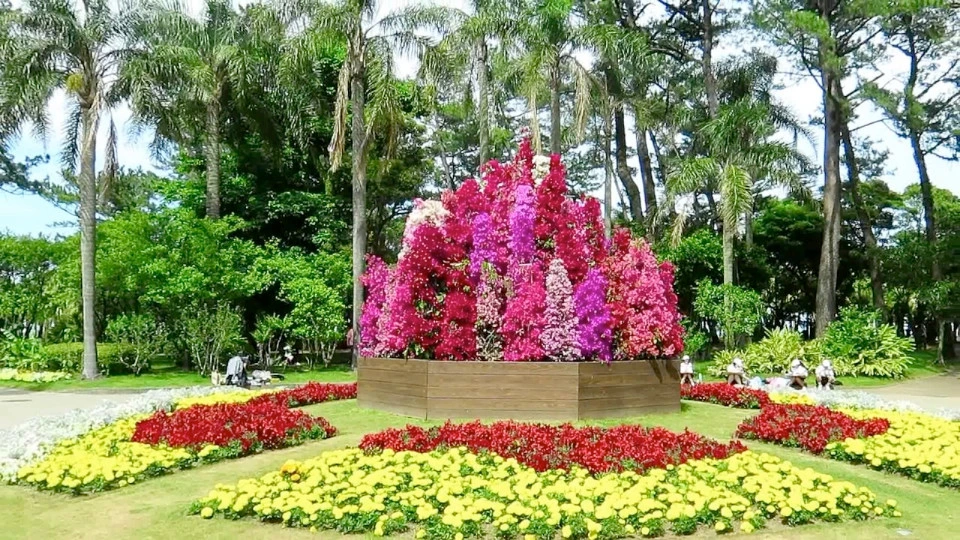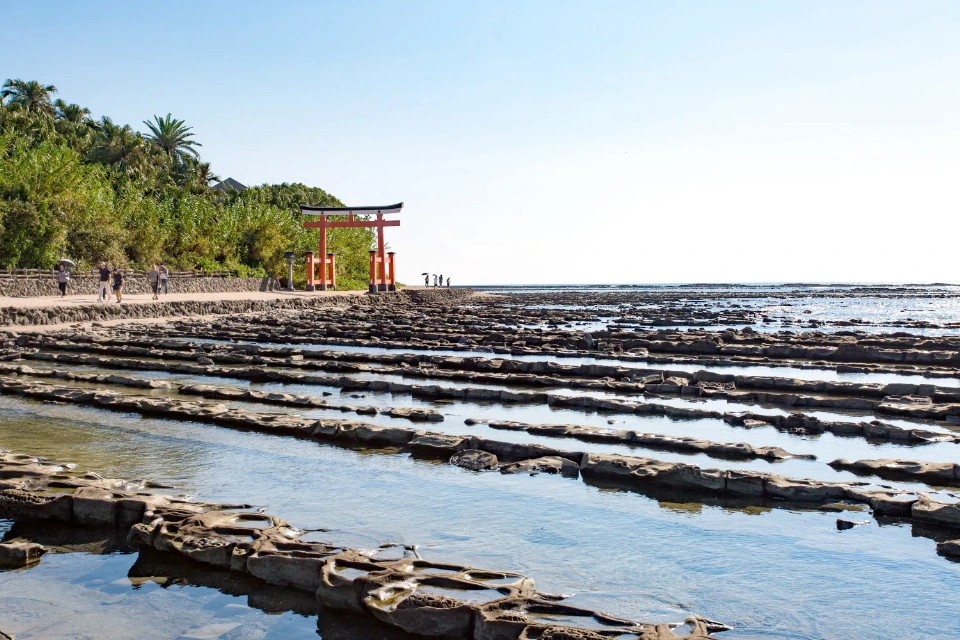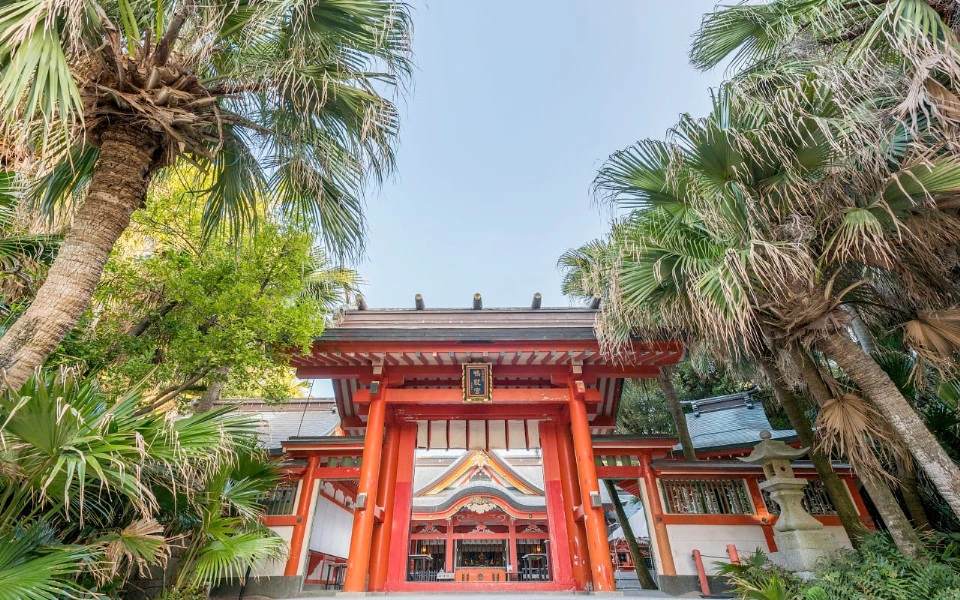 Day 11: Miyazaki / Takachiho
Visit
Miyazaki

Takachiho

STAIRS OF THE SEA
You can expect to find an exciting line-up of shops including the hottest burger joint from Hawaii, a new bakery venture by a pizzeria from Fukuoka that was listed on the Michelin Guide Fukuoka and Saga Edition and crowd favourites from Miyazaki at STAIRS OF THE SEA.
The Sea Cross Overlook
The "Sea-Cruz Where Wishes Come True" is one of the most popular sights at Cape Hyuga. There is a legend that visiting this spot will make your wishes come true. "Cruz" comes from the Portuguese word for "cross", and it is named so because of the shape of the rocks that form a cross in the sea. There is also a small rocky area next to the cross. From above, the rocks and the cross resemble the Chinese character "叶", which means to come true or to be fulfilled.
Amaterasu Railway
The Takachiho Railway, which once ran through Takachiho Town in Nishiusuki-gun, Miyazaki Prefecture, is now the Amaterasu Railway. This popular local train crosses Japan's highest railway bridge. The former Takachiho Railway was stopped operating due to damages caused by typhoon in 2005. Amaterasu Railway's own original Grand Supercart now plies this line, giving passengers the opportunity to enjoy the magnificent views.
Takachiho Gorge
Takachiho Gorge (高千穂峡, Takachiho-kyō) is a narrow chasm cut through the rock by the Gokase River. The nearly sheer cliffs lining the gorge are made of volcanic basalt columns which resemble the scales of a dragon where the stone twisted and flowed as it formed.
Photos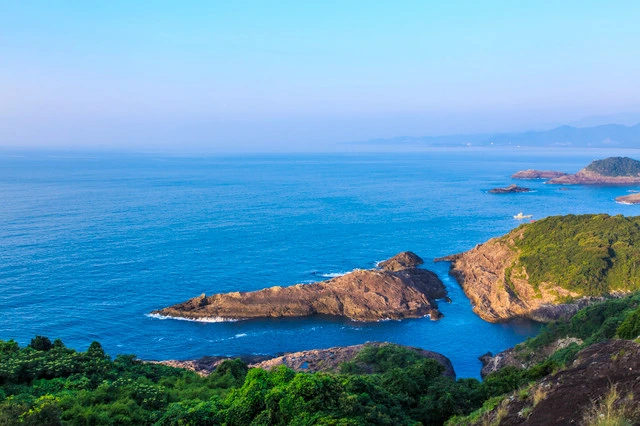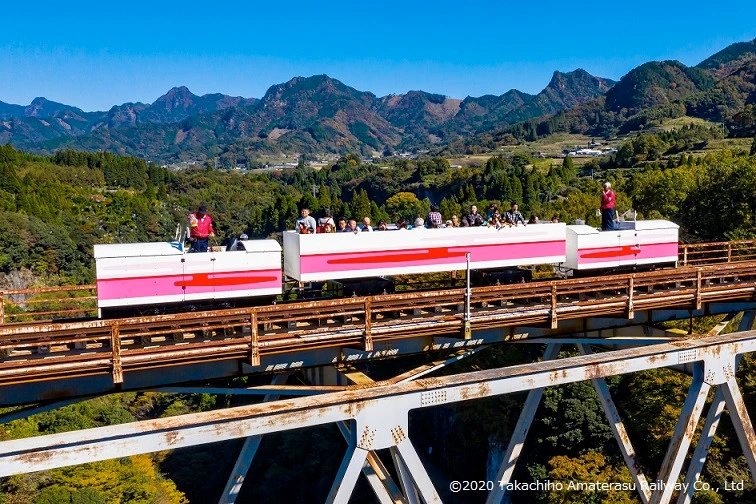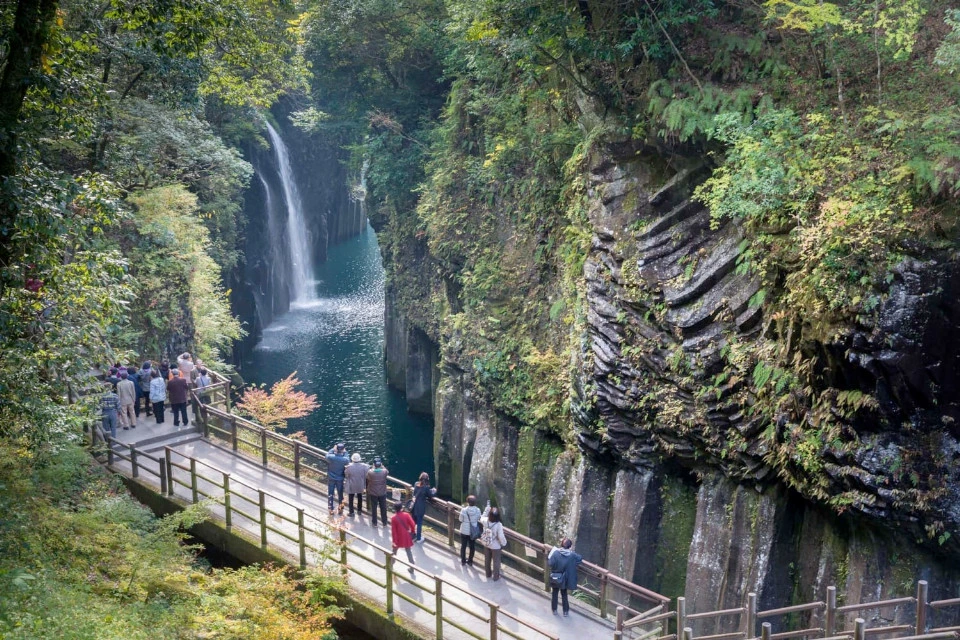 Day 12: Beppu
Visit
Takachiho

Beppu

Kunimigaoka Viewing Platform
Kunimigaoka, in Takachiho Town, Nishiusuki-gun, Miyazaki Prefecture is one of the most spectacular views in Miyazaki. It is famous for the "Unkai", or sea of clouds, and the observation deck has won one star of Michelin Green Guide Japan. The observation deck is located in 513 m above sea level. It offers panoramic views of the Takachiho Basin, and when the weather conditions are good, you can see the Unkai in the early morning in autumn. Legend has it that it is from this hill that "Tateiwa Tatsu-no-Mikoto", grandson of Emperor Jimmu, gazed out over his country.
8 Hells of Beppu Tour
The "hells" (地獄, jigoku) of Beppu are seven spectacular hot springs for viewing rather than bathing, displaying steaming ponds of various colors, bubbling mud pools and other hydrothermal activity.
Beppu Ropeway
Mount Tsurumi (鶴見岳, Tsurumidake) is a 1375 meter high mountain that overlooks Beppu. The mountain is accessible via the Beppu Ropeway which takes visitors nearly 800 meters up the steep slopes to a small park near the summit. The park offers multiple observation decks with panoramic views of Beppu and Oita City, Mount Yufu and as far as the Kuju Mountains when visibility is good.
Stay
杉乃井ホテル 宙館
Hotel option
"Resorpia Beppu" in Beppu
Hotel option
Photos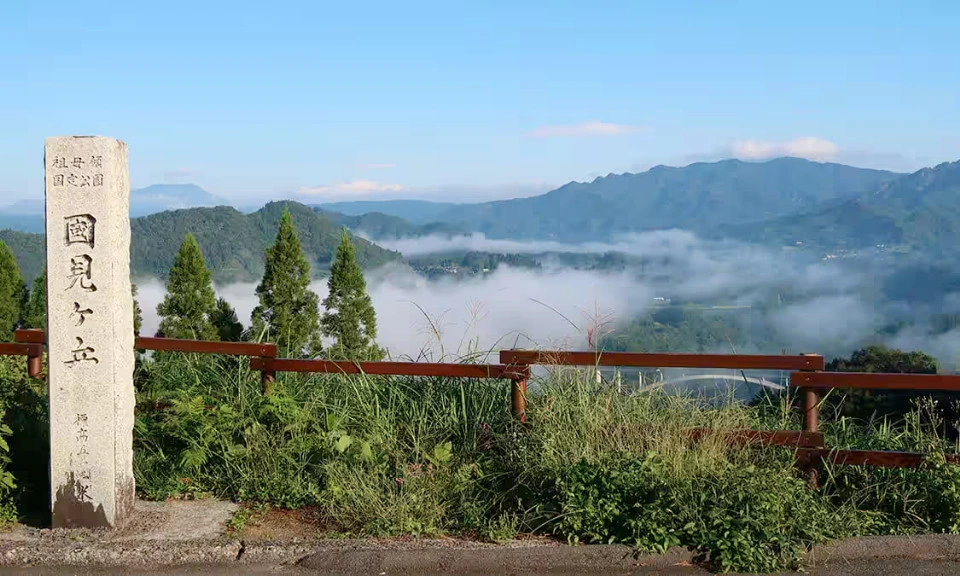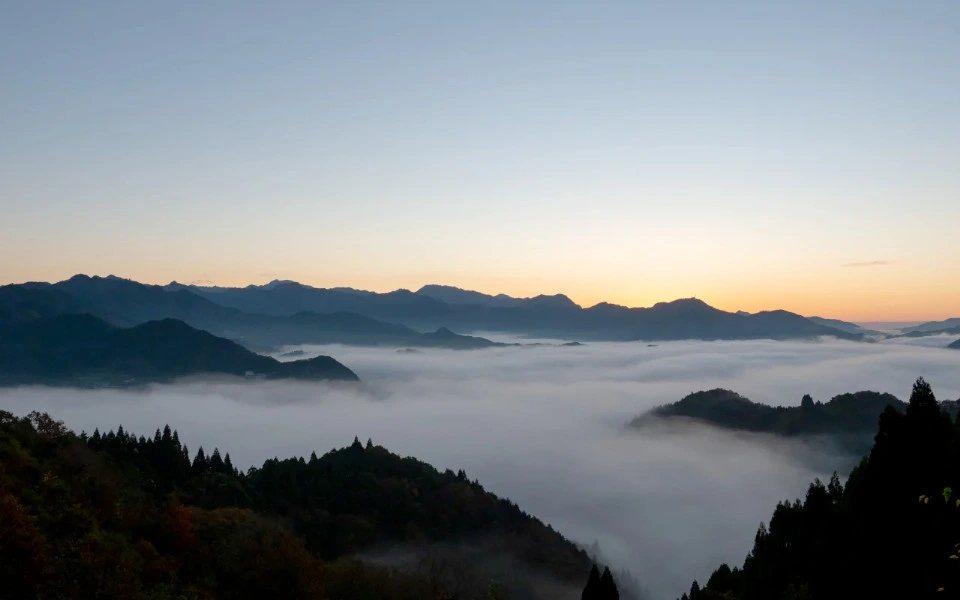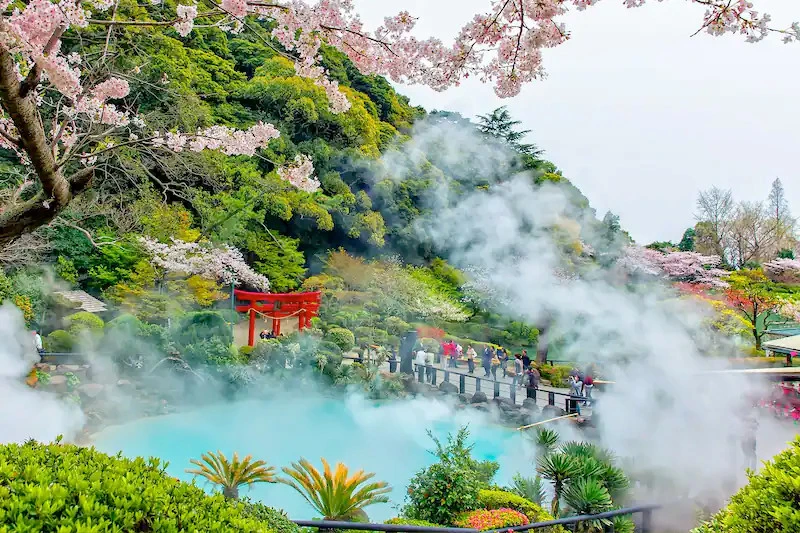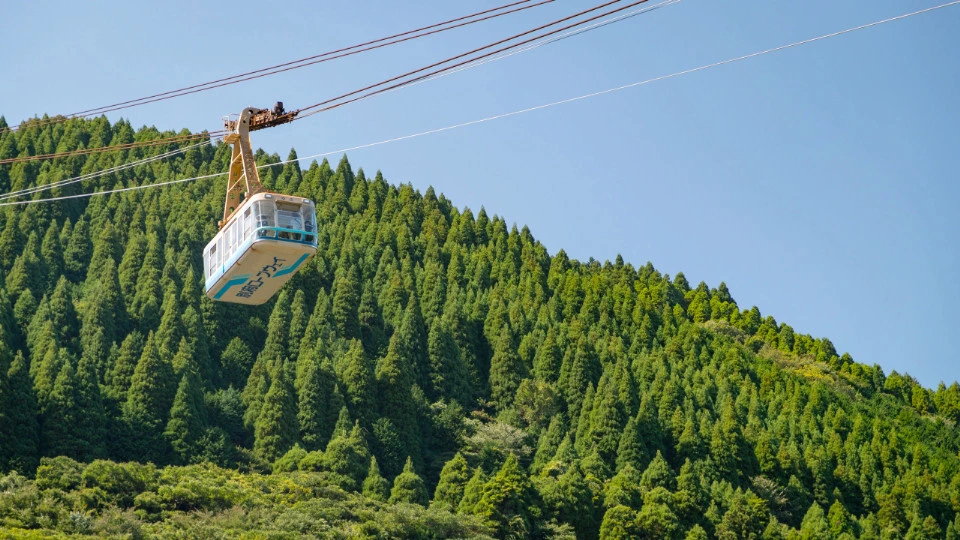 Day 13: Mt. Aso / Kumamoto
Visit
Beppu

Mount Aso
~2hr drive from Beppu
Kumamoto
Drive back (1.5h) and return car
Transit
Osaka Station
3.5hr from Kumamoto by train
Photos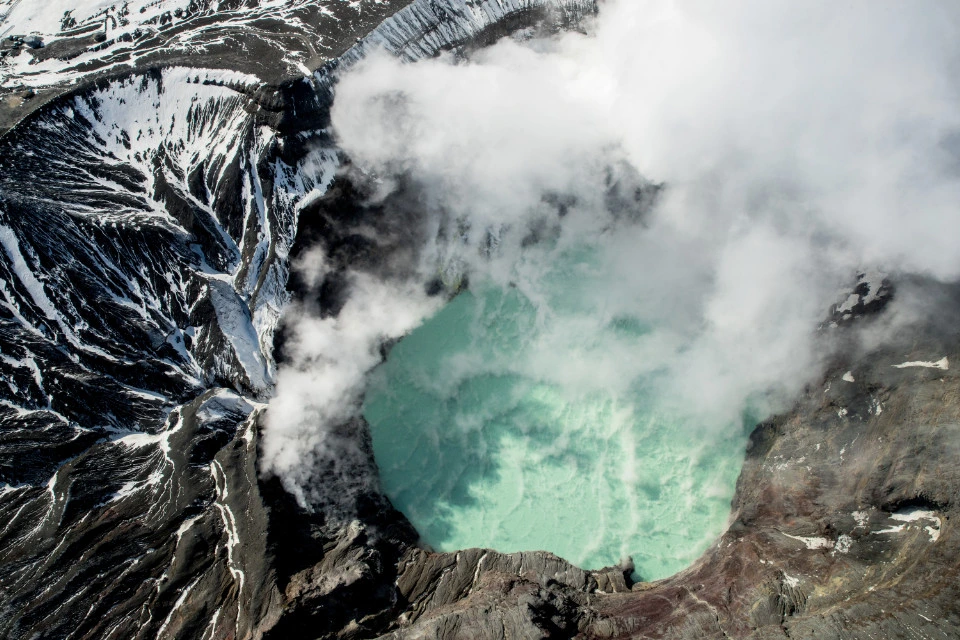 Day 23: Depart from NRT
Transit
Narita International Airport (NRT)

---
---