AN EPIC EXPLORATION OF ICELAND
A 10 day journey along Iceland's rugged and scenic Ring Road
Synonymous with road trip vibes, the Ring Road, Iceland is a must-do drive for those looking for spectacular scenery. The Ring Road is in fact the nickname of Route 1, Iceland's main motorway.
This route loops the island in a full circle, skirting around Iceland's central, uninhabited highlands. Along the way around the Ring Road, you'll find the most popular tourist attractions. This includes the Seljalandsfoss and Skógafoss waterfalls, Dyrhólaey cliffs, and Jökulsárlón glacier lagoon.
If you're planning an Icelandic road trip, it's likely you'll end up on this route, whether you're doing the full circle or a shorter trip.
Below you'll find some practical information to know before you hit the road. This is accompanied by our Iceland Ring Road map, so you can follow along.
Inspired by: https://www.allthehacks.com/iceland-brandon-presser/
---
Days
Day 1: Capitol Region - Reykjavík
Pick up your car at the international airport in Keflavik before driving through the lunar landscape of the Reykjanes peninsula to your accommodation in downtown Reykjavík. On your way to Iceland's capital city, you could choose to make a stop at the Blue Lagoon. This world-renowned spa is known for its healing waters, vivid azure colors, and luxurious treatments. It is in the middle of a moss-covered lava field, giving it an otherworldly atmosphere. The most attractive feature of the Blue Lagoon is the regenerative qualities of its water. It features silica and sulfur that benefit people with various skin ailments. With a temperature averaging 37–39° Celsius (98–102° Fahrenheit), the Blue Lagoon offers a comfortable and relaxing feeling in both the swimming and bathing areas. If you add the Blue Lagoon, it will be arranged according to your flights. If there is no time to visit the lagoon today, it can be added to another day. Your travel consultant will be able to arrange this for you.
Visit
Blue Lagoon
This geothermal spa is a lot more than meets the eye. Between the warm water and convivial atmosphere, this might be one of the most memorable stops on your Iceland trip.
Háafell - Goat farm
At Háafell, visitors can meet with Icelandic goats – including Bambi (pictured), star of Game of Thrones – and sample some of the farm fresh products the Háafell produces from goats milk and fat. It's a fun day trip for the whole family.
National Museum of Iceland
Established in 1863, the National Museum of Iceland is home to an impressive collection of Icelandic objects and artefacts. The museum is a great outing if you wish to get an insight into Iceland's cultural history.
Eat
Omnom Chocolate Ice Cream Shop
Fans of Willy Wonka and the Chocolate Factory, this Reykjavik experience is for you... and you don't even need a golden ticket to join. Get a look behind the scenes at the making of small batch artisanal chocolate bars, including Omnom's renowned liquorice-chocolate combo... which even non-liquorice lovers have confessed to liking! You really can't go wrong with any of Omnom's satisfying sweets.
Photos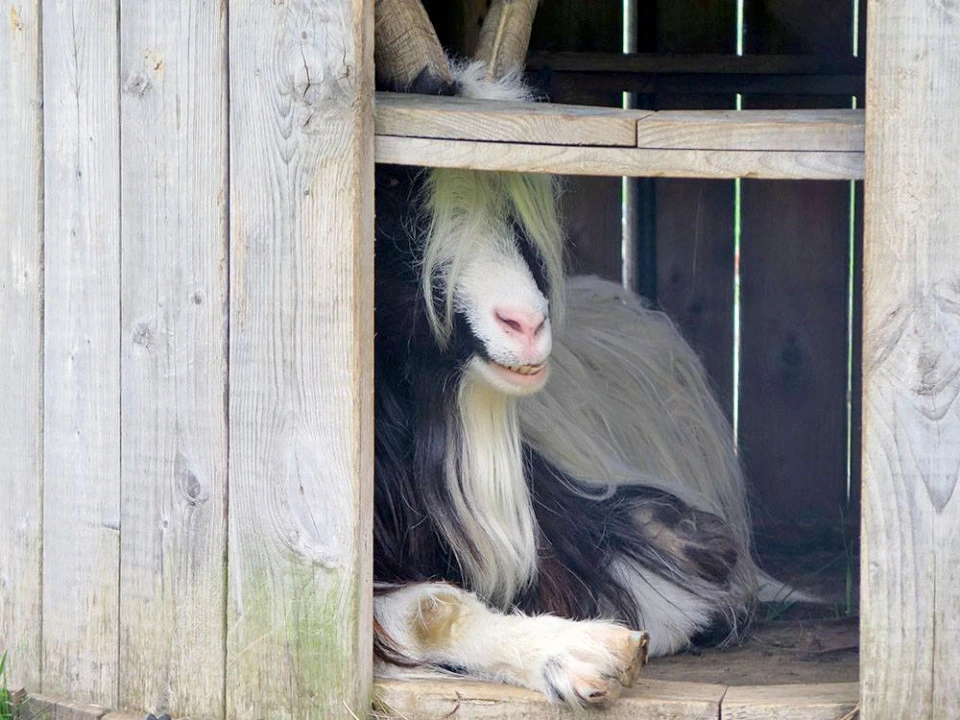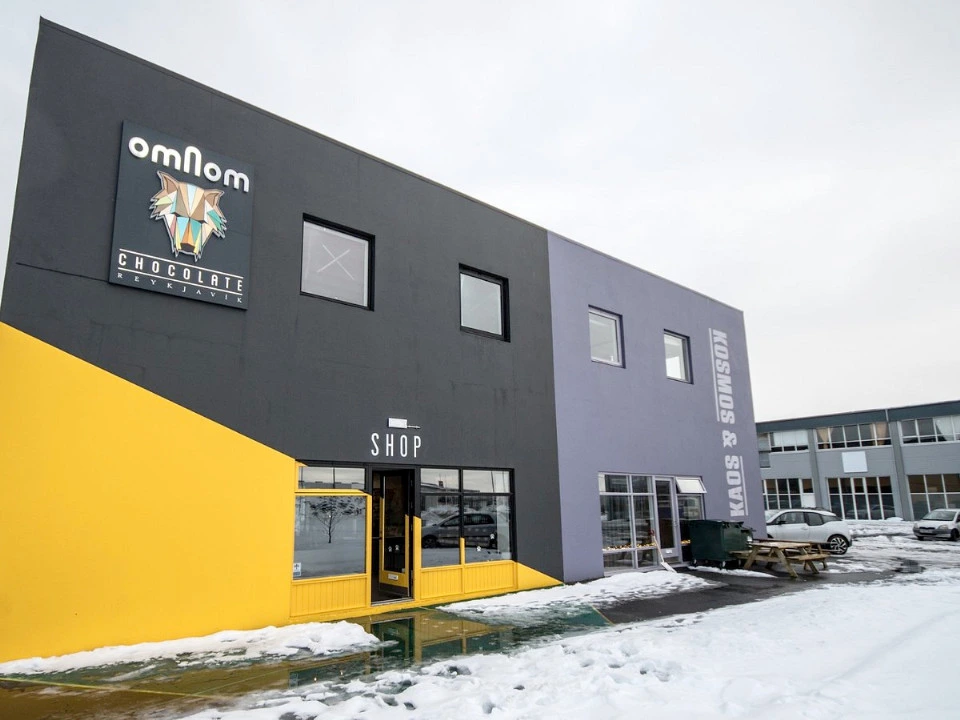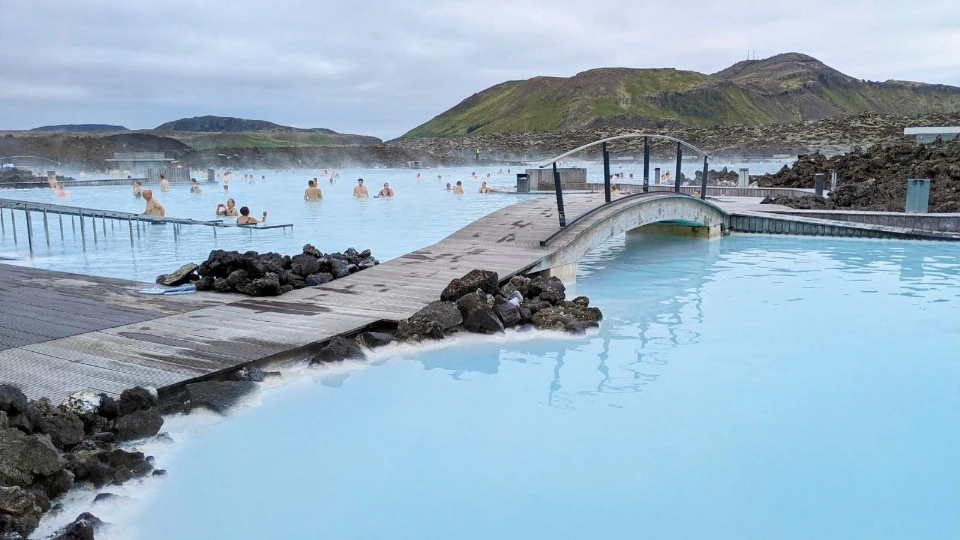 Day 2: Golden Circle
Pick up your rental car and get on your way. First stop of the trip is the highlights of the Golden Circle. This route includes the geothermal area Geysir, the national park Þingvellir and the stunning Gullfoss waterfall. Thingvellir National Park is a unique site in Iceland as its both historically significant as well as being a geological wonder. It has the honor of being the first of Iceland's three national parks to be established. It's also the only one that has been granted UNESCO World Heritage Site status. Considered the first stop on the Golden Circle, the park is only 29 miles (47 kilometers) from Reykjavik.
Visit
Geysir
The famed hot spring Geysir is located in the Haukadalur valley in southwestern Iceland. It was first mentioned in Icelandic literature in 1294 when the valley was hit by a series of strong earthquakes and a devastating eruption of Mount Hekla.
Thingvellir National Park
Þingvellir is the historical and geological treasure of Iceland, wrapped in scenic beauty. https://iceland.nordicvisitor.com/travel-guide/attractions/south-iceland/thingvellir-national-park/
Gullfoss Falls
On average 100.000 liters of glacial water from the river Hvítá plunge 31 meters into the Gullfossgljúfur canyon every second. Since the cold spray water does not stop for tourists, we recommend raincoats! https://iceland.nordicvisitor.com/travel-guide/attractions/south-iceland/geysir/
Eat
Gullfoss - Panorama Restaurant - Cafe - Shop

Photos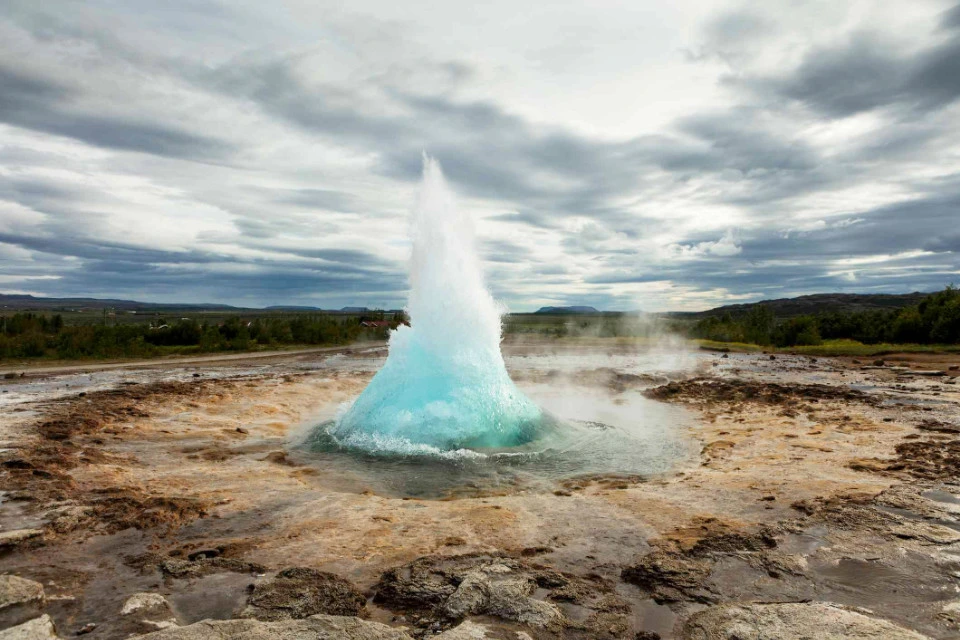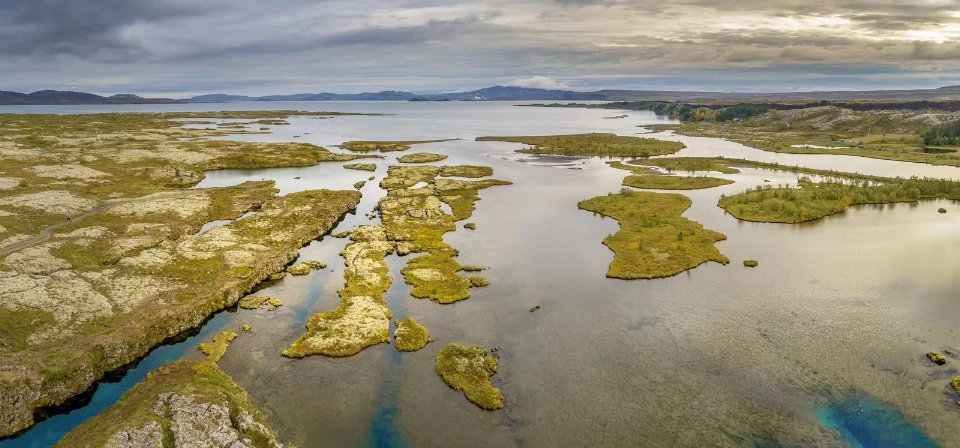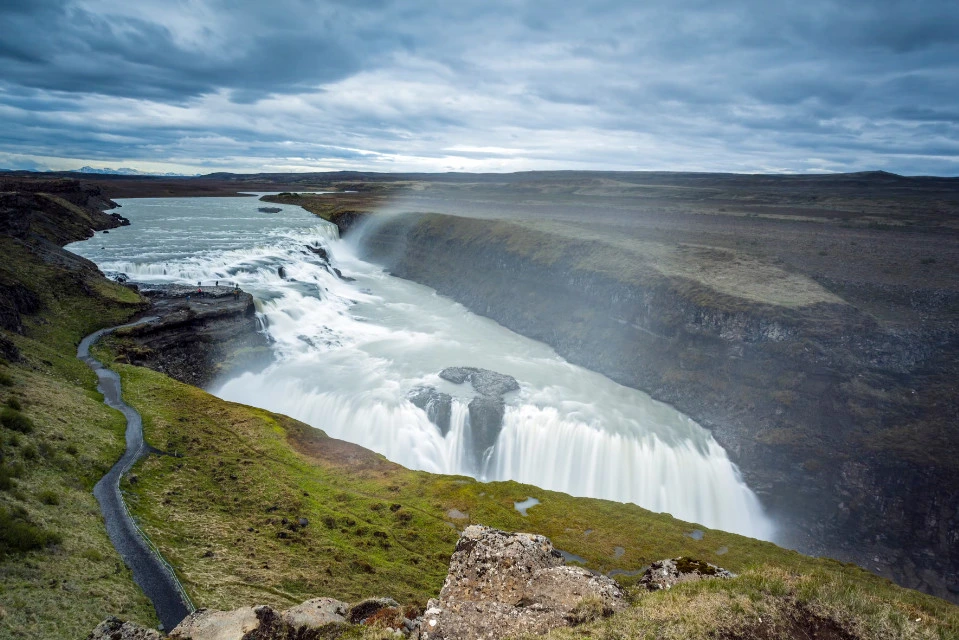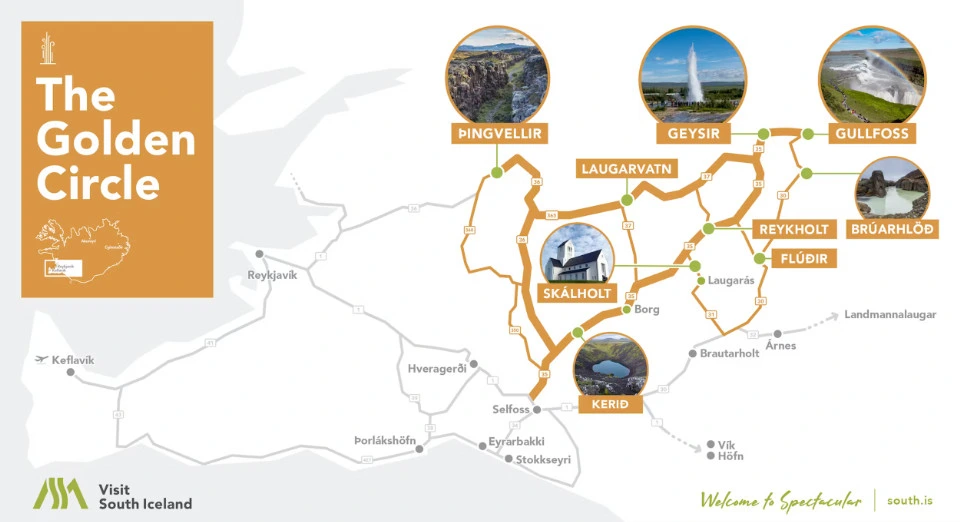 Day 3: South Iceland
Follow the road south today passing gorgeous waterfalls like Seljalandsfoss and Skógafoss. Make a pit stop at Vík to walk along the black sand beach. From here, you can view the rock formations Dyrhólaey and Reynisdrangar.
Visit
Seljalandsfoss Waterfall
One of Iceland's most visited waterfalls, after Gullfoss, Seljalandsfoss is situated along the Seljalandsá river where the waterway plummets 40 metres over a cliff face. Seljalandsfoss is unique among waterfalls, as the shape of the cliff over which it falls allows visitors to walk behind the chute via a footpath at the base of the falls. https://iceland.nordicvisitor.com/travel-guide/attractions/south-iceland/seljalandsfoss/
Skógafoss
Located at the foot of the impressive Eyjafjöll mountain range is Skógafoss, a magnificent 60-metre high waterfall where, according to legend, the first Viking settler in the area hid a treasure in the cave behind the cascade. https://iceland.nordicvisitor.com/travel-guide/attractions/south-iceland/skogafoss/
Dyrhólaey
Looming over the Reynisfjara black volcanic beach is Dyrhólaey, a 120-metre high promontory jutting out into the Atlantic Ocean. It's a spectacular sight to behold with its natural arch and prominent hole, sculpted over millennia from the force of the waves. Owing to its unique shape, its Icelandic name translates to "door hill island". https://iceland.nordicvisitor.com/travel-guide/attractions/south-iceland/dyrholaey/
Reynisdrangar
Reynisdrangar are impressive rock formations situated near the shore of Reynisfjara beach by the coastal village Vík on the South Coast of Iceland.
Eat
Black Beach Restaurant
"Amazing restaurant with great staff and very nice food. We had fish and chips. I think london is put to shame by the quality of the fish. The chips were really gourmet quality."
Photos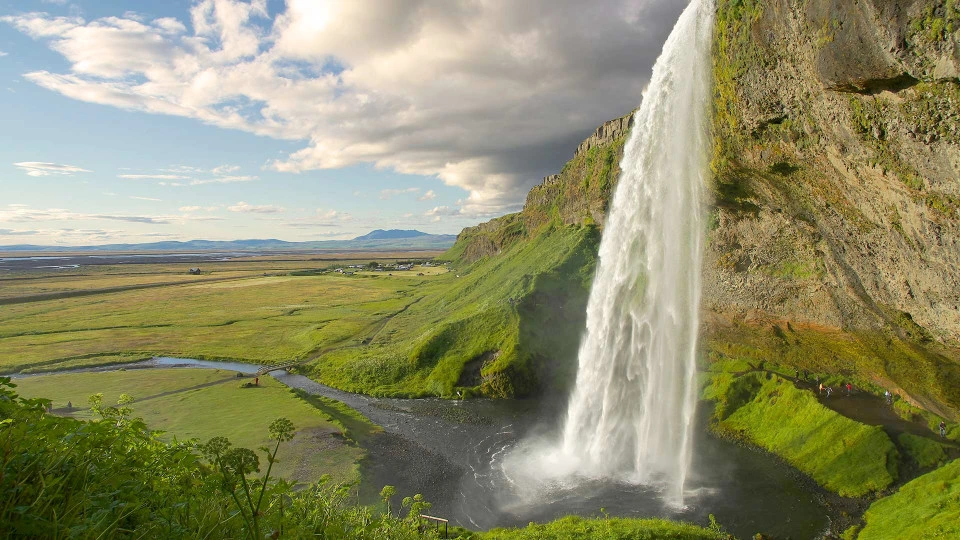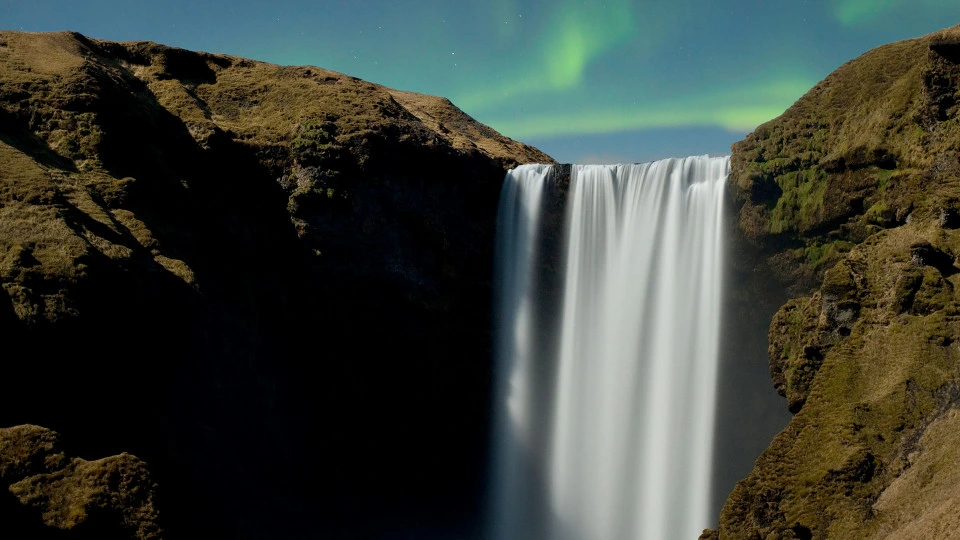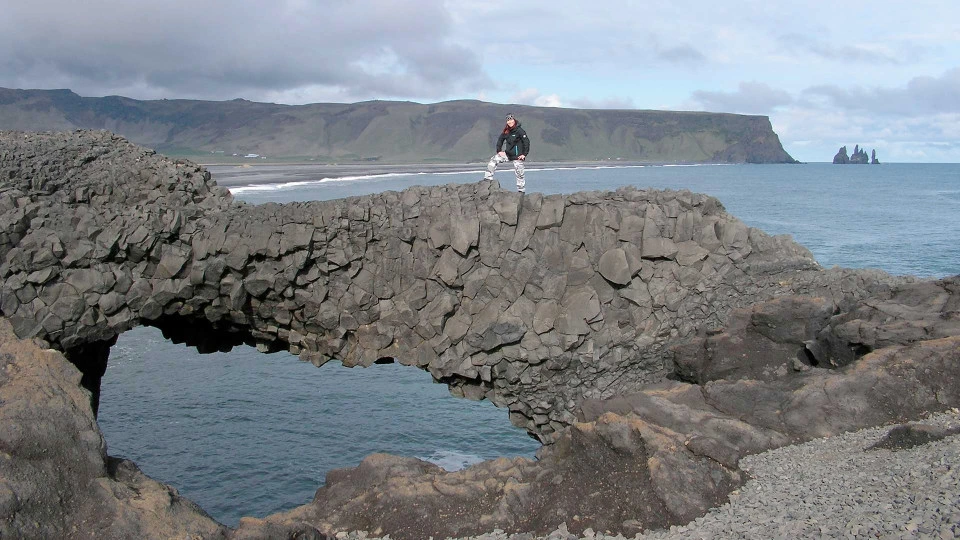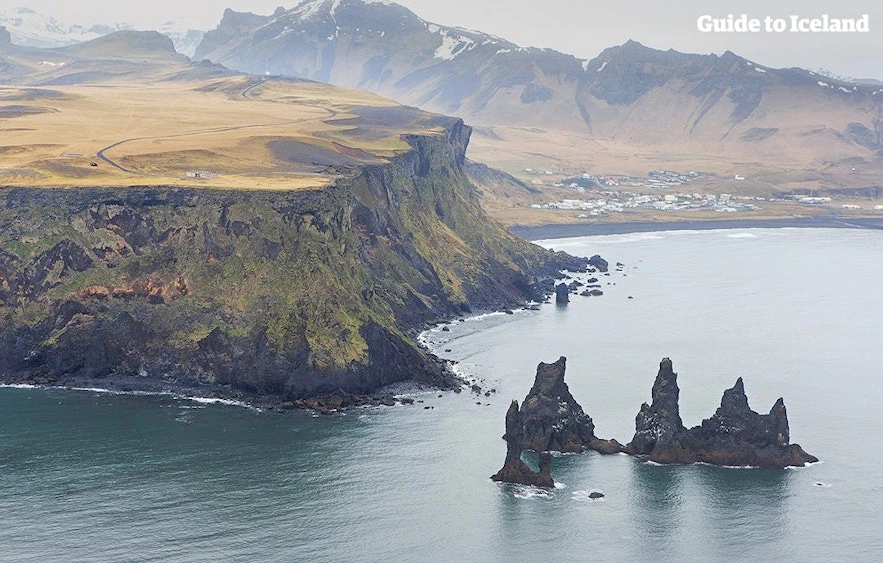 Day 4: South Iceland (Second Day)
You have all day to immerse yourself in the gorgeous landscape of south-west Iceland. Explore the Vatnajökull National Park where you could go hiking or on an intrepid glacier walk. You'll then come upon the Jökulsárlón glacier lagoon and Diamond Beach, located across the road from each other. Admire the bobbing icebergs in the water or join an optional boat tour to see them from up close.
Visit
Vatnajökull National Park
This iconic volcanic region covers an area of over 1,400,000 ha, nearly 14% of Iceland's territory. It numbers ten central volcanoes, eight of which are subglacial. Go hiking or on an intrepid glacier walk https://whc.unesco.org/en/list/1604
Jökulsárlón
Film buffs will recognise Jökulsárlón from such blockbusters as Tomb Raider, Batman Begins, and 2 James Bond films: A View to a Kill and Die Another Day. It's not surprising why famous directors would choose this amazing location as a backdrop! https://iceland.nordicvisitor.com/travel-guide/attrations/south-iceland/jokulsarlon/
Diamond Beach
At the Diamond Beach, the icebergs which fill the Jökulsárlón glacier lagoon wash up on shore, creating a stark contrast with the volcanic black sand. This beautiful display makes it a favourite location for photographers and nature lovers. https://www.nordicvisitor.com/blog/diamond-beach-attraction-guide-iceland/
Photos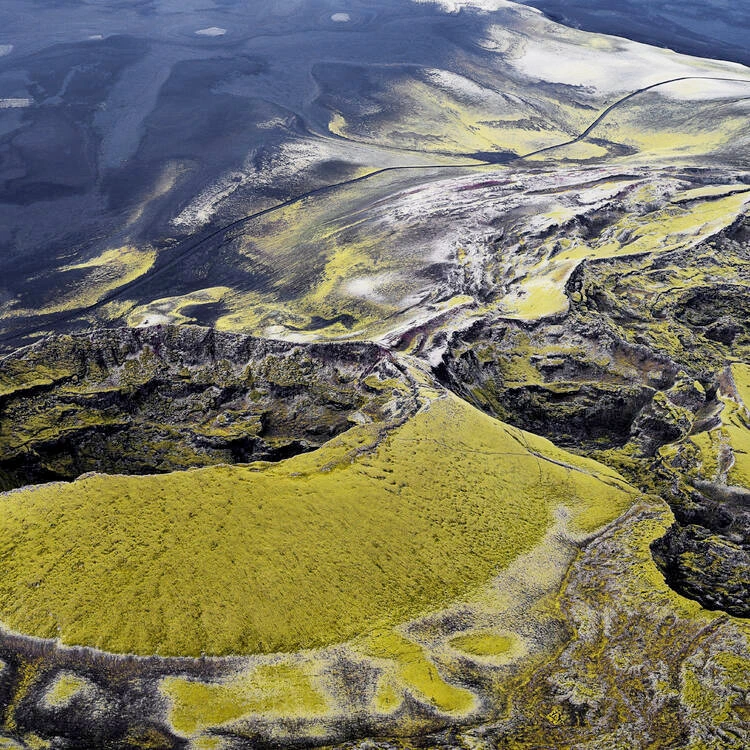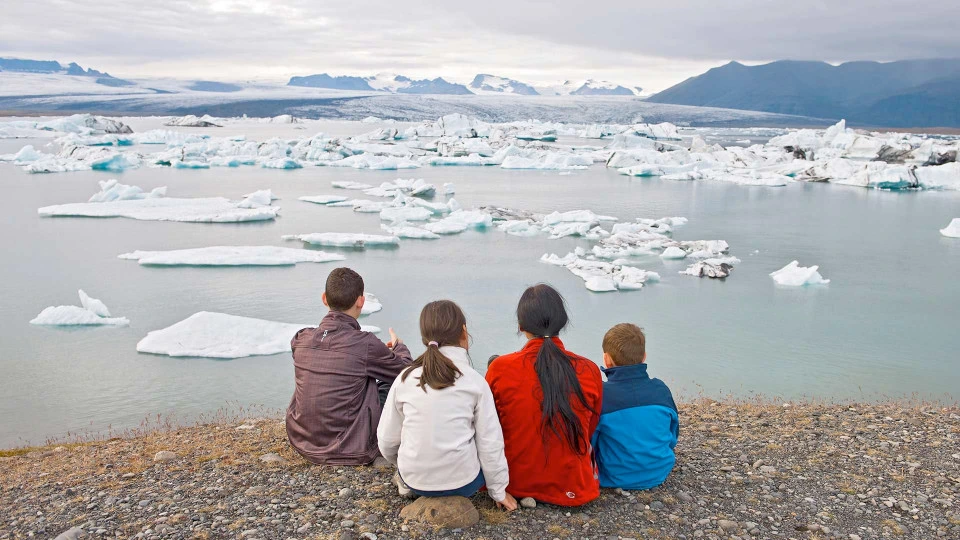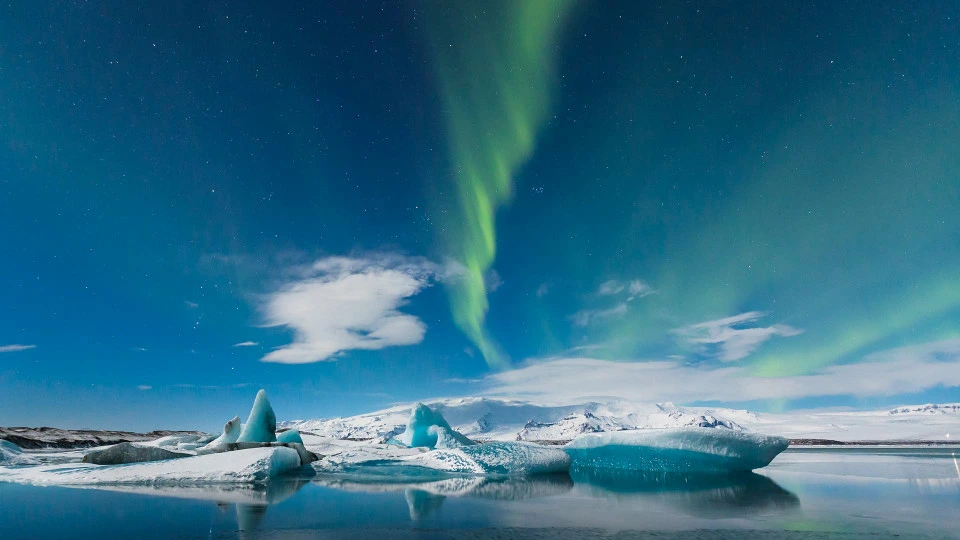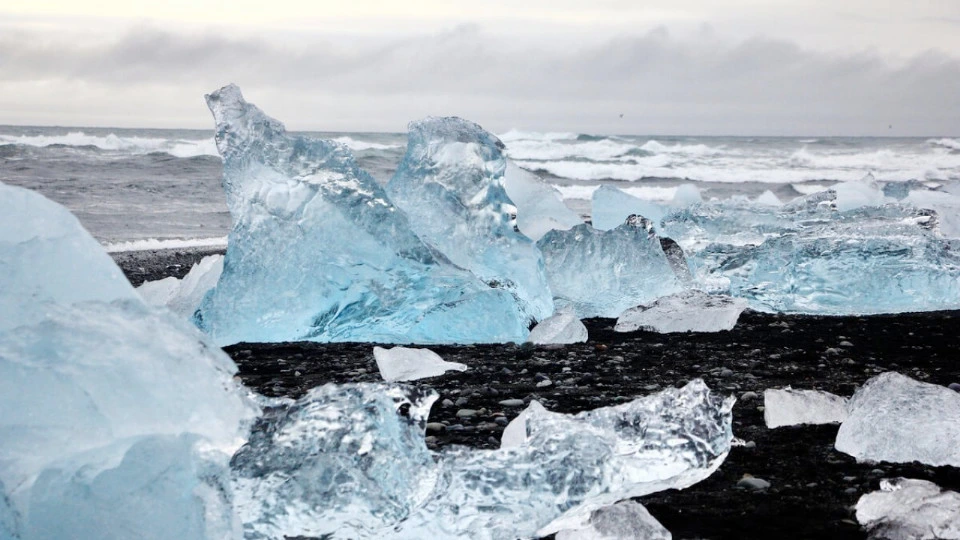 Day 5: Explore East Iceland
Drive through the eastern fjords, to see fishing villages and sweeping landscapes. Want to see this region from a different perspective? Join a super jeep adventure, during which you'll cross rivers, admire waterfalls and take in the tranquil atmosphere of East Iceland. Continue your drive toward the north, all the way to the Lake Mývatn area. This is an otherworldly looking region full of natural wonders. This includes the Krafla volcano, the crater of Hverfell and the lunar-like Skútustaðir.
Visit
Hengifoss
The Hengifossá river feeds two dramatic waterfalls, one of which, Hengifoss, is among the highest in the country at 128 metres (420 feet). This spectacular waterfall cascades into a dramatic gorge and is easy to access from the main road. Below Hengifoss is a smaller waterfall, Litlanesfoss, which is remarkable for its columnar basalt setting. Both are well worth a visit. https://iceland.nordicvisitor.com/travel-guide/attractions/east-iceland/hengifoss/
Fáskrúðsfjörður
You may find yourself a little confused when arriving in Fáskrúðsfjörður and notice that all the street signs in the small town are in French. Don't worry, you're still in Iceland. But this locale in the country's East Fjords has used both French and Icelandic on all the town's street signs to honour the strong French tradition in the region. https://iceland.nordicvisitor.com/travel-guide/attractions/east-iceland/faskrudsfjordur/
Seyðisfjörður
With its beautifully preserved wooden buildings, the town of Seyðisfjörður is one of Iceland's most picturesque spots. The closest Icelandic port to the Faroe Islands and Europe, the town's heyday was at the turn of the 20th century when it was the centre of the Norwegian fishing and herring processing industry. https://iceland.nordicvisitor.com/travel-guide/attractions/east-iceland/seydisfjordur/
Eat
Cafe Sumarlína
"One of the best vegan pasta we had. Cod fish was also cooked very well and very delicious. Place is small but seating arrangement and furniture being used makes it cozy and a very comfortable dine in experience. Would definitely come in again if around."
Skaftfell Bistro
Outstanding craft beer and really good pizza. Friendly staff. The whole place has a nice, slow atmosphere (we were there on a rainy day). Try to be there early, it filled up pretty fast when we went.
Photos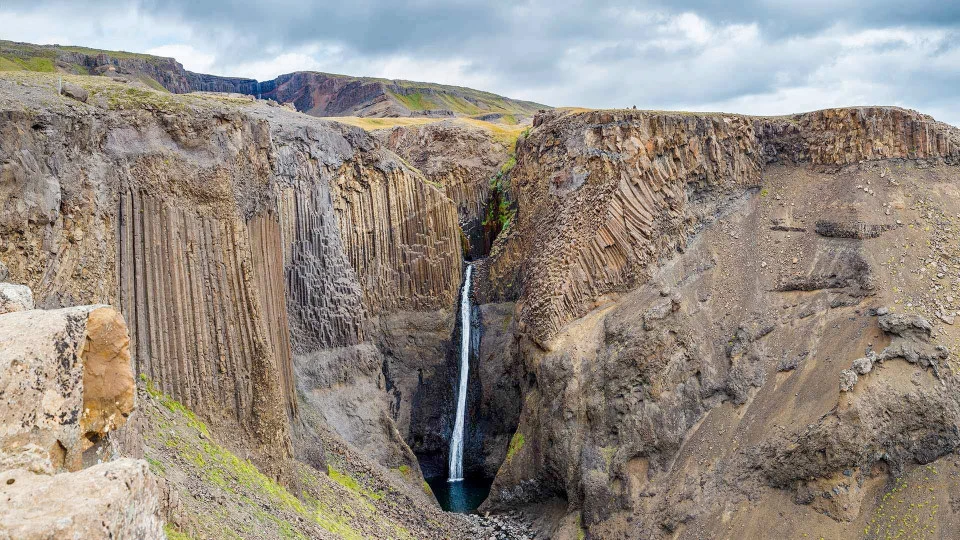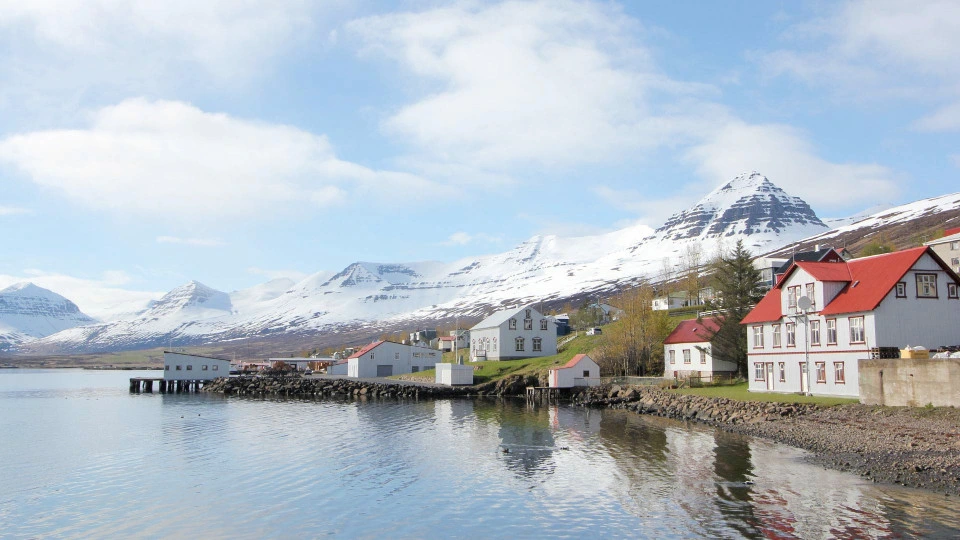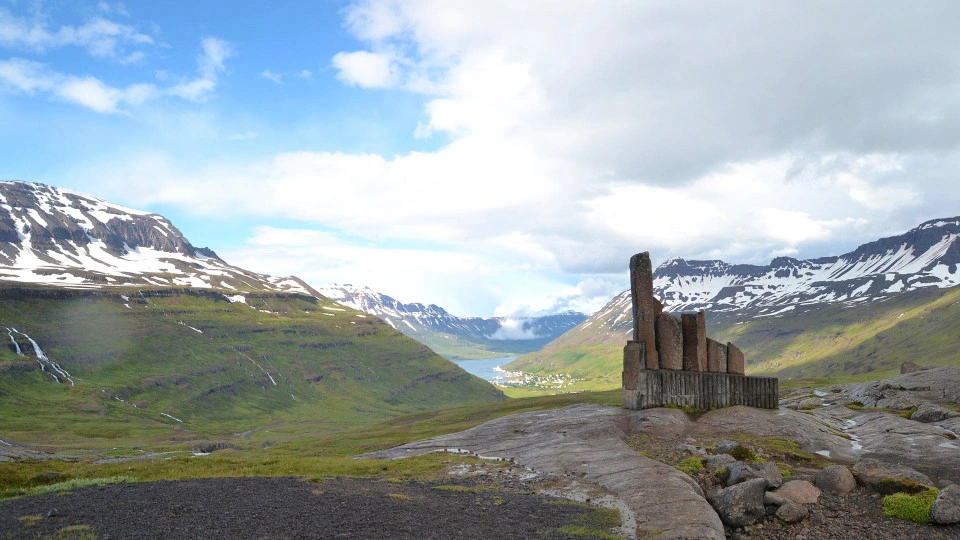 Day 6: Lake Mývatn area
Discover more of Lake Mývatn today and embark on the Diamond Circle route. Drive north to the village of Húsavík. Is spotting a whale in its natural habitat on your bucket list? This is your chance as Húsavík is considered the whale watching capital of Iceland. You can then drive through Jökulsárgljúfur, which makes up part of the north of the Vatnajökull National Park. See the river canyon and the most powerful waterfall in Europe, Dettifoss.
Visit
Lake Myvatn
Mývatn is a shallow eutrophic lake situated in an area of active volcanism in the north of Iceland, not far from Krafla volcano. The lake and its surrounding wetlands have an exceptionally rich population of water birds, especially a variety of ducks. https://iceland.nordicvisitor.com/travel-guide/attractions/north-iceland/lake-myvatn/
Dettifoss
Visit Dettifoss and you will find yourself gazing at one of the most powerful waterfalls in Europe. Before you lay eyes on it, you'll hear the cascading water crashing over a drop of 45 metres (148 feet). https://www.nordicvisitor.com/blog/diamond-circle-iceland/
Ásbyrgi Canyon
You may not associate Iceland with lush greenery, but that's exactly what you can find at Ásbyrgi. This horseshoe-shaped canyon in Vatnajökull National Park is blanketed in plantlife, carved up by rivers and waterfalls.
Húsavík
Húsavík is a small town that's known as the "whale-watching capital of Iceland". This is because the success rate of sightings here is the highest in the country.
Goðafoss Waterfall
With a name as evocative as "Waterfall of the Gods", you'd imagine that Goðafoss would be something pretty special. It's safe to say that this mighty cascade won't disappoint!
Eat
Heimabakarí
Pretty good coffee (nothing crazy unique but it's decent Iceland stuff), and amazing sweet donut pastries. Not a good place to get hot breakfast or real breakfast foods, it's way better for pastries and grab-and-go stuff like yogurt. Good amount of seating in the side area!
Naustið
"Very good food. We have been there twice and the food was always excellent. The small drawback is that we needed to remind ourselves to the staff that we would like to order or pay."
Photos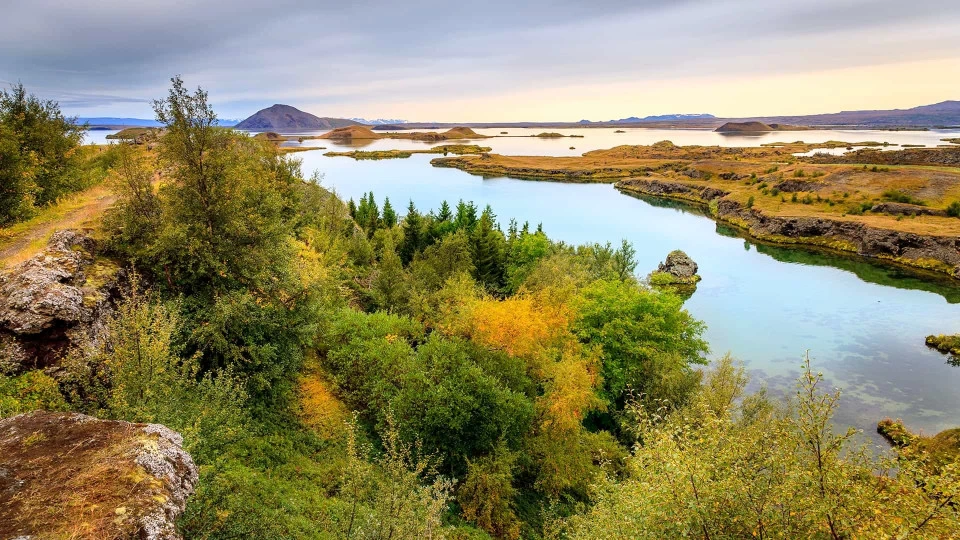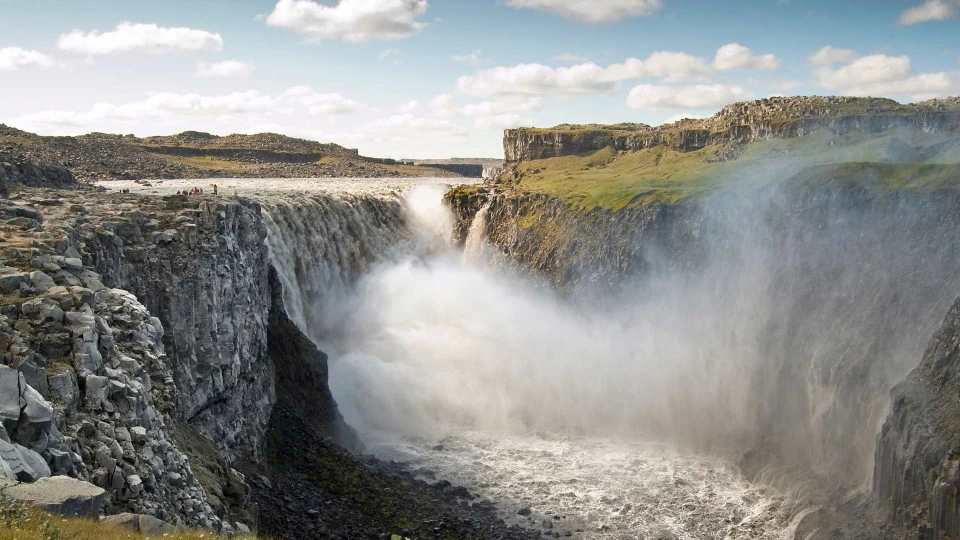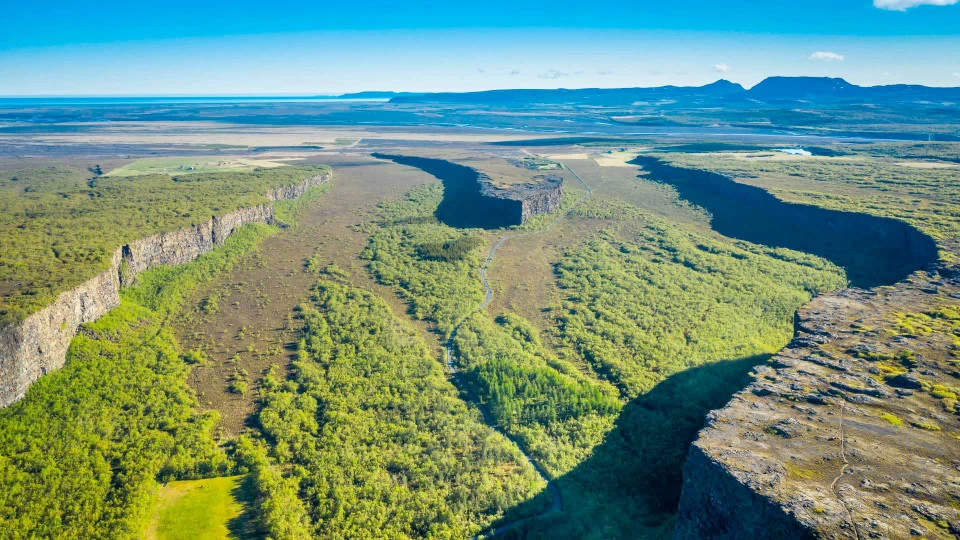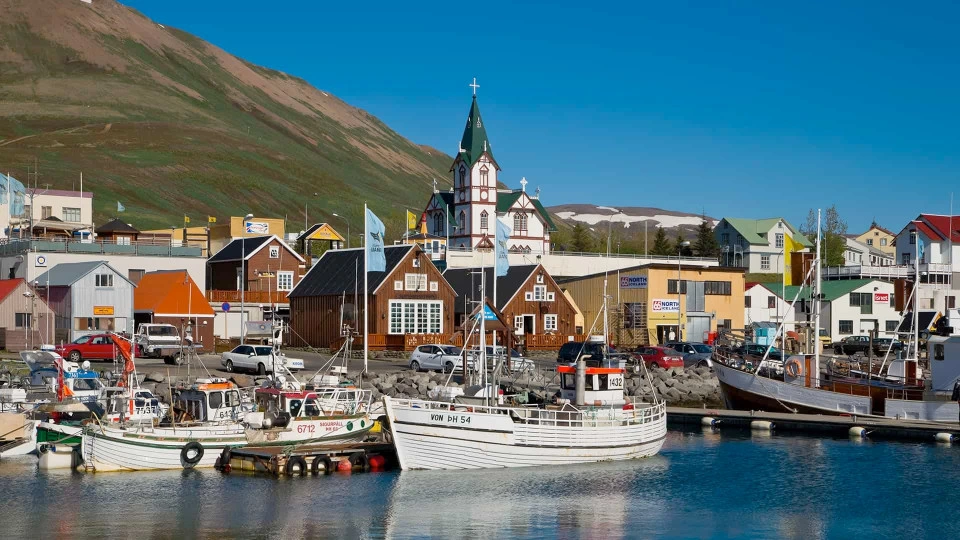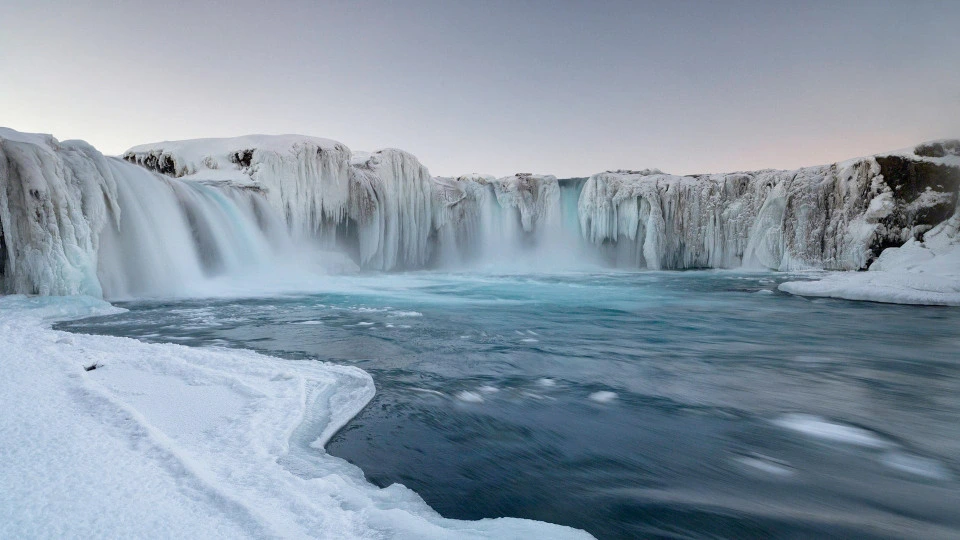 Day 7: Explore North Iceland
Today you're heading to north-west Iceland. First, stop at Goðafoss for another good dose of waterfall. Nearby, visit the charming town of Akureyri, considered to be the capital of North Iceland. From Akureyri, you have the choice to follow the Ring Road to Skagafjörður or to take a detour north to follow the coastal road. The latter will take you to the "Peninsula of the Trolls" which is dotted with mountains, dramatic cliffs and fjords.
Visit
Goðafoss Waterfall
Goðafoss, ("Waterfall of the Gods") is among the most beautiful falls in the country. Though it is not very tall, the cascade is divided into two horseshoe-shaped falls, making it unique among Icelandic waterfalls. Not far above the falls the river Skjálfandafljót divides in two, forming the island Hrútey. https://iceland.nordicvisitor.com/travel-guide/attractions/north-iceland/godafoss/
Akureyri
Akureyri, the largest town outside of the greater Reykjavik area, is situated in innermost Eyjafjörður fjord. It is an old trading station and also an important fishing town and is full of stuff to see and do. https://iceland.nordicvisitor.com/travel-guide/attractions/north-iceland/akureyri/
Sauðárkrókur
Skagafjörður is one of the most historically famous districts in Iceland. Sometimes called the Mecca of horsemanship thanks to its abundance of Icelandic horses, it is a wide valley reaching south towards the Hofsjökull glacier. https://iceland.nordicvisitor.com/travel-guide/attractions/north-iceland/skagafjordur/
Eat
Sauðá
"Nice place, about 10-12 tables, nice view up the mountain. Everything good so far, but: I have been on many places in the world having a lot of dishes but in this restaurant I had the best dish of my entire life, the cod fish on some kind of couscous with Chorizo and several sauces. "
Photos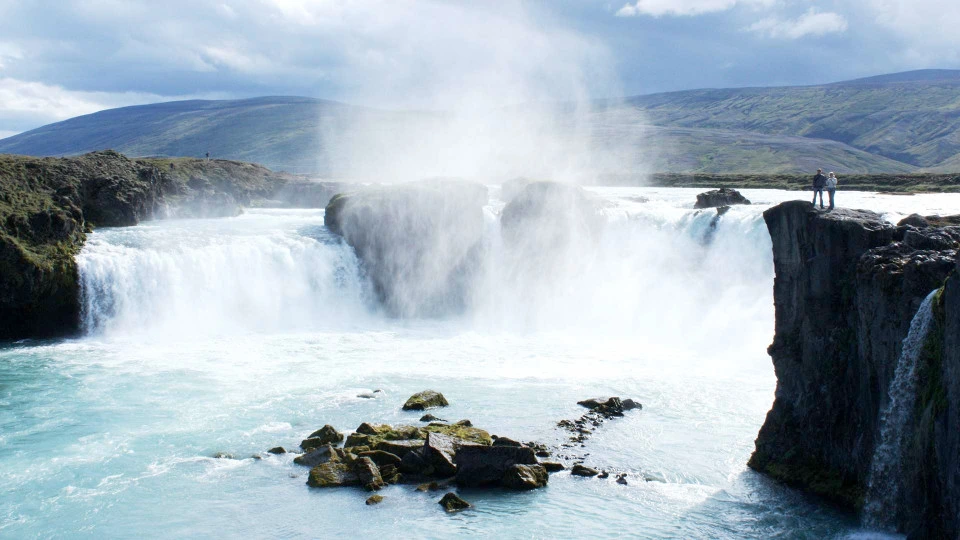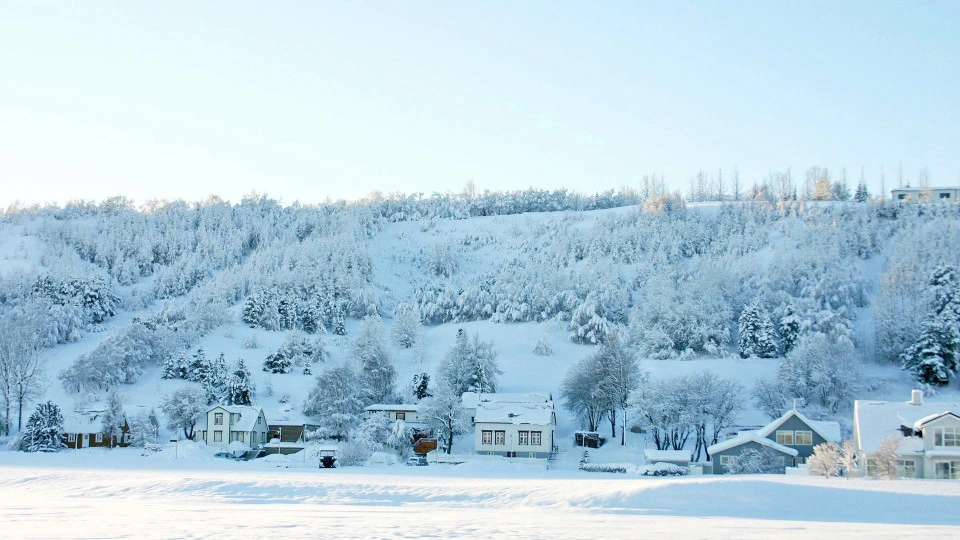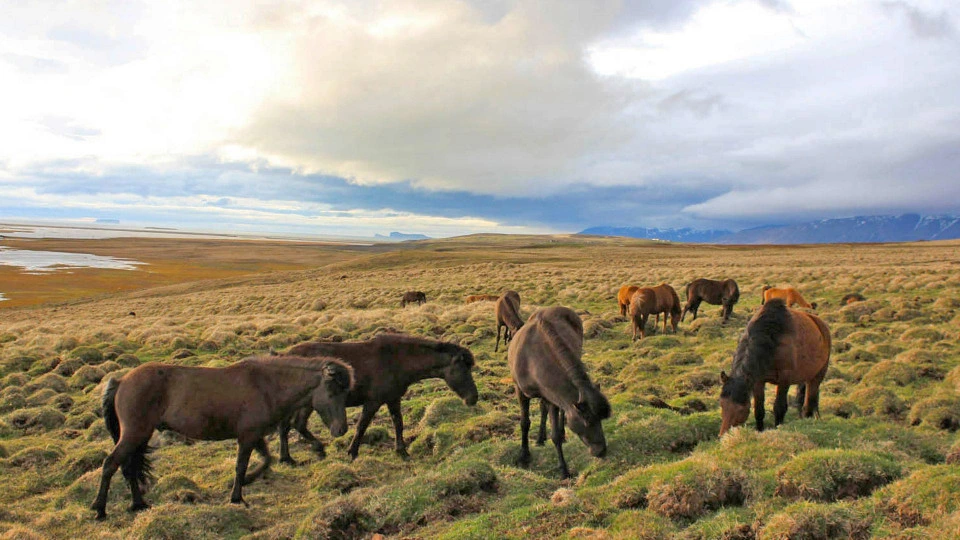 Day 8: Head to West Iceland
This morning, you'll take the wheel to drive south-west to Snæfellsnes. Along the way, admire the mounds of Vatnsdalshólar and stop for a photo op at the beautiful Þingeyrakirkja church. You can stop at the living museum of Eiríksstaðir, which is the home of famous Viking Erik the Red. We also recommend visiting Stykkishólmur, a lovely fishing village giving panoramic views over the Breiðafjörður Bay. Today is a perfect time to go horseback riding on a fluffy, sturdy Icelandic horse. This gives you an incredible view of Skagafjörður valley.
Visit
Stykkishólmur
Stykkishólmur is famous for its historic houses, the oldest of which, Norska Húsið (the 'Norwegian House') was constructed of materials imported from Norway by Árni Thorlacius in 1832 when Árni inherited the town's trading rights from his father. In addition to his contribution to establishing Stykkishólmur, Árni pioneered meteorological observations in the town in 1845 and the tradition has continued uninterrupted to this day. https://iceland.nordicvisitor.com/travel-guide/attractions/west-iceland/stykkisholmur/
Helgafell

Lava Rocks Formations

Eat
Narfeyrarstofa
"Amazing restaurant Everything was perfect, the serving, food, and drinks. We had fish and chips (the best fish and chips I've tasted), fish of the day perfectly cooked, fresh mussels, and tiramisu."
Photos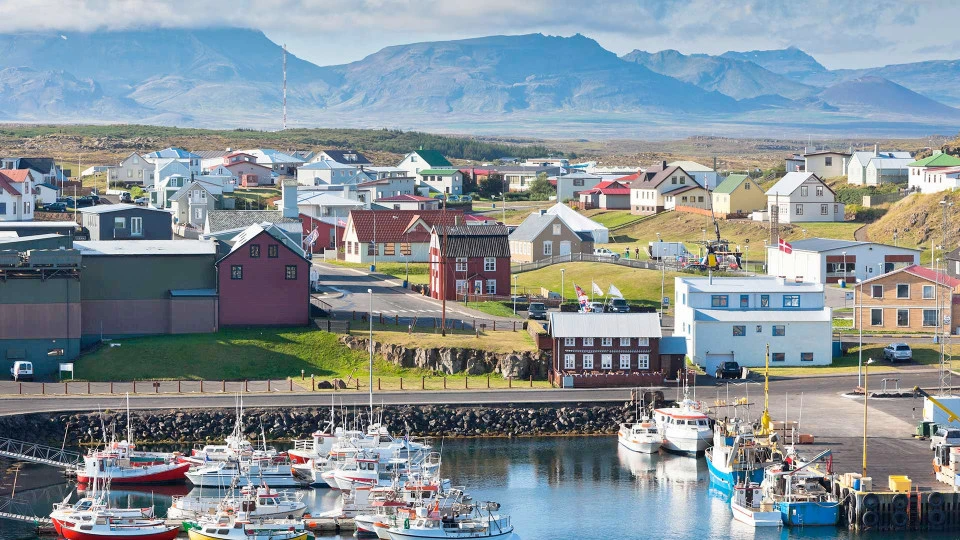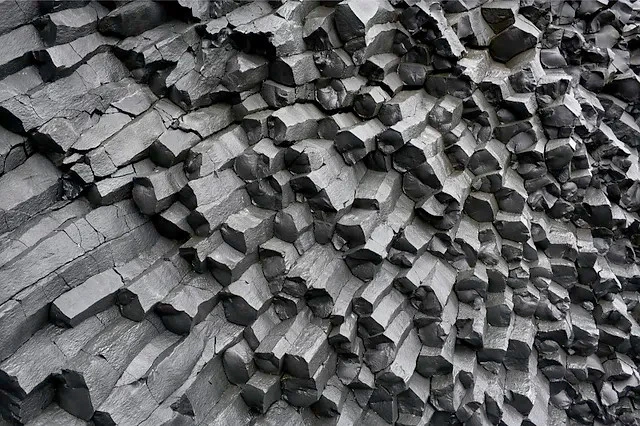 Day 9: Snæfellsnes Peninsula
Another detour from the Ring Road, today you explore this spectacular western peninsula. It is home to the Snæfellsjökull National Park, known for its amazing birdlife, lava fields and green valleys. Take your day to drive around the whole peninsula and all the way back to Reykjavík. This way you can explore Dritvík Cove and the cliffs of Arnarstapi and Lóndrangar. There are also plenty of cute fishing villages to see along the way. During this day, you could add on fun, unique activities like walking inside a glacier or a lava cave.
Visit
Snæfellsjökull
Snæfellsjökull National Park encompasses a large area of Snæfellsnes Peninsula's western tip. This is Iceland's oldest national park, named for the area's most prominent attraction— the 1446 metre tall Snæfellsjökull stratovolcano and its dazzling glacier, which can sometimes be seen 150 km away in Reykjavík. https://iceland.nordicvisitor.com/travel-guide/attractions/west-iceland/snaefellsjokull-national-park/
Arnarstapi
Arnarstapi is a small fishing community with a beautiful and striking shoreline. You can see weird basalt columns, gorges and caves which are home to many sea-bird colonies including kittiwakes and razorbills. https://iceland.nordicvisitor.com/travel-guide/attractions/west-iceland/arnarstapi/
Eat
Samkomuhúsið Arnarstapa
"Although a bit hidden and behind two other restaurants this place is definitely the best in the spot for a lunch or dinner. Completely different from other two, it's very Icelandic with a short but very tasty local home-made menu"
Photos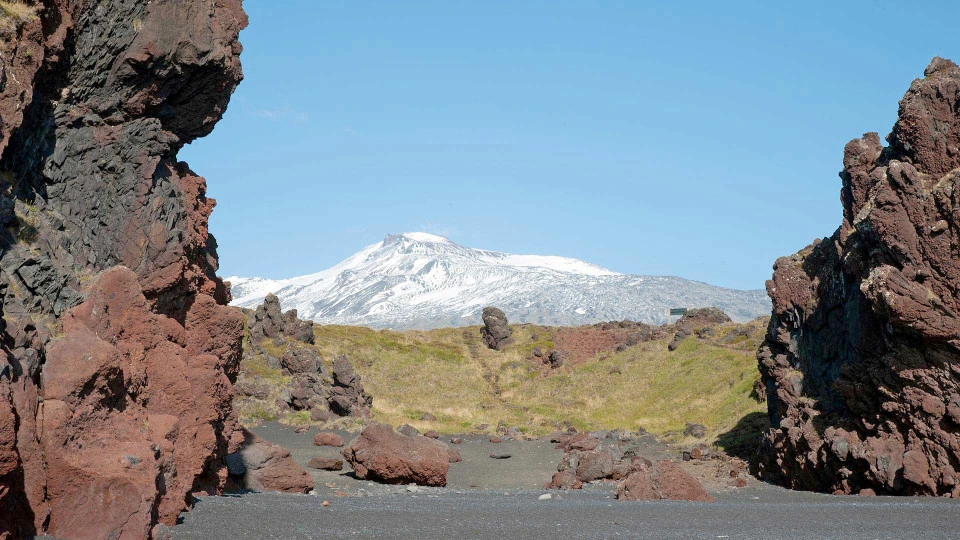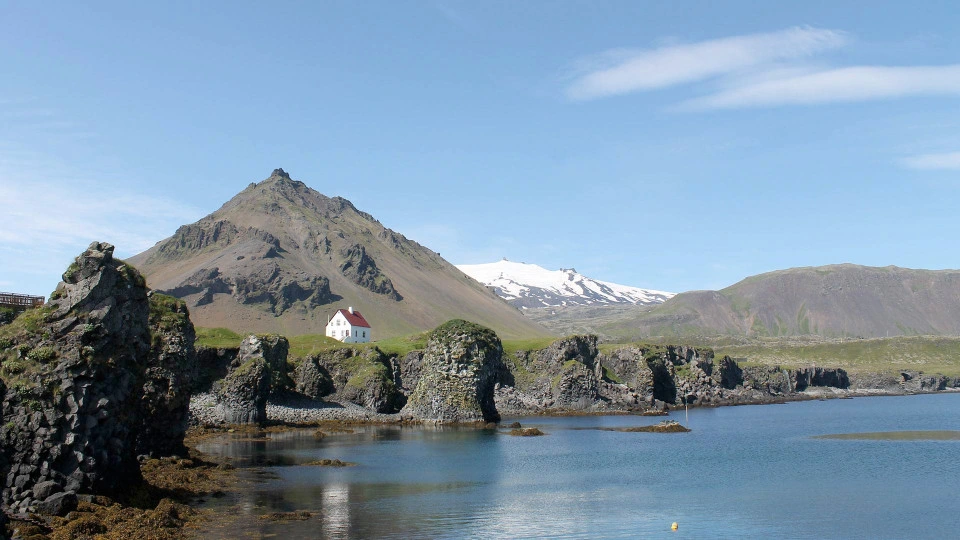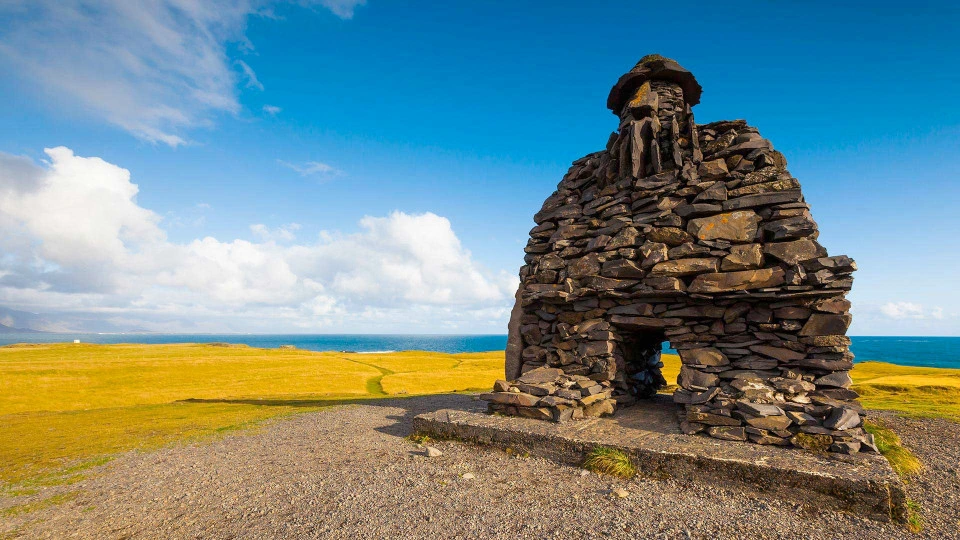 Day 10: Departure from Iceland
Today you depart after a fantastic adventure in Iceland. Depending when your flight time, you can spend some time exploring Reykjavík. Relax in a local pool or head up the Hallgrímskirkja for a last view over the city. If you haven't visited yet, you could also head to the Blue Lagoon on your way to the airport.
Visit
Hallgrimskirkja
Hallgrímskirkja is the landmark Lutheran church in Reykjavík. Standing 73 metres tall, Hallgrímskirkja is the largest church in the country and is named for Hallgrímur Pétursson, author of the Passion Hymns. https://iceland.nordicvisitor.com/travel-guide/attractions/reykjavik-capital-area/hallgrimskirkja/
Perlan
Perlan, or "The Pearl" sits prominently atop Öskjuhlíð just outside the city centre, overlooking the Nauthólsvík beach and Reykjavík Domestic Airport. Its most striking feature is its design—a glass domed structure sitting atop six huge hot water storage tanks. Most visitors come for the impressive 360-degree views over Reykjavik from the viewing deck—especially during summer sunsets, but inside there is also a rotating gourmet restaurant, a café with lighter dishes and an exhibition space. https://iceland.nordicvisitor.com/travel-guide/attractions/reykjavik-capital-area/perlan/
Grótta Island Lighthouse, Seltjarnarnes, Iceland
Located on the Seltjarnarnes peninsula, Grótta is one of Reykjavík's most visited sites. Throughout the year, visitors and locals alike flock to this beautiful area to enjoy the outdoors and walk along the coast.
The Einar Jónsson Museum
A hidden gem that you can visit during your time in the Icelandic capital is the Einar Jónsson sculpture park. Located around the corner from Hallgrímskrikja, the park is open all year long and is free of charge.
Eat
Three coats
"This restaurant, located in a neighborhood in Reykjavik, was definitely one of the best food experiences of our entire trip!"
Sandholt
"Must go to this bakery/cafe! Their croissants are soft and puffy and perfect. They have good variety of vegetarian, vegan and meat based sandwiches and salad. "
Photos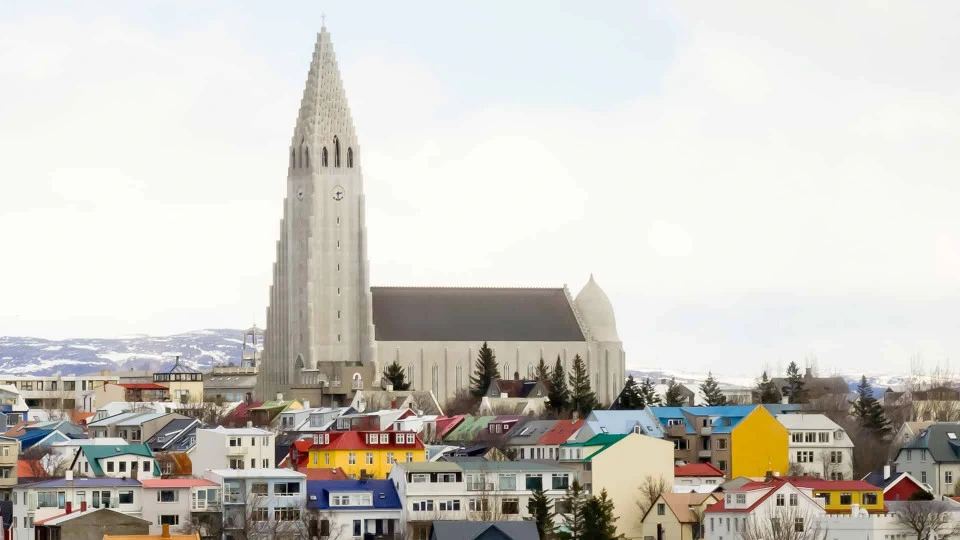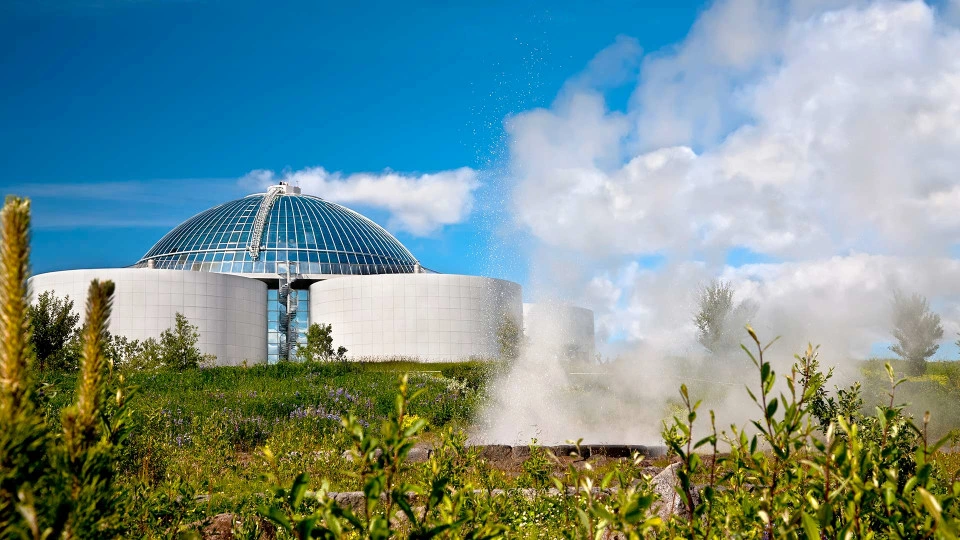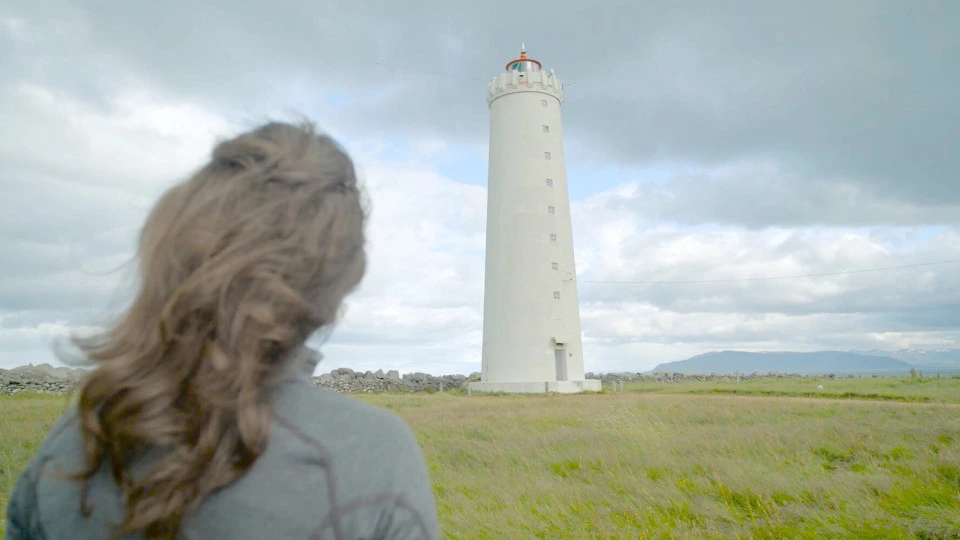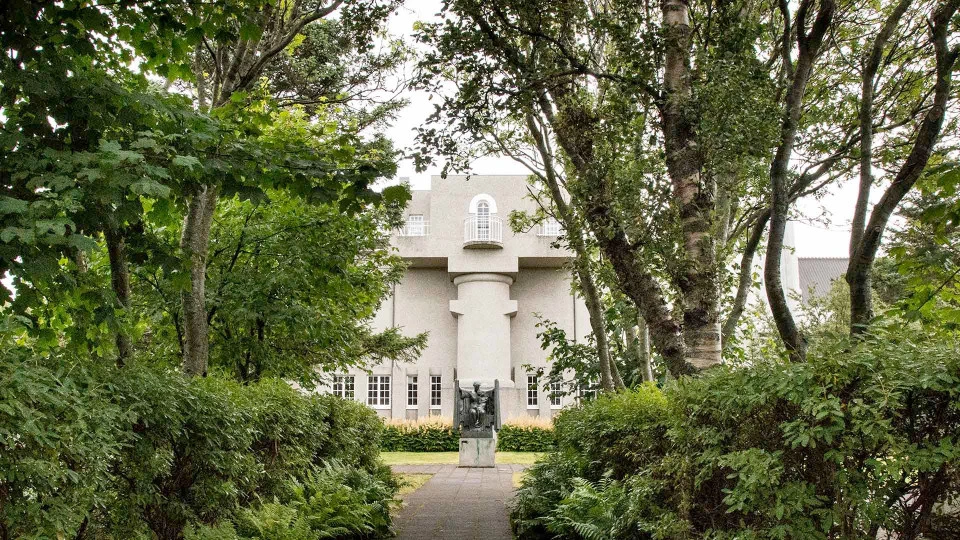 ---
Checklists
Checklist: Packing List
High powered flashlight for night time outings.
Hiking boots; thermally insulated if visiting in colder months
Reusable water bottle
Hats/caps in the summer
Rain gear including rain coats and rain pants or a poncho; useful for wet weather as well as visiting waterfalls!
A travel umbrella
Checklist: Winter Packing List
WINDPROOF/RAINPROOF COAT - This is an essential purchase. Numerous outlets in Reykjavik sell quality outdoor gear designed to withstand the harsh Icelandic elements. You'll want a super cozy fleece-lined one if you plan to stay out late to catch the northern lights.
WOOL SOCKS - There's nothing worse in the world than cold feet. Wool is the best material for heat insulation, so make sure to bring enough pairs to last you throughout the trip. If you're planning on hiking or spending elongated periods outdoors, you'll want to wear two pairs of socks every day. So be sure to prepare and pack double the number of socks.
WINTER HAT, GLOVES, SCARF - Oh, these are far more than fashionable accessories in Iceland. They're lifesavers, the difference between comfort and pain. Make sure to get practical items (i.e., no fingerless gloves, bandanas, or satin scarves), and be sure to take them wherever you're heading.
JUMPERS - In terms of torso coverage, don't forget the obvious stuff like T-shirts, long-sleeved shirts, and vests. However, the most important thing is, of course, the jumpers. Try to bring a few woolen sweatshirts with you. Alternatively, the traditional Icelandic jumper, the lopapeysa, can be purchased in stores around the country and makes for a beautiful souvenir.
THERMAL LAYERS - Specifically designed thermal wear, be it leggings or a tight pullover, are a must during the wintertime. They provide levels of insulation impossible to achieve otherwise. It's always a good idea to bring several thermal layers with you as they can make the difference between enjoying your holiday or not.
LIP BALM - During the wintertime, people's lips will often dry out and become irritated. A handy chapstick will make this a non-issue from the get-go. Pack moisturizer and sunscreen, too; both can protect your skin on windy, cold, and sunny days.
BATHING SUIT - You might not be thinking of packing a bathing suit for a winter trip to Iceland. However, it's helpful in Iceland. The country has numerous hot springs, spas, and swimming pools, an integral part of Icelandic culture. Blue Lagoon or Secret Lagoon, anyone?
BOOTS - The combination of Iceland's varied terrain and the strong likelihood of a snowy forecast make packing a sturdy pair of boots a good idea. These could be snowshoes, waterproof hiking boots, or other winter boots. And don't worry - Icelanders prefer casual dress, so you won't look out of place wearing these out in the evening, too.
Checklist: Spring Packing List
HIKING BOOTS - Spring is the season when Iceland's snow starts to melt away with the rising temperatures (though we still get snowfall sometimes!). This usually means the roads are clearer, the light lasts longer, and the winds are less volatile, making it the perfect time to explore Iceland's nature.
ANTIHISTAMINES - Though Iceland doesn't have a lot of forests, we still have plenty of pollen. For those of you with springtime allergies, in particular, this is the season to bring your antihistamines from home.
BASE LAYERS - Base layers are essential for most seasons in Iceland due to our lower-than-average temperatures. However, Icelanders notoriously see spring as a small window between winter and summer, meaning you'll usually need to be prepared to keep wearing the warm clothes of winter during this time.
WARM/WATERPROOF JACKET - Spring in Iceland always has a likelihood of rain, as well as some days of snow showers. To make sure you're prepared, always remember to bring a warm and waterproof jacket on your journey over.
Checklist: Autumn Packing List
WATERPROOF JACKET - During autumn, statistically, the rainy days start to return, and the temperature drops again. You'll need to make sure you have a waterproof coat with you at all times should the weather not be favorable to you.
JUMPERS/SWEATERS - You'll need a warm jumper when exploring Iceland in autumn. The temperatures start to drop quickly as Iceland transitions into winter, so you must pack for the cold.
WATERPROOF SHOES - As there's an increased likelihood of more rainfall and if you're planning on exploring Iceland's stunning waterfalls, it's essential to keep your feet warm and dry, particularly during autumn.
Checklist: Summer Packing List
HATS/CAPS - Although it's summer, it doesn't necessarily mean it will be warm. Caps can also be helpful when it comes to blotting out the sun's gaze on sunny days.
SUNGLASSES - Practical and stylish, your summer holiday is the perfect time for your best Elton John impression. Flick out the Hollywood shades for extra protection and extra swag.
SUNTAN LOTION - This one might come as something of a surprise given the climate. However, the sun's ultraviolet rays are just as concerning here as anywhere else. However, try telling that to Icelanders; come the sun, the local population leaps outside like flies on honey.
RAINGEAR - Even when the weather plays along, it's still convenient to have some rain gear with you. When visiting mighty waterfalls such as Skogafoss, Seljalandsfoss, or Dettifoss, the mist from the waterfall can quickly soak you.
---
Notes
Do NOT go off-road driving:

Driving off marked roads can damage fragile vegetation and be very dangerous for you as a motorist. Therefore, off-road driving is strictly prohibited and heavily fined by authorities.

To experience more wild driving, book a super jeep adventure in the highlands or East Iceland. This way you could go with a professional guide to cross unbridged rivers and across wild terrain in a safe manner.

Take your time:

The road conditions may well be unlike what you've encountered before. For that reason, it's best to take your time around the island.

This is especially true in winter, when the weather may affect driving and road conditions. Make sure you have plenty of time to get from one accommodation to the next safely.

https://guidetoiceland.is/travel-info/how-to-pack-for-travel-in-iceland


Great info on how to pack for Iceland for all seasons.

Stop for fuel and restrooms when you can:

In certain parts of rural Iceland, it's common to go long stretches without seeing a town or village. This is especially true between Vík and Mývatn. So keep an eye on your fuel levels!

And when you do come across a gas station, it's wise to refuel and use the toilet if there are any doubts. Don't risk running out of gas.

It's also an opportune time to stock on tasty Icelandic snacks. We recommend skýr (similar to Greek yogurt), pylsur (hot dogs), and chocolate-liquorice candies.

Pro-tip:

Gas is slightly cheaper at self-service stations such as ÓB, Orkan and Atlantsolía.

Be aware of road hazards:

While it's perfectly fine to navigate in most spots, there are some unique challenges and road hazards to be aware of. Though most of the highway is paved, there is still a short stretch in East Iceland near Berufjörður with a gravel surface.

Also, in the more rural areas there are a number of narrow passes (especially around the fjords in East Iceland), blind summits and single-lane bridges.

Driving:

The first thing to be aware of is that in Iceland, motorists drive on the right side of the road (and left side of the car).
---
FAQ
How long is the Ring Road in Iceland?

The Ring Road is 1,328 kilometres long (825 miles). That's the equivalent of driving part of the United States' east coast, from Boston, Massachusetts, to Charlotte, North Carolina. Or driving the full length of the UK from John o'Groats in Scotland to Penzance in south-west England. Basically, the Ring Road covers most of the country, as shown in blue on the map above. It bypasses part of North Iceland (in red), the Westfjords (dark blue) and the Snæfellsnes peninsula (purple). These can always be added to a summer itinerary for a deeper exploration of Iceland.

How long does it take to drive the Ring Road in Iceland?

While you could drive the whole Ring Road in 24 hours – like the Icelandic band Sigur Rós did in 2016 for a live show – we really don't recommend it. For the best experience, we recommend no less than 7 days in Iceland. This is for a comfortable, but express route around the island. From there, you can extend it to discover some regions in more details, to take detours, and explore remote corners. Plus, the speed limit for most of the way is 90 kilometres per hour (55 miles per hour), and speeding fines aren't cheap. So it's best you slow down and enjoy all the scenery along the way.

Is the Ring Road in Iceland worth it?

Definitely! Driving the Ring Road of Iceland is a great road trip idea. As it circles the island, you will be able to reach the different parts of Iceland (except the highlands and Westfjords). Not only that, but many of the stunning highlights are located just off the Ring Road, giving you easy access to the best the country has to offer.

Can you drive the Ring Road in Iceland in the winter?

Yes, you can drive the Ring Road during wintertime. Most visitors choose to drive Iceland's Ring Road in summer. At this time of year, the midnight sun gives you plenty of extra daylight for driving and sightseeing. But winter road trips are also possible, and growing in popularity. Read our guide to the best times to visit Iceland here. If you're keen to drive the Ring Road in winter, it's best to come prepared. Make yourself aware of road safety precautions before you travel. For example, you must drive slowly in cold weather to avoid unseen ice, and turn your headlights on, day and night.

Which way do you drive the Ring Road in Iceland?

You can drive the Ring Road whichever way you want. It's a circle, so you'll end up in all the same spots anyway. We recommend driving counterclockwise. This way you can start with the popular highlight of the Golden Circle, a perfect introduction to Iceland, before continuing south.
---
---