12 DAYS IN TAIWAN
A magical journey from beaches to mountains and back to Taipei.
Taiwan is a small island, but with an amazing variety of scenery and sights to see whether you're seeking exotic beaches, mountain hikes in the clouds, or bustling night life, Taiwan has it all!
Home of boba tea and shaved ice, Taiwan's famed night markets offer visitors a smorgasbord of delightful dining options whether you seek sweets or savory snacks. But beyond the night markets, Taiwan has amazing hiking and gorgeous scenery all around the island.
It is a great place for families as travel is convenient by the MRT (Mass Rapid Transit) system and the HSR (High Speed Rail). The EasyCard system makes it easy to take advantage of the great public transit infrastructure to get to where you need to go.
Join us on a 12-day journey around Taiwan that goes almost from tip-to-tip and takes you snorkeling with sea turtles to diving into waterfalls to hiking the many trails around Taipei!
---
Days
Day 1: Travel to JFK
Transit day.
Leaving the US for Taipei (TPE) via JFK provides a non-stop, 16 hour flight to Taiwan. EVA Air is a great option. The flight takes off at 1 AM and will immediately serve a meal once airborne to help set your clock (as it would be a meal between lunch and dinner in Taiwan time). Parking at JFK long term parking is an affordable and convenient option.
Transit
JFK Long Term Parking
9 PM entry
Day 2: Flight @ 1:00 AM
Transit day.
Your flight will last 16 hours. It's strongly recommended that you sleep during the flight as the flight will land at 5 AM local time in Taipei. This will help you make the most of your trip if you can get a good night's rest on the flight.
Transit
Eva Air from JFK

EVA Air WiFi
Slow, but usable in a pinch. Don't depend on it for audio/video use cases. The free tier is only 30MB, which is only good for messaging.
Day 3: Arrive Taipei (台北 @ 5:30 AM)
Arrival day.
As you exit the airport, grab a SIM card for the duration of your stay. For a 15 day unlimited plan, this costs $33 USD. (You can also opt for a hotspot). There is one stall to purchase a SIM right at the exit where customs is. If the line is long, don't worry, there are additional stalls outside as well. From the exit, make your way down stairs to the MRT station which will take you to Taipei Main Station. Here, you'll want to pick up and load an EasyCard which is what you'll use to pay for almost all of your transit fare. Watch for the express vs. commuter line. There's an approximately 40 minute difference in transit time! So take the express if you can. If you're heading to southern parts of Taiwan, you can also hop on on the High Speed Rail (HSR). Take it easy on day 1! You'll definitely feel a bit jet lagged so plan an afternoon nap. In Taipei, there are many sights to see and lots of food to eat! Stop at the Chiang Kai-shek Memorial for a scenic walk and Din Tai Fung Xinyi nearby for amazing soup dumplings. Yongkang Street is always a great place to visit whether day or night. Everything is easily accessible via the MRT system using the EasyCard.
Visit
Chiang Kai Shek Memorial
Stop by here for a stroll to take in the beautiful gardens. There are water filling stations near all restrooms so you can fill your water bottle. Catch the changing of the guards for a spectacle!
Eat
Din Tai Fung Xinyi
Famed xiaolongbao (soup dumplings). Conveniently located; some earlier in the day to avoid lines and long waits.
Shida Night Market
A small night market that's easy to navigate and food-focused.
Mister Donut
This shop was located next to a Mister Donut. They sell a variety of snacks, but this one was a crepe with cake and topped with ice cream; amazing!
Stay
ARK Hotel
https://goo.gl/maps/7QyHC5QKBxbWuErC6 booked via Booking.com
Transit
Arrive @ TPE

Pick up SIM card.
15 Day. Lots of options and booths when you exit. There is a single vendor before the customs exit and multiple outside of the customs exit. If you see a line at the one before the customs exit, just go to the one outside of the customs exit. If you don't need cellular service, you can also pick up a hotspot instead. The rental car company required a cell number so we picked up SIMs.
Taoyuan MRT
Head towards Taipei. Commuter (blue) and express lines. About 15-20 minute difference! Be sure to watch for the express line if you're headed to Taipei.
Taipei Main Station
Switch here to the red line.
Dongmen Station
Exit 7 will place you close to ARK Hotel. There are a lot of places to pick up food in the area.
Photos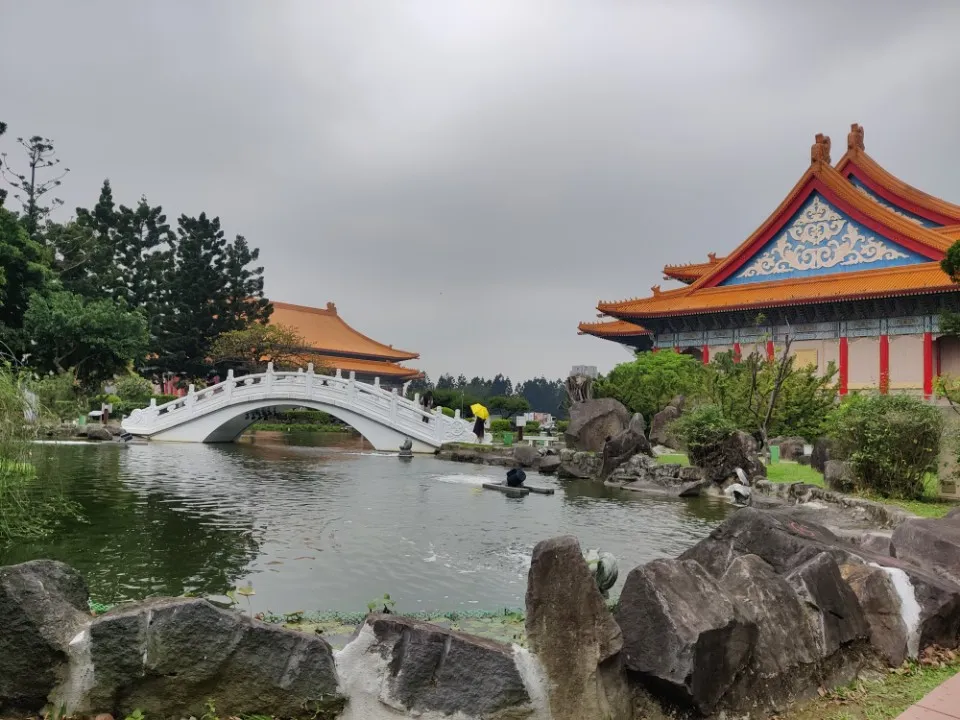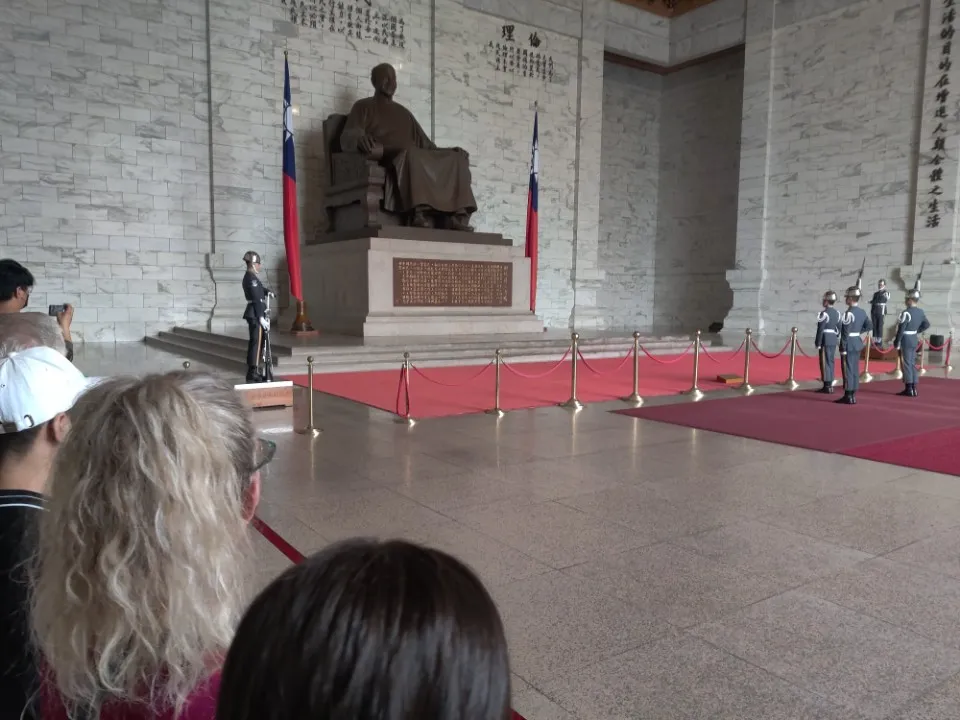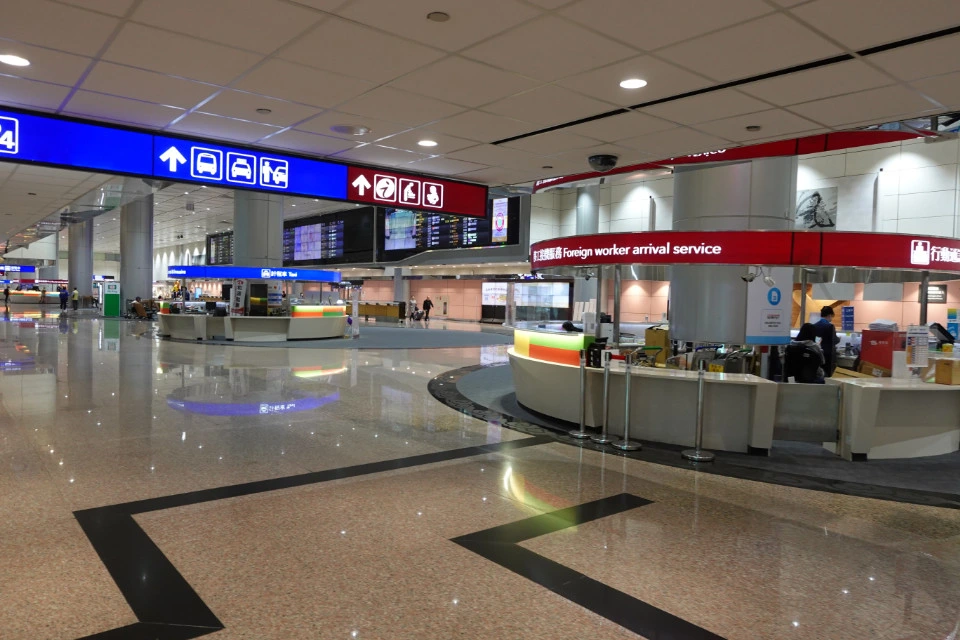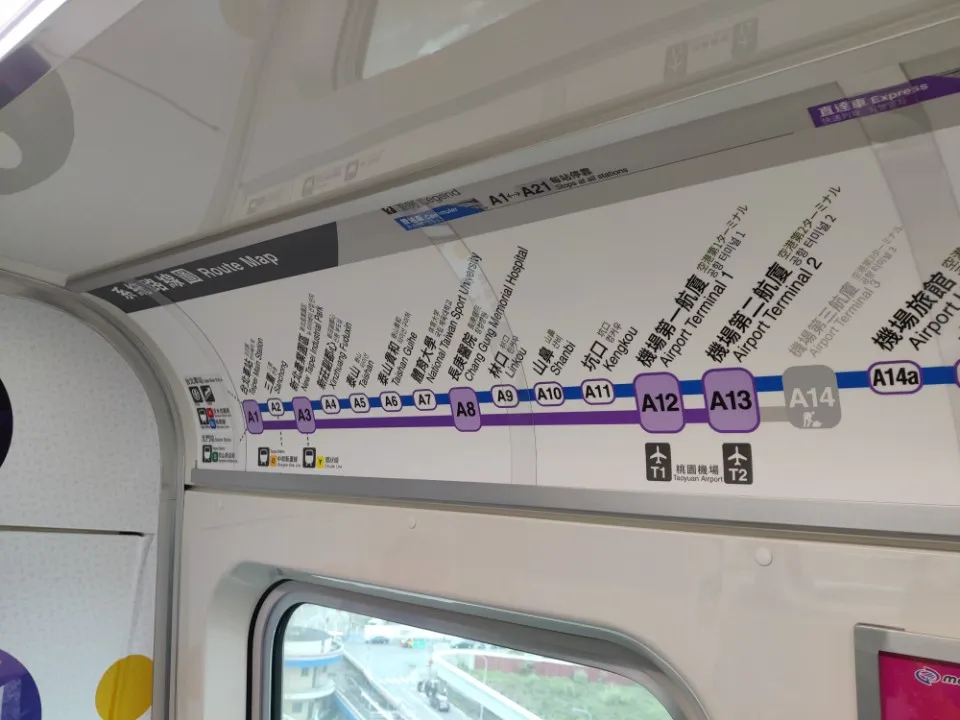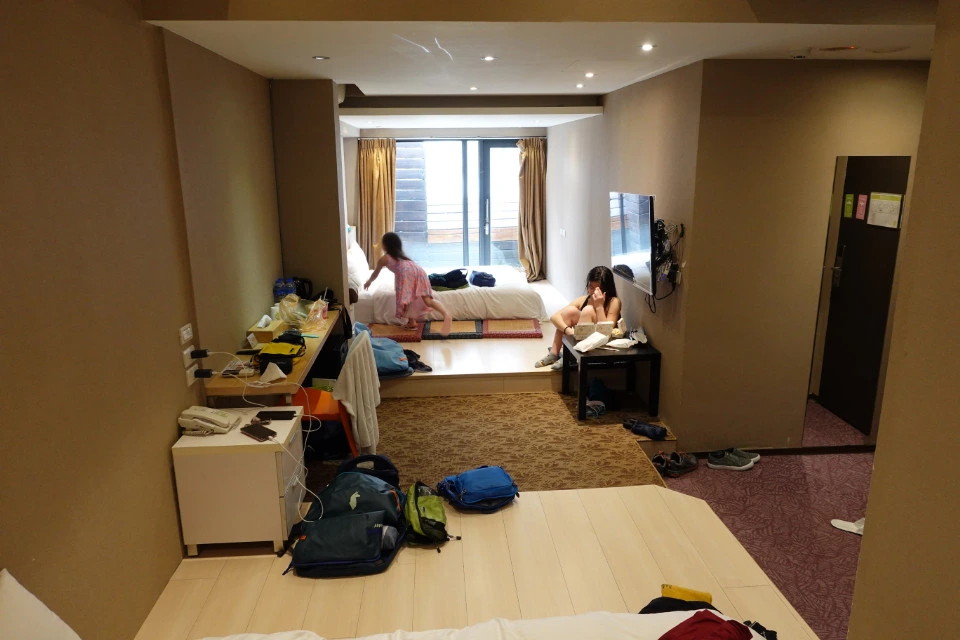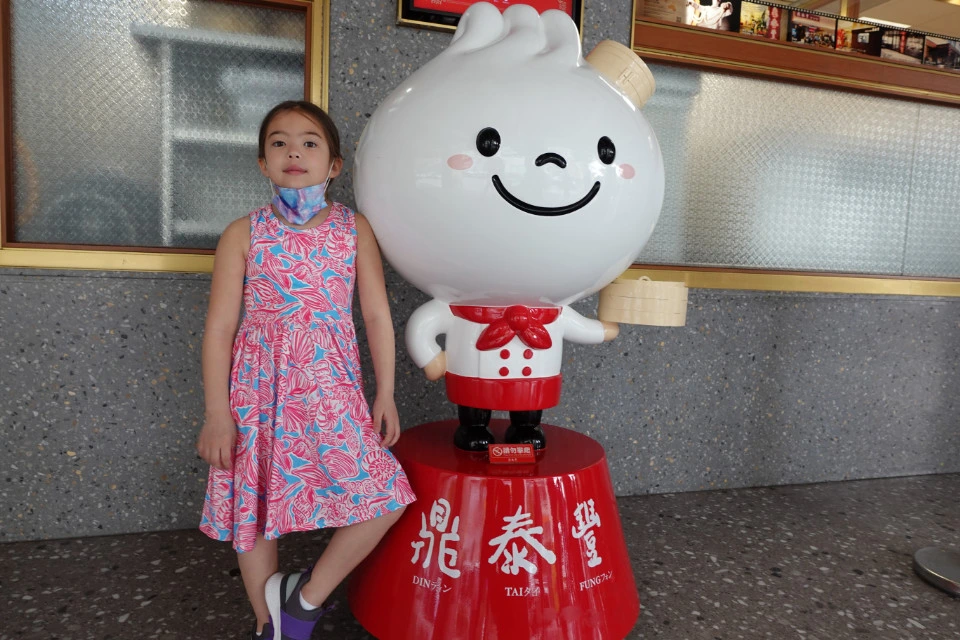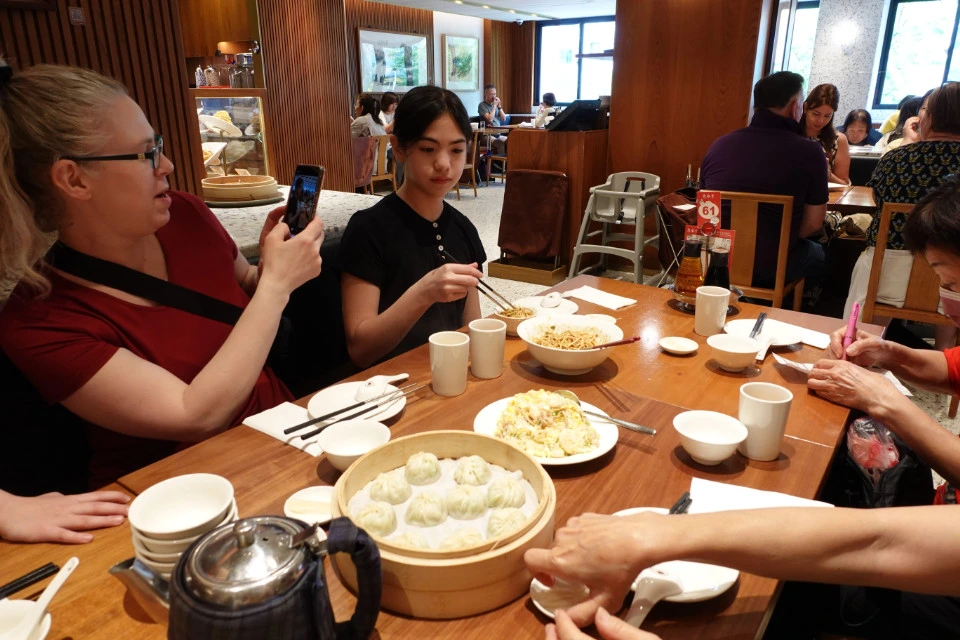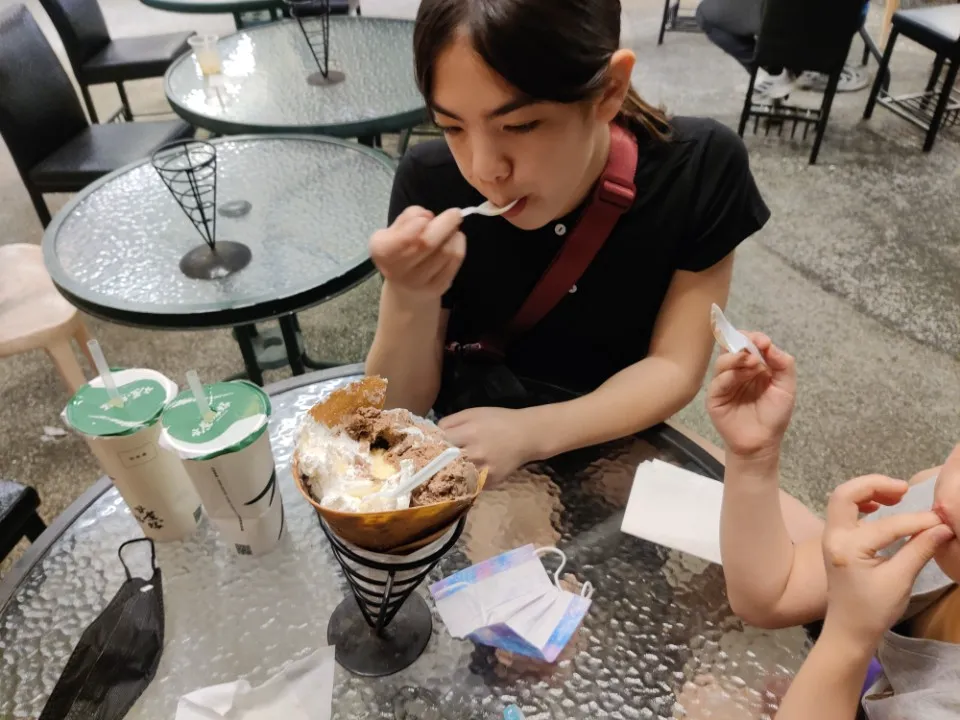 Day 4: Beitou and Yangmingshan (北投, 陽明山)
Hot springs and hikes
Beitou is famed for it's hot springs. The springs here are odorless and are low in sulfur so it's a great place to stay if you want to soak! It's worth a hike through the Geothermal Valley to see the amazing hot springs pool. Watching the steam dance off of the surface of the turquoise water is sublime and otherworldly. Note that you won't see quite as much steam on warmer days. We happened by on a cooler day and the steam was just magical to watch. Sit and relax a bit before heading back to the Xinbeitou station where you can take the S9 bus up to Yangmingshan for day hikes. Be aware that this bus is seemingly packed at all times of the day! If it fits within your budget, consider hiring a cab driver and then simply ask the driver to stay and wait as you alight at your desired stops. The temperature at the top of the mountain can be several degrees cooler than the base so in spring and fall, be sure to bring something warm Depending on the time of year, you can see different flowers: early spring for calla lilies; late spring/early summer for hydrangea! Depending on your plans, you can stop at Shilin night market on way back in the evening as it is along the MRT red line. Alternatively, header further out on the red line towards Tamsui for the evening.
Visit
Beitou Geothermal Valley
The sights here are simply sublime watching the steam dance off of the turquoise water surface. Absolutely worth the trek and a visit before heading up to Yangmingshan!
Shuicheliao Walk 水車寮步道 Actual Entrance
This is the actual entrance for the Shuicheliao Walk. Google Maps has it tagged in a weird place! Take the S9 bus up or take a cab (and ask the driver to wait). Note that the S9 can be crowded!
Eat
Gim Bap Place Near Beitou
飯丸屋 北投泉源店 +886 968 868 803 https://maps.app.goo.gl/PtWzKQw6QJwWaQit8
Castella Cake
Near Beitou 湧蓮古早味現烤蛋糕 +886 2 2897 3790 https://maps.app.goo.gl/snZCMDX5fV6hEd3Y6
東門豆漿
Breakfast staples
米太丰手作飯糰
Purple rice balls located right at exit 2 of Dongmen MRT.
Transit
Dongmen Station; Line to Beitou
5 minutes east of ARK.
Bus stop for S9 up to Yangmingshan
This bus can get crowded, even on a weekday. It was standing room only for both the ride up and down for us. Consider a taxi and pay the driver extra to wait.
Photos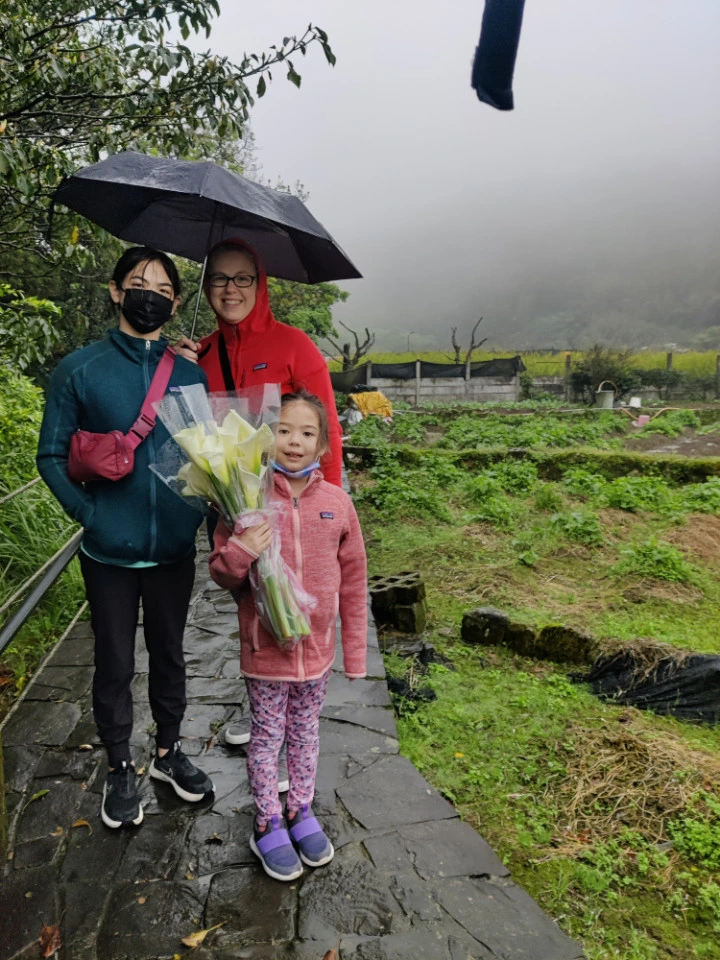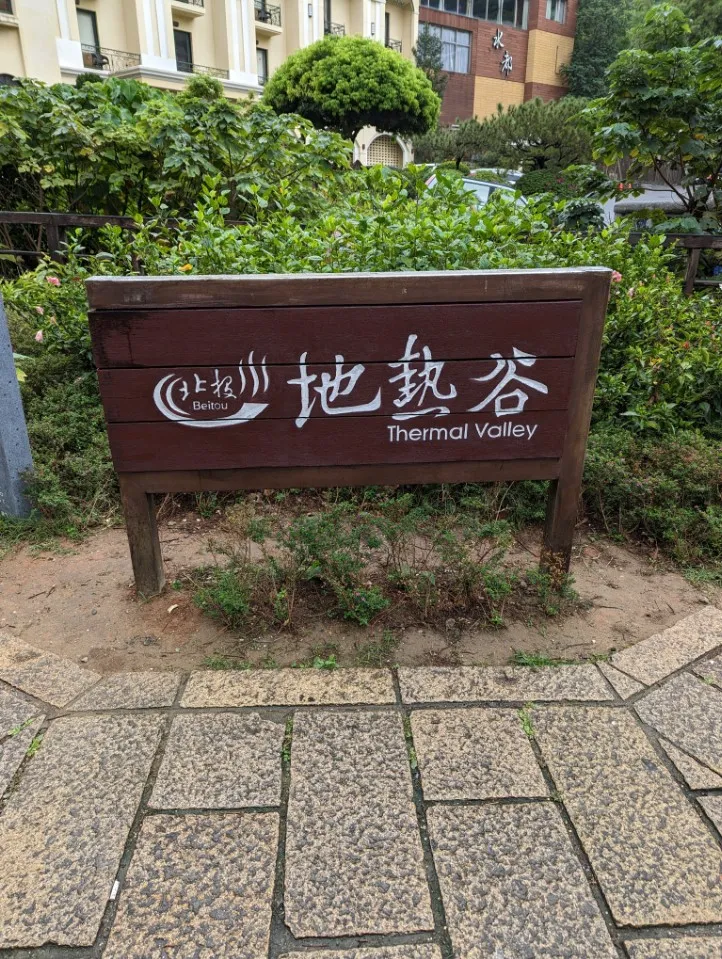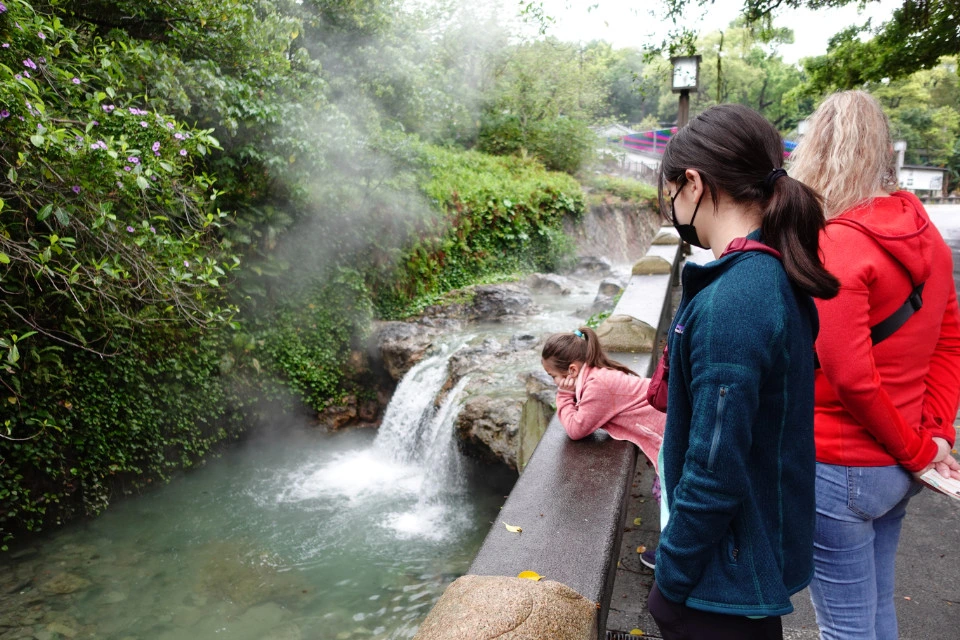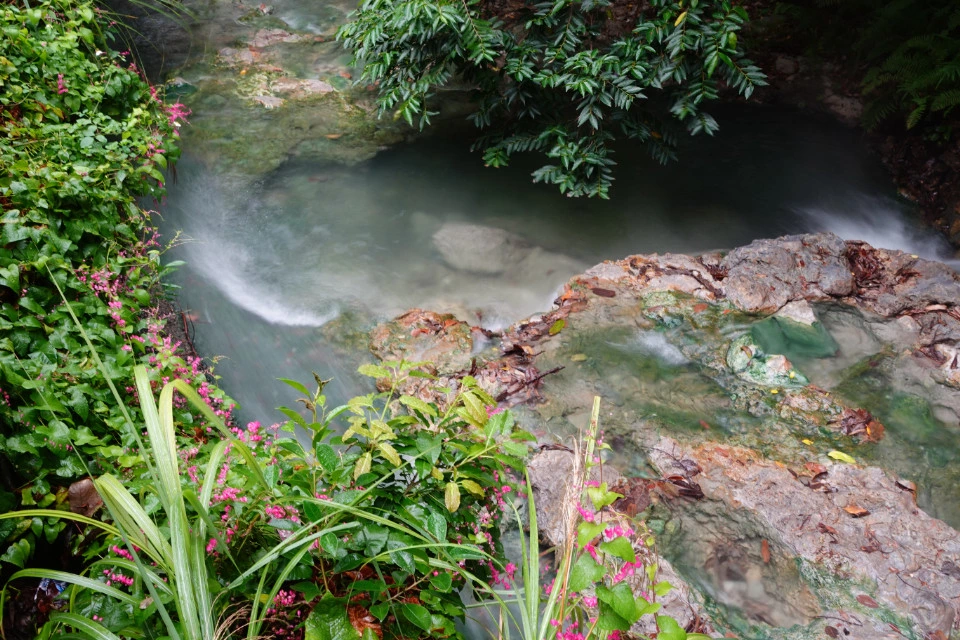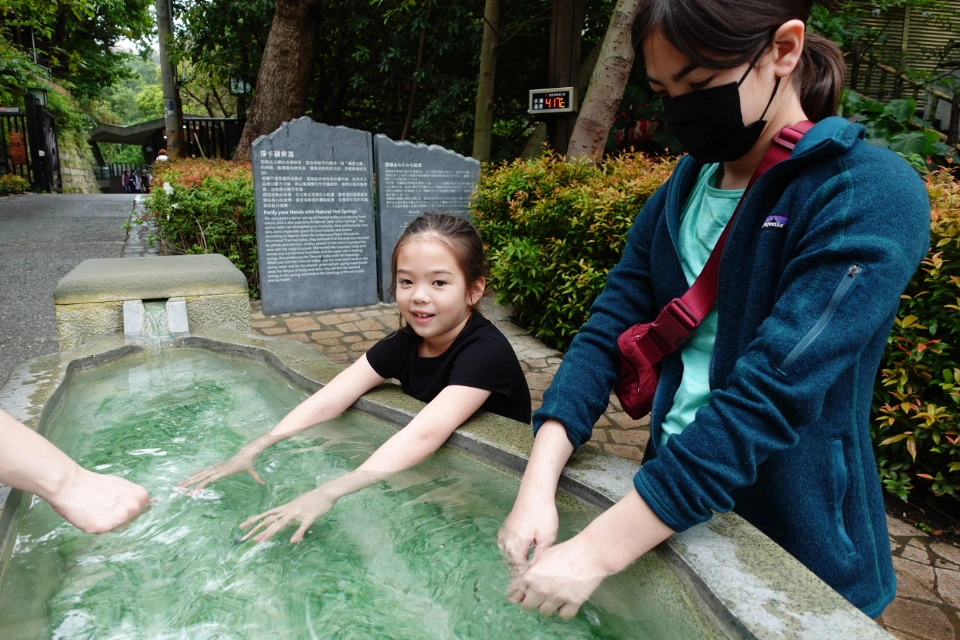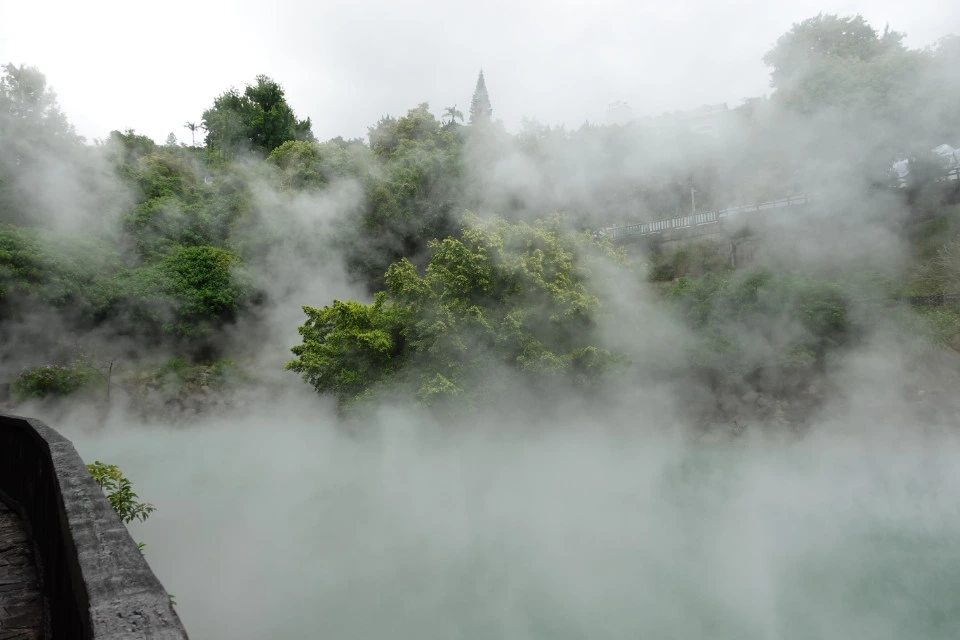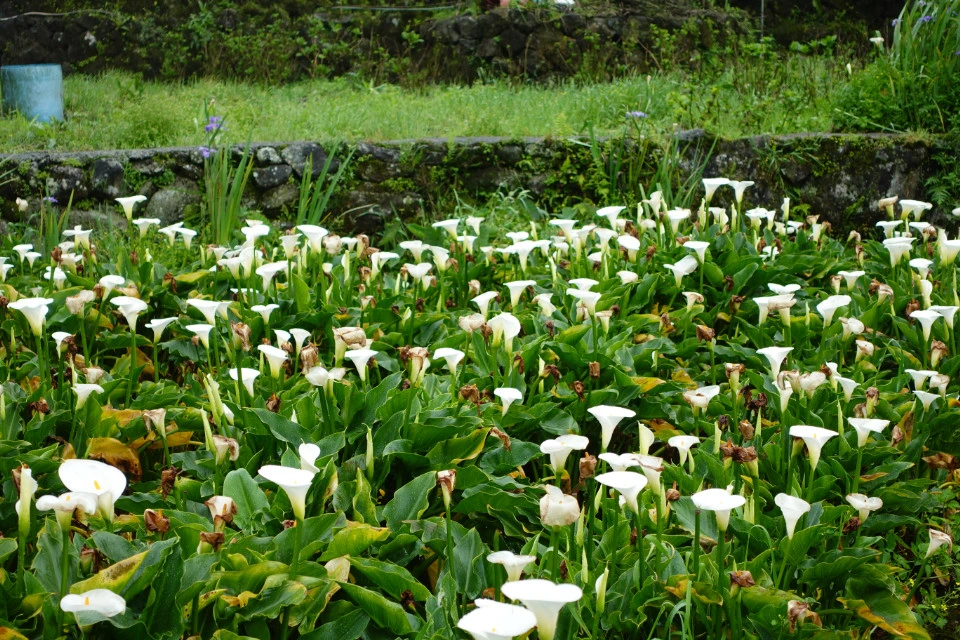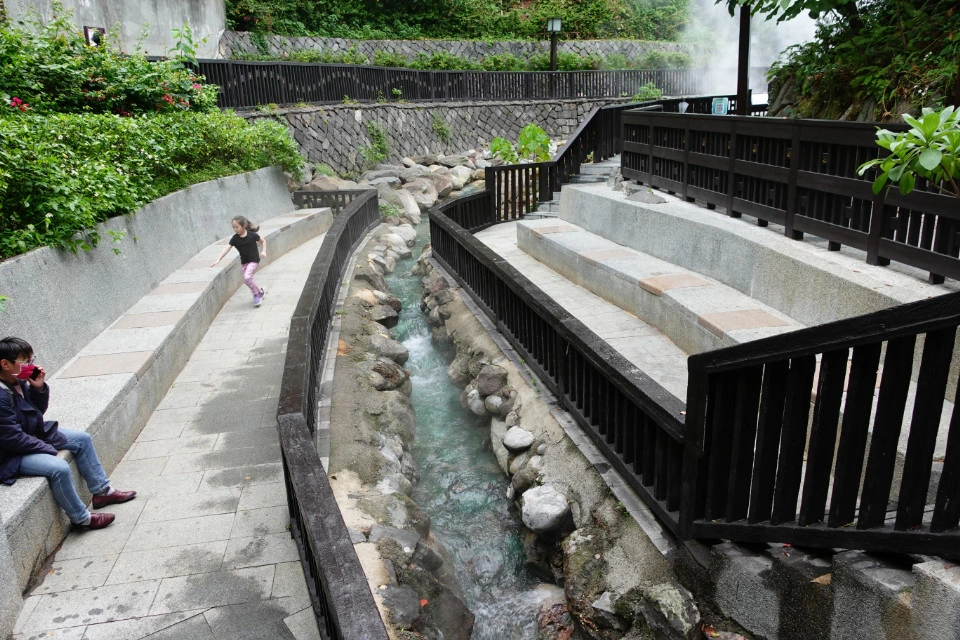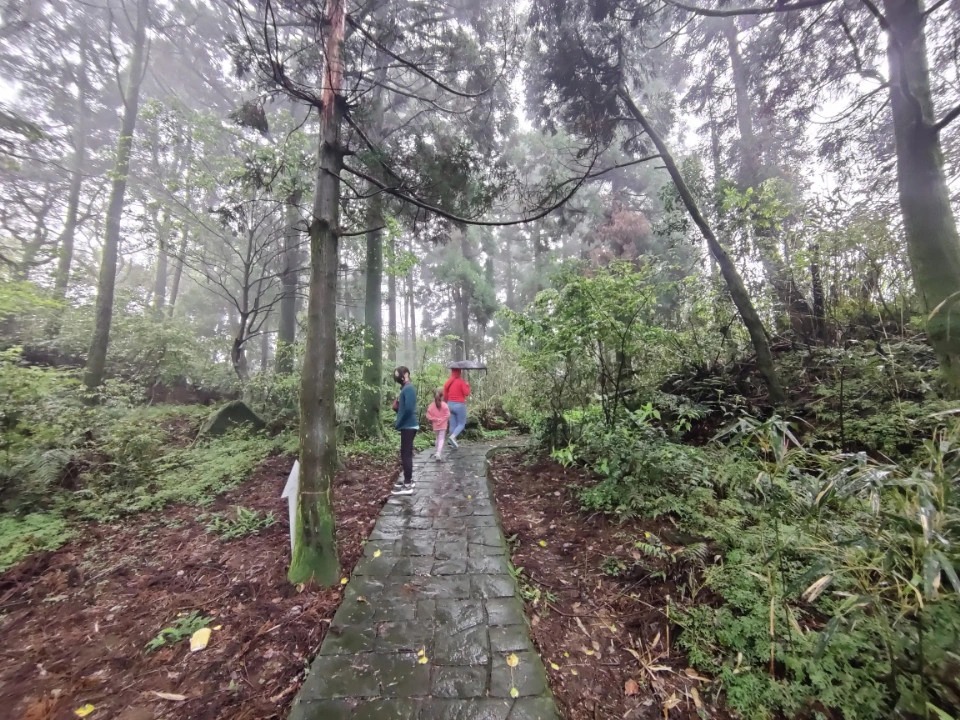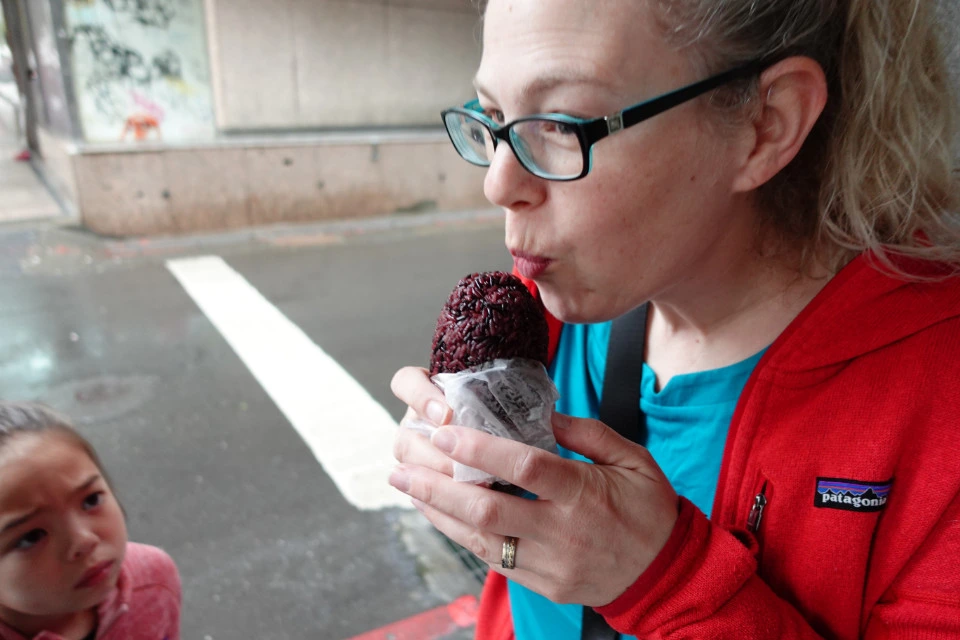 Day 5: Taichung (臺中; LAUNDRY)
Midpoint of Taiwan
Taichung is a great city to stop in as a midpoint and if you are interested in visiting some of the sights to the east such as Guguan Hot Springs, Xitou Nature Education Area, or Sun Moon Lake. Unlike Taipei, Taichung's MRT system only has one line (green line) that runs along the west and northern parts of the city. There are many scenic sites to see in Taichung, but plan to rely on the bus system and taxis moreso than in Taipei. The Dakeng recreation area has some fantastic and scenic hiking. Head out to the Gaomei Wetlands are also worth a visit if you have time.. The Fengxia night market is sprawling and a great place to visit. For our trip, this is a stop to meet up with family, but there are plenty of sights to visit in Taichung including the sprawling and bustling Fengxia night market. The Sun Hao Hotel is centrally located and has convenient laundry facilities so you can reduce your packing by planning a laundry day here.
Visit
Suncake Museum
https://goo.gl/maps/Kn3uK8ZSLivnALbr6
Taichung Sixth Market
https://goo.gl/maps/WTydBHUppQFjJ5Q59
SEI Green Waterway
https://goo.gl/maps/nsi6corBNTNev7ER7
Eat
大墩十四街飯糰
Rice balls near hotel
阿Q茶舍 東山店
Open hall eatery with private dining rooms as well featuring Taiwanese and Japanese fare.
Polygram Wedding Garden
Peking Duck 3 ways! You'll need to book in advance.
Feng Chia Night Market
https://goo.gl/maps/aLAxzJ9w5xqthdfx6
Stay
Sun Hao Hotel
Booked on Agoda.com; has laundry on-site to do laundry. Dryer takes a while.
Transit
Taipei Main Station HSR to Taichung
We booked reserved seats on day-of. Lesson learned: don't do this when traveling with children since you are not guaranteed to be seated next to each other.
Photos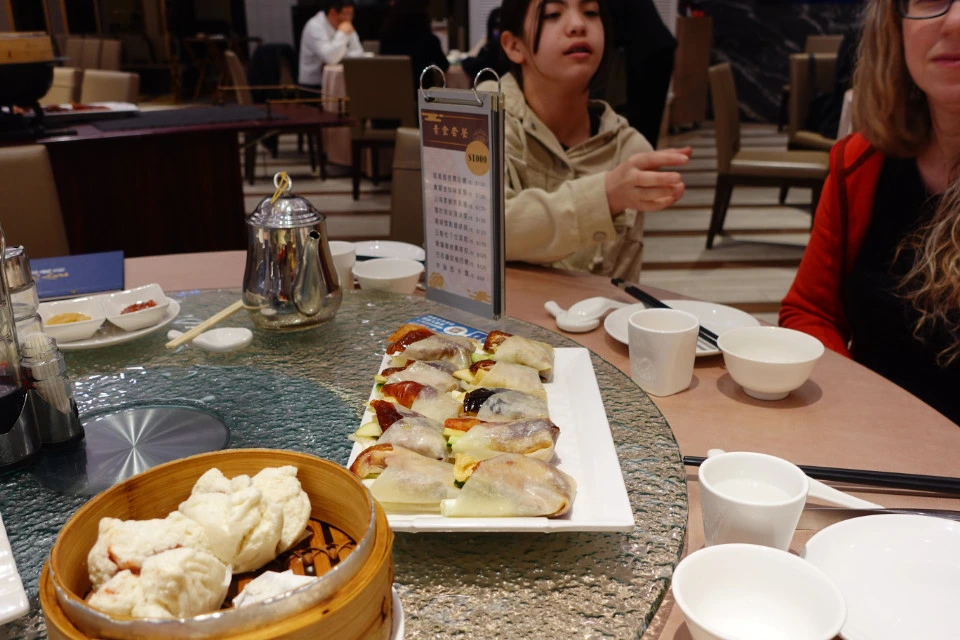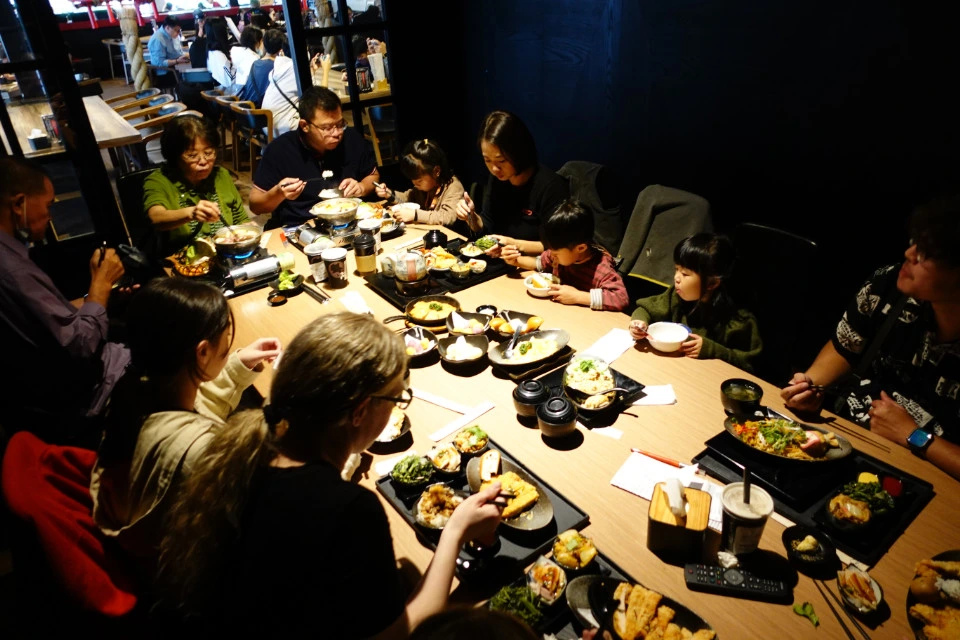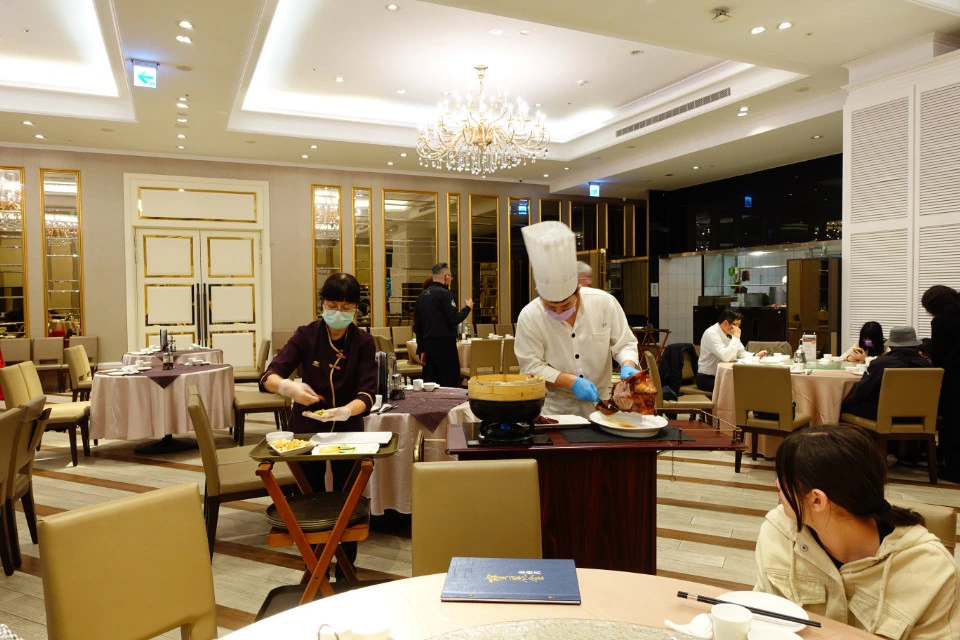 Day 6: Kaohsiung (高雄), Gushan (鼓山)
Hiking with monkeys!
Kaohsiung is an underrated port city with an industrial history but a really great vibe. The Love River is best visited at night and Pier 2 is a bustling area with great nightlife. The Dream Mall is also a really great stop -- especially in the summer heat -- to stroll around the shops and grab snacks in its plentiful food court. Make your way over to the Gushan for a day of hiking where you'll encounter the indigenous monkeys along the way up to the top for tea and amazing views out to the sea. There are some spectacular scenery to be found in this area! Check out the Liuhe night market for snacks and eats; it's one long strip and filled with games, vendors, and of course, food!
Visit
Gushan (鼓山) Hiking)
Hike in the Gushan District. You'll see lots of amazing prehistoric coral gorges and monkeys! The view at the top is amazing as you can see out to the sea.
Decathalon
Pick up snorkel gear here if you're not renting on the island.
Dream Mall
Worth stopping by for a stroll and the spectacle. 6 stories of shopping and snacks.
Eat
Gu Zao Wei Breakfast Restaurant, Kaohsiung, Taiwan
Buns and breakfast; this is very close to the hotel
Liuhe Night Market
Formosa Boulevard Station. It's a single street a few streets back from the MRT exit. You won't see it immediately so just keep walking back a few blocks.
Stay
Harbour 10 Hotel
https://goo.gl/maps/Tes2ScPN9EcEBhER6 Booked on Agoda.com
Transit
Taichung HSR
Leave via HSR to Kaohsiung in the AM
Zuoying Station
Arrive in Kaohsiung via HSR in the AM
Neiwei Arts Center LRT Stop (內惟藝術中心)
If using public transport, take the LRT green line to this stop and walk west towards the Gushan hike entry.
Harbour 10 Hotel → Liuhe Night Market
Harbour 10 Hotel → Liuhe Night Market
Photos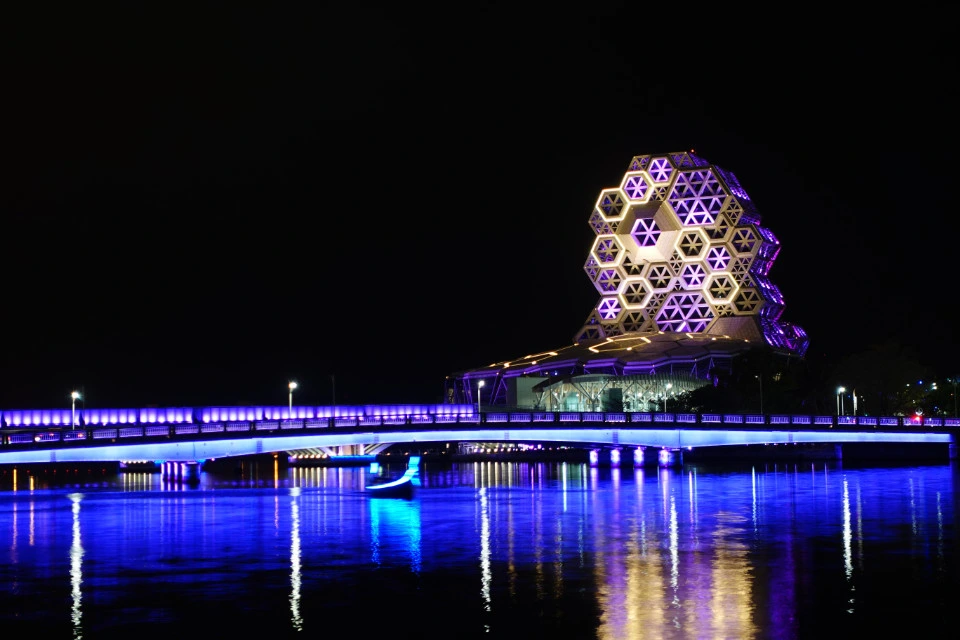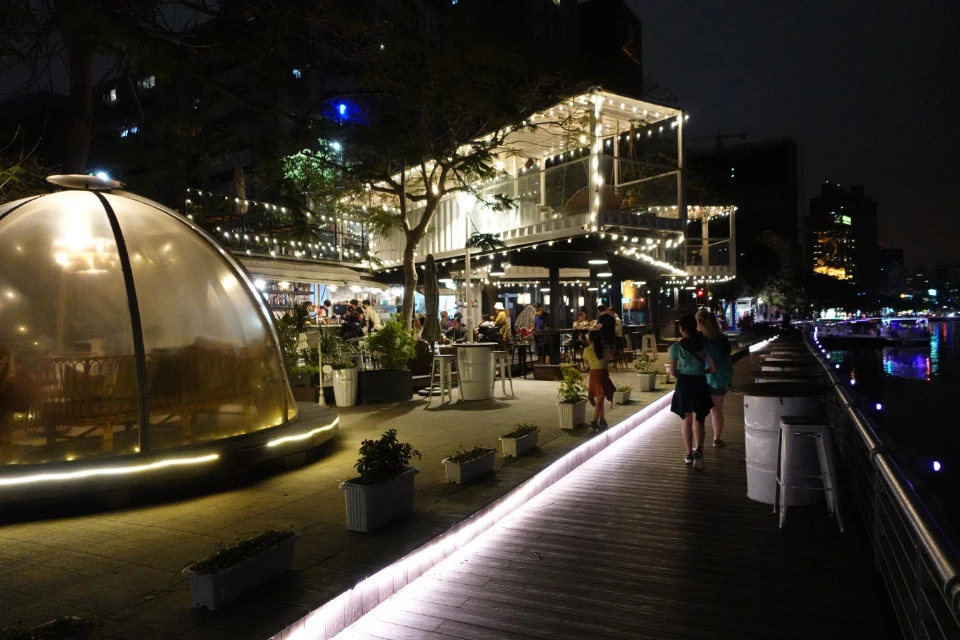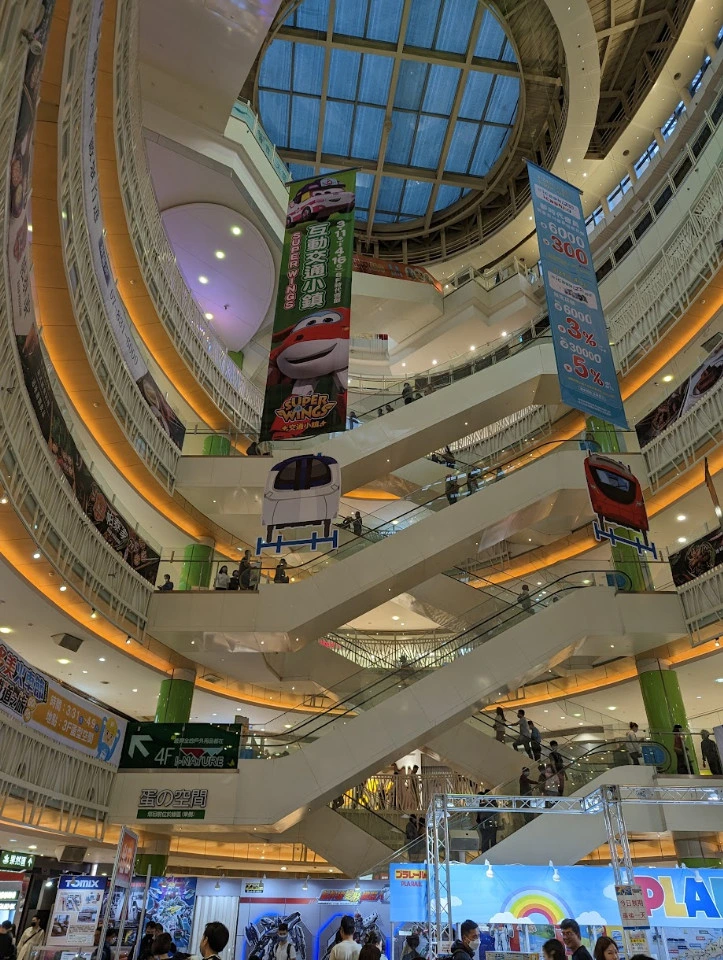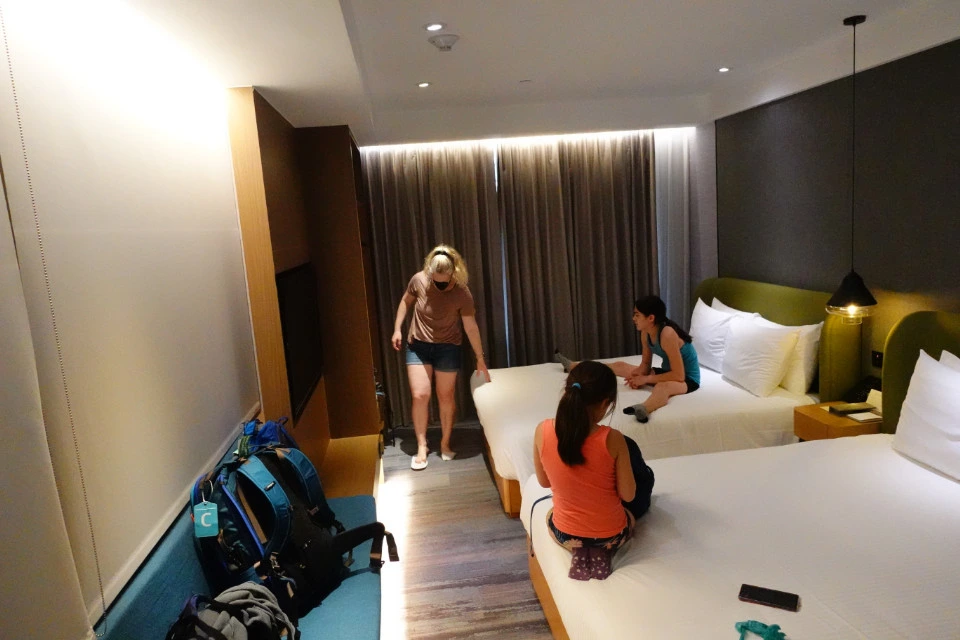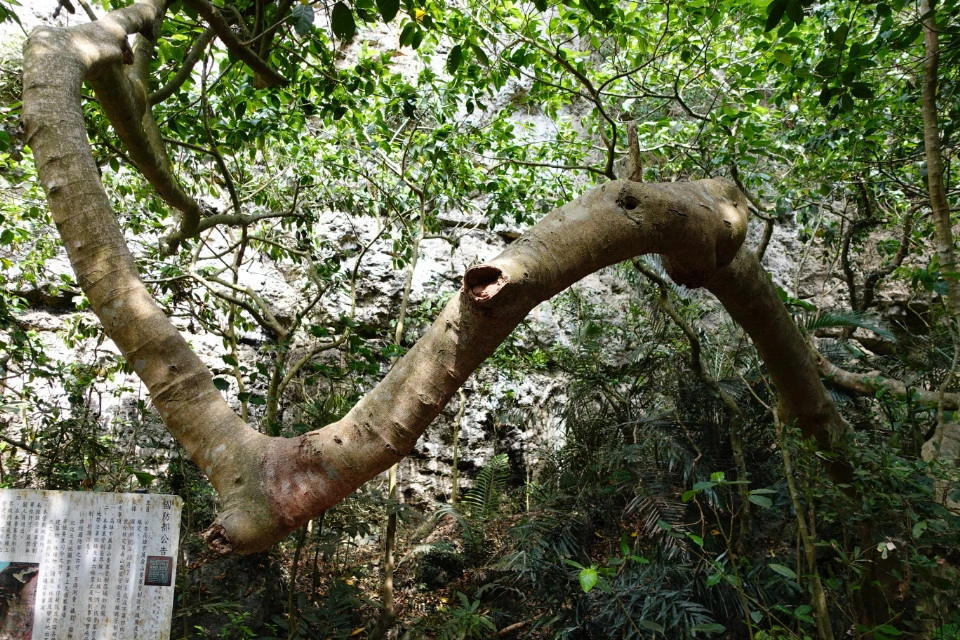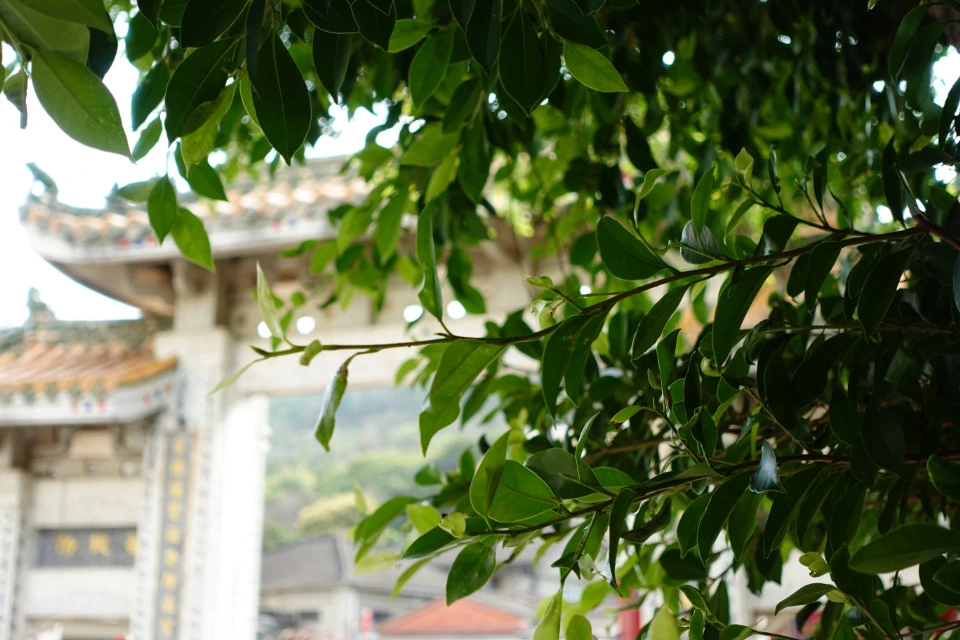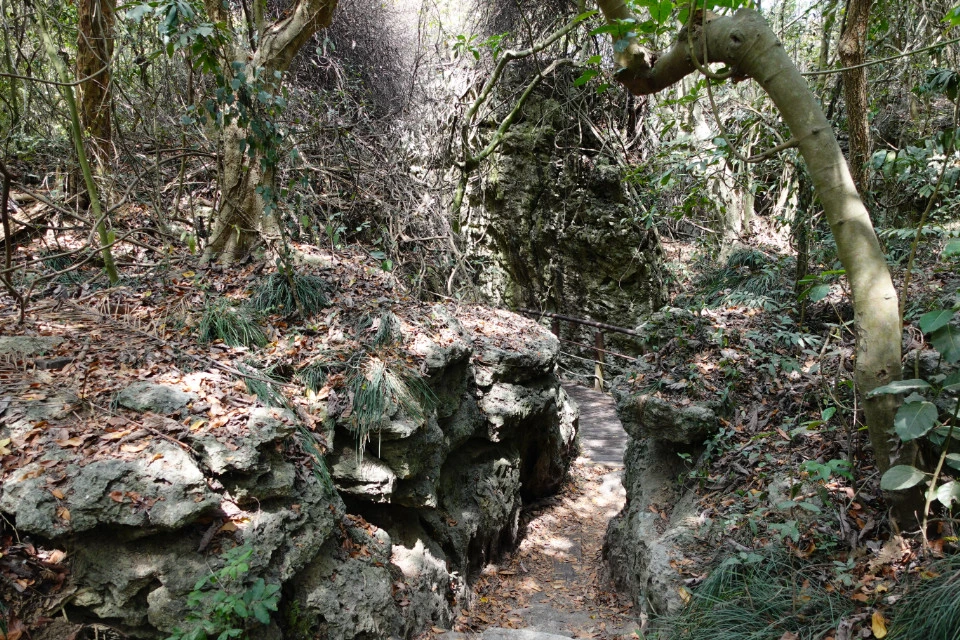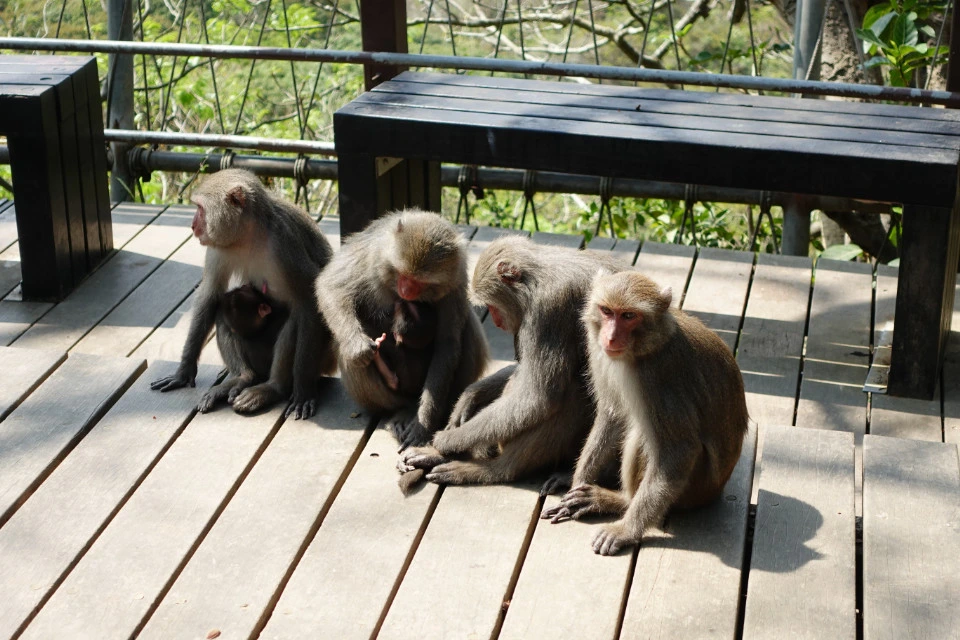 Day 7: Kaohsiung Pier 2, Xiaoliuqiu (小琉球)
Transit to Xiaoliuqiu
In the morning, take a stroll around Pier 2 art center to check out the art installations and shops. Visit at night if you want to see more of the nightlife in the area!\n\nFrom there, head to the Donggang Wharf where you'll catch a ferry ride to Xiaoliuqiu. Arrange travel with 77go (https://www.kkday.com/en-us/product/135288) as they have electric Gogoro scooters. They will also arrange the ferry tickets for you as well as transport your luggage to your hotel once you get on the island. Use Line (app) to organize with them. When you depart Donggang, just take a picture of your ferry ticket and time and they will arrange pickup with a van on the island. They'll show you how to operate the Gogoro scooter and take you for a short practice ride to show you how to swap out the batteries. With an abbreviated day, it's a good idea to visit the tide pools on this day and then spend subsequent days doing hikes and beaches!
Visit
Pier 2 Art Center
Worth a visit day or night. There are shops and art installations along both banks.
Vase Rock Xiaoliuqiu
Worth a quick stop; there are tide pools that you can wander as well.
Lobster Cave, Xiaoliuqiu
This area has a large tide pool to explore and caves that have naturally been carved out of the coral outcrop.
Eat
🌊潛拌𓆉𓆉𓆉 +886 980 008 291
Turtle treats!
Fried Rice
Next to 巴坦德&Lin A Ma 商行(小琉球在地手做飲品). Really good fried rice!
Marianne 風光麻花捲
Shaved Ice. There is a minimum price for seating. Worth it!
Stay
1302 - Booked via Agoda.com
Containers https://goo.gl/maps/aLgios2keY5CojND9 phone# +886 988 131 032 Line Also
Transit
Taxi or Uber from to Donggang
The taxi fare from Kaohsiung to Donggang is about NT 1100 or USD 35. Worth it to save time.
Dongang Ferry Wharf
If you've arranged your transport with 77go, you'll be able to pick up your ferry tickets here (they will book and pay for you).
77go小琉球時尚電動租車
Electric scooter with shuttle service https://maps.app.goo.gl/hv8sN4qgMvDKGw7B8. The electric Gogoros are worth it as they are easy to operate and easy to swap batteries along the main strip.
Photos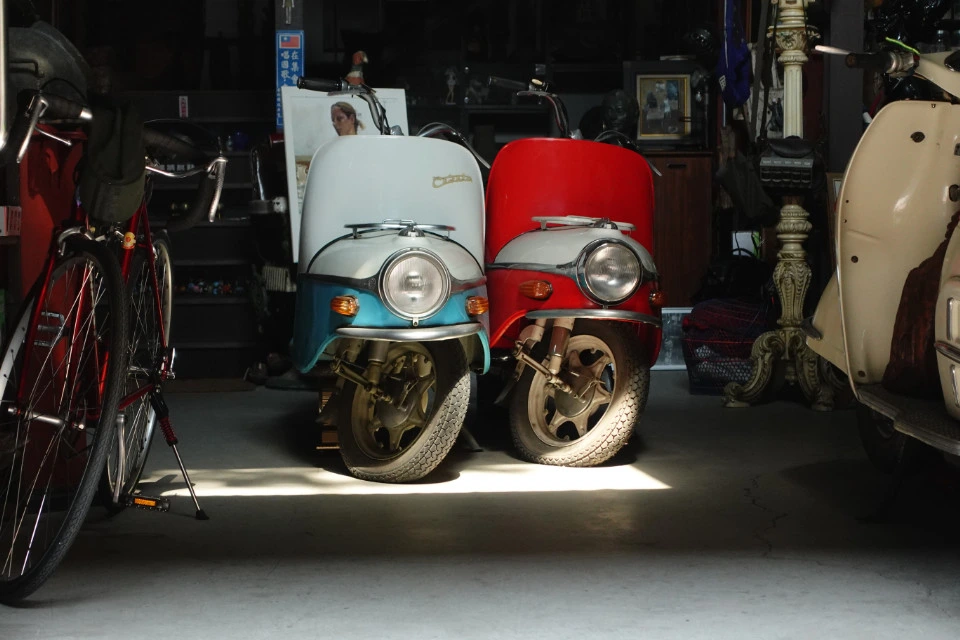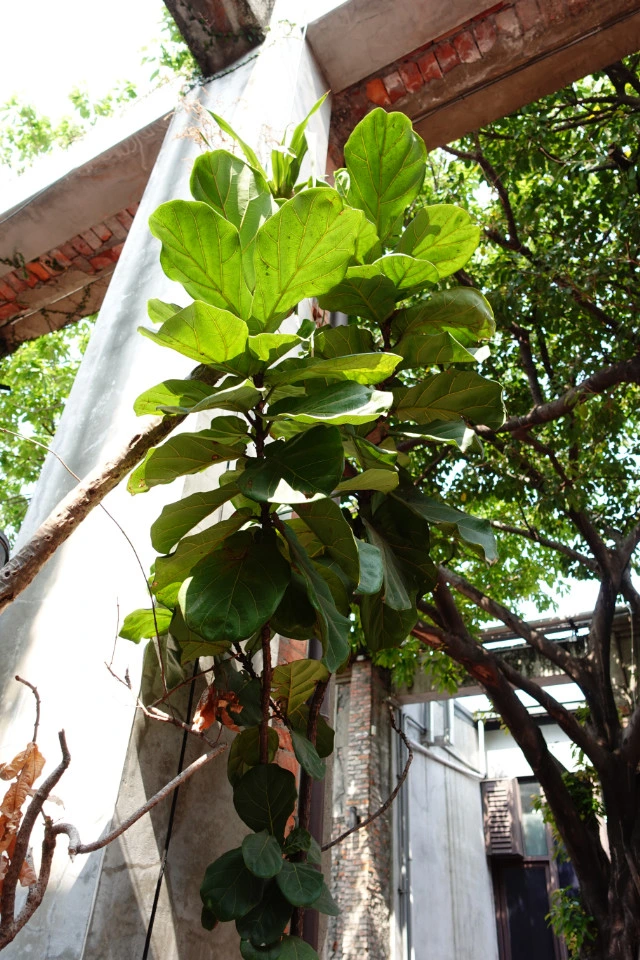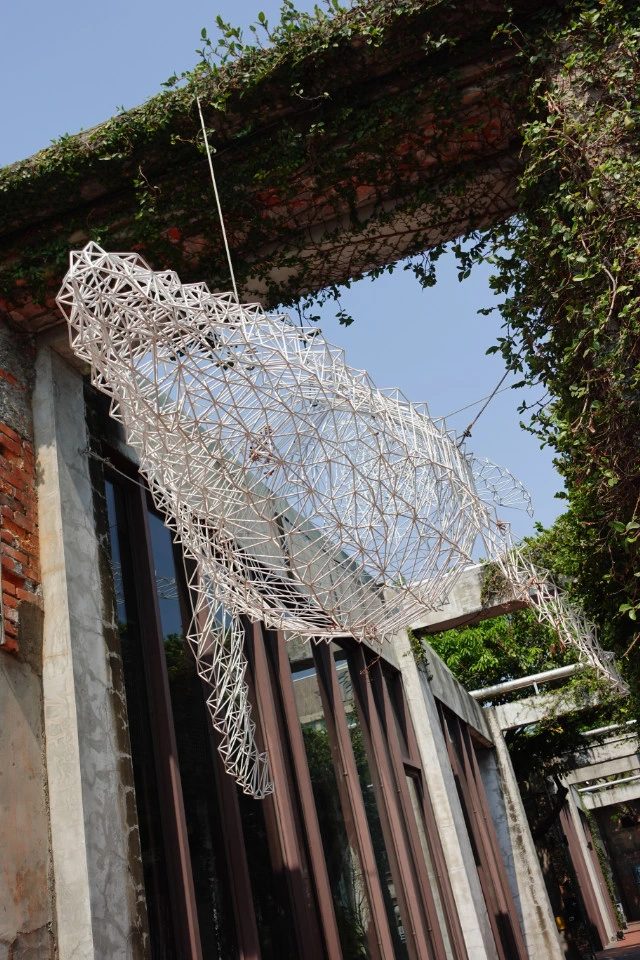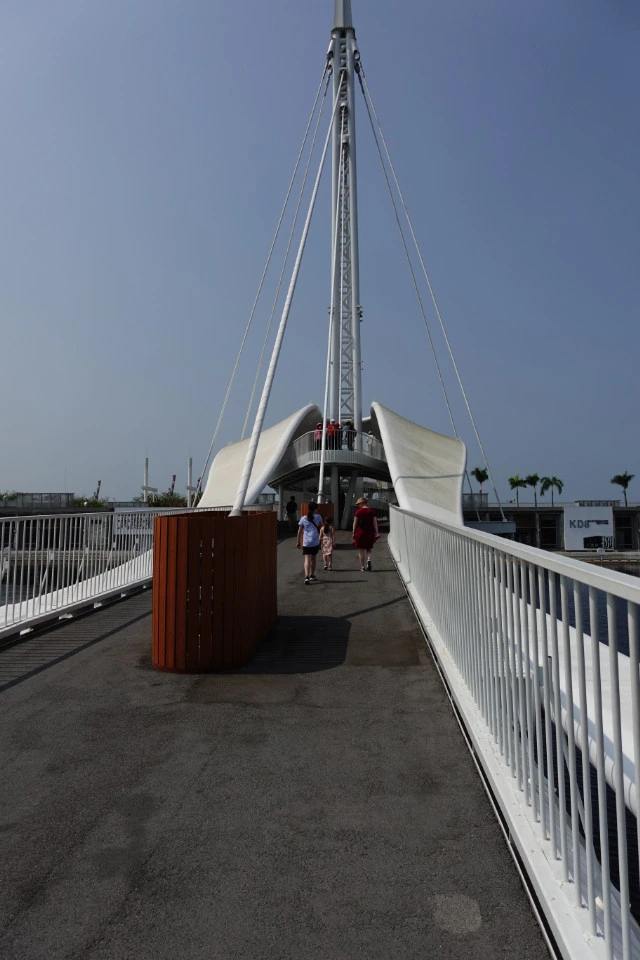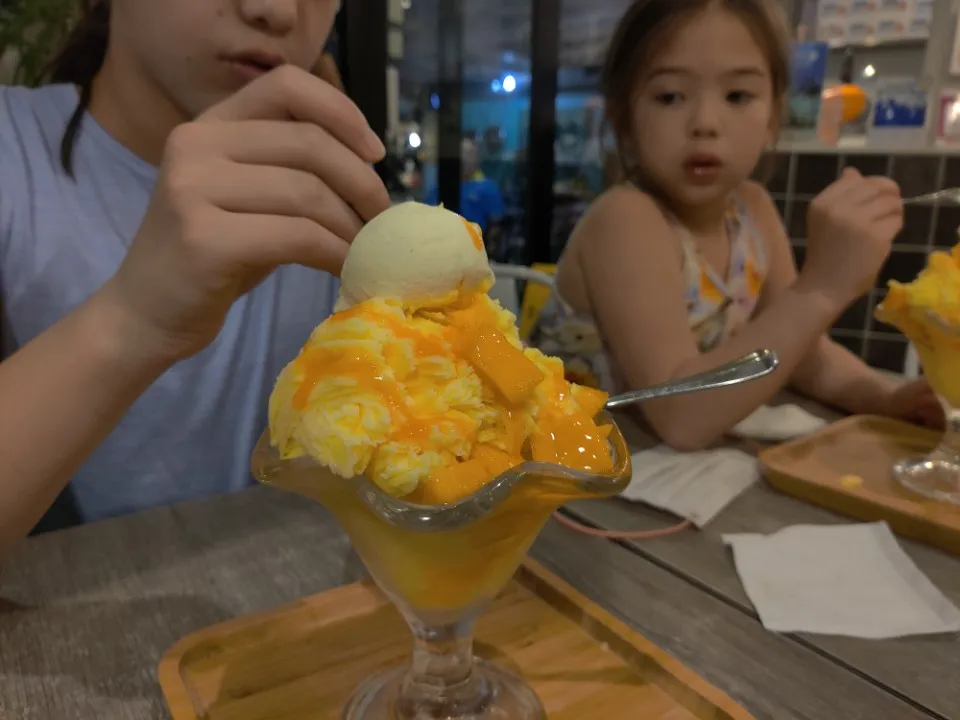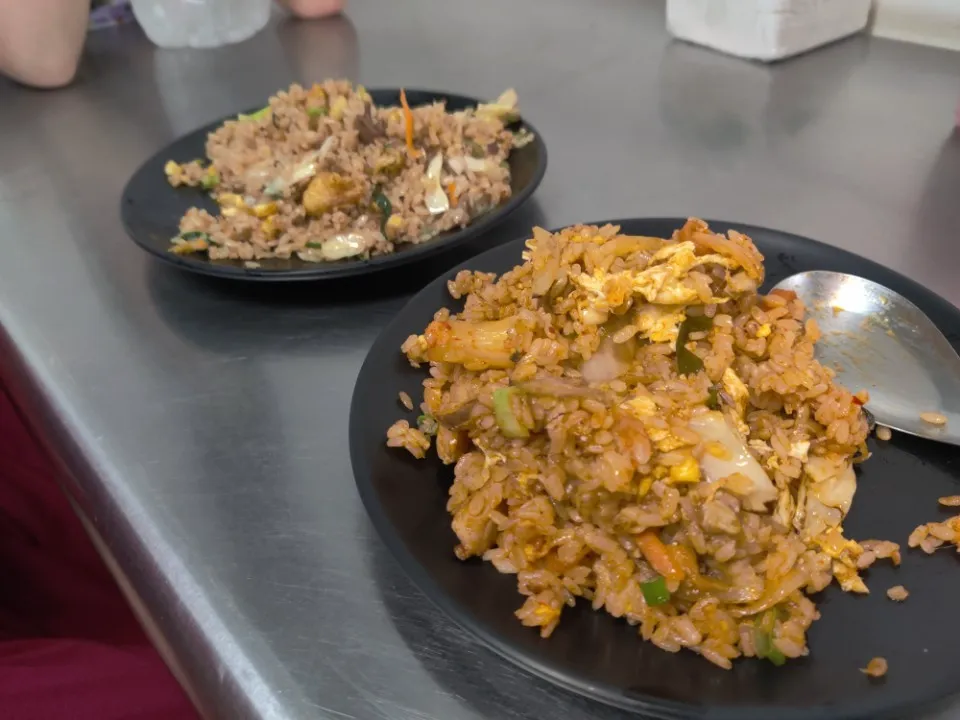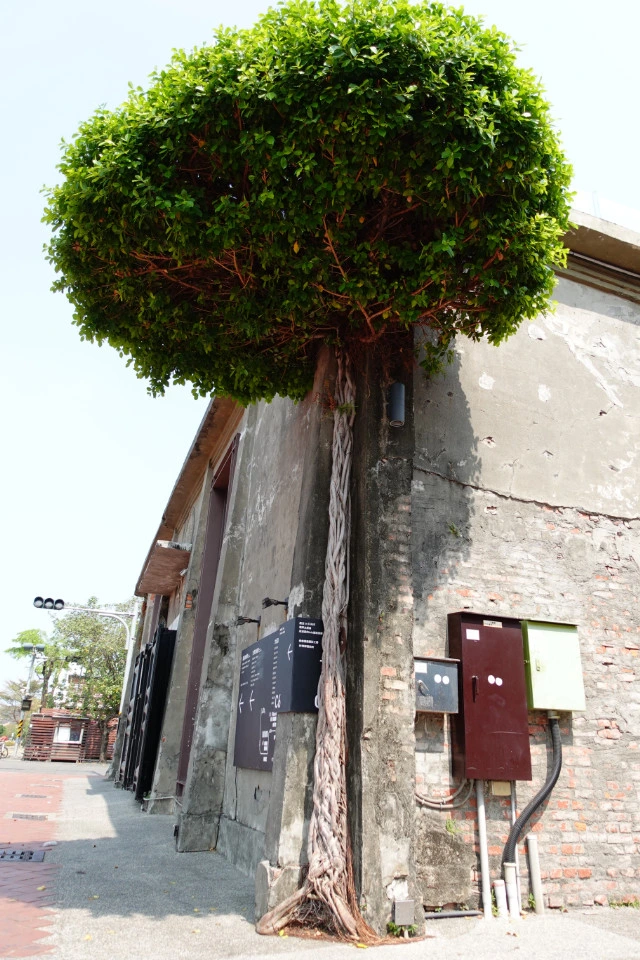 Day 8: Xiaoliuqiu (小琉球; LAUNDRY)
Hikes, beaches, and sea turtles!
Start the day with a hike at Wild Boar Trench trail. The 4 main trails share one timed pass so you can hike all 4 with paid entry to 1. The trails are worth the price of admission to see the prehistoric coral formations and otherworldly landscape! From Wild Boar Cave, cross the street past the vendors and then go down towards the restrooms. There is a staircase down to the beach area. This unnamed beach area (also accessible via a road near the Shangshan Fuan Temple) has a large, flat, rocky area where you'll be able to see sea turtles! The waves here are mild so it seems a favorite for them. Keep your eyes down as you walk out as they can be hard to spot despite their large size. We almost stumbled on them before realizing that they weren't rocks! In the evening, there are plenty of dining options along the main strip. Plan to stop here and do laundry if you're packing light. Start it before dinner and pick it up on your way back to the hotel.
Visit
Wild Boar Trench Trail
Scenic hiking trail that is right above a beach where there are plenty of sea turtles. Highly recommended.
Venice Beach (威尼斯沙灘), Xiaoliuqiu
This is a beautiful beach if you just want to dip in the water. Note that it's no-swim because of the riptides!
Black Devil Cave
A good place to stop around lunch. There are restaurants nearby to grab food and then stop here for a hike. If you paid for the hike at Wild Boar Trench earlier, that ticket will grant entry here.
Secret Beach, Xiaoliuqiu
An amazing place to spend an afternoon swimming and exploring. The main beach area drops deep quickly and opens into a coral alcove. Beyond the alcove, wildlife teems and you can spot sea turtles as well! Bring snacks if you're going to be here a while.
Eat
烏鬼洞6號-海濤客
Good place to stop to pick up lunch. Fried rice, fried noodles, seafood, and other selections.
Fruit Stall
Stop here and get some fresh pineapple or seasonal fruit. The old granny will cut it for you. The pineapple is AMAZING when in season. Juicy, sweet, and super flavorful.
Noodle Place 小琉球老北方蒸餃麵食專門店
Really, really good wonton soup! Noodles were delicious. Step inside to order and then give your ticket to the folks at the front.
Transit
鳯嗚自助洗衣
Stop here on your way to dinner if you need to do laundry.
Photos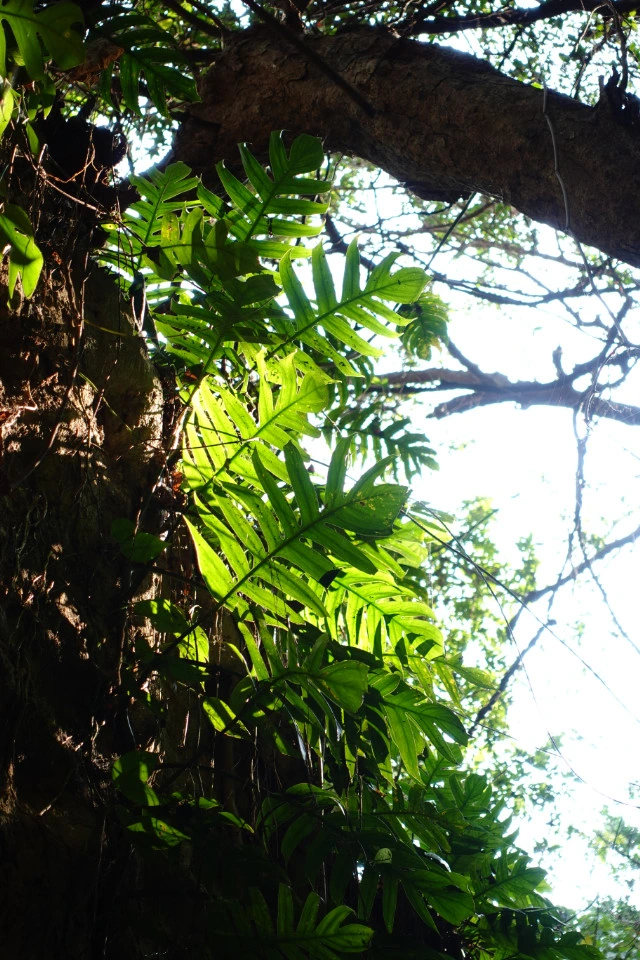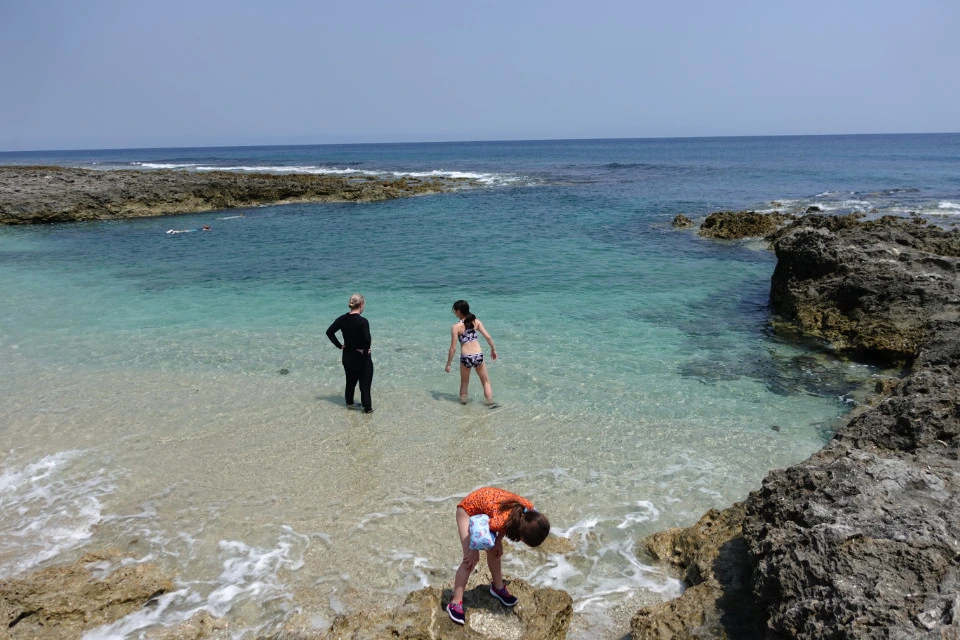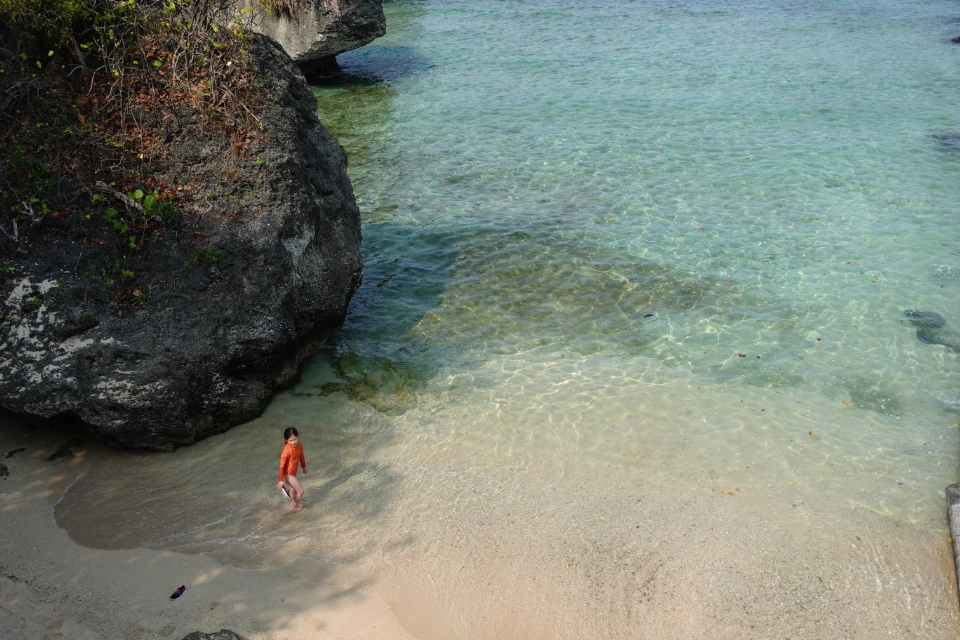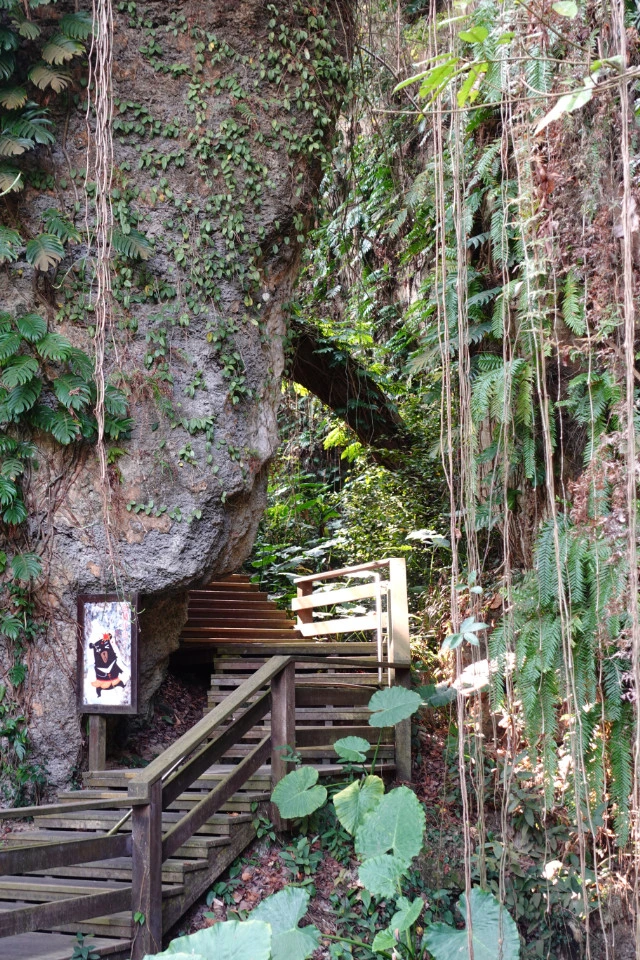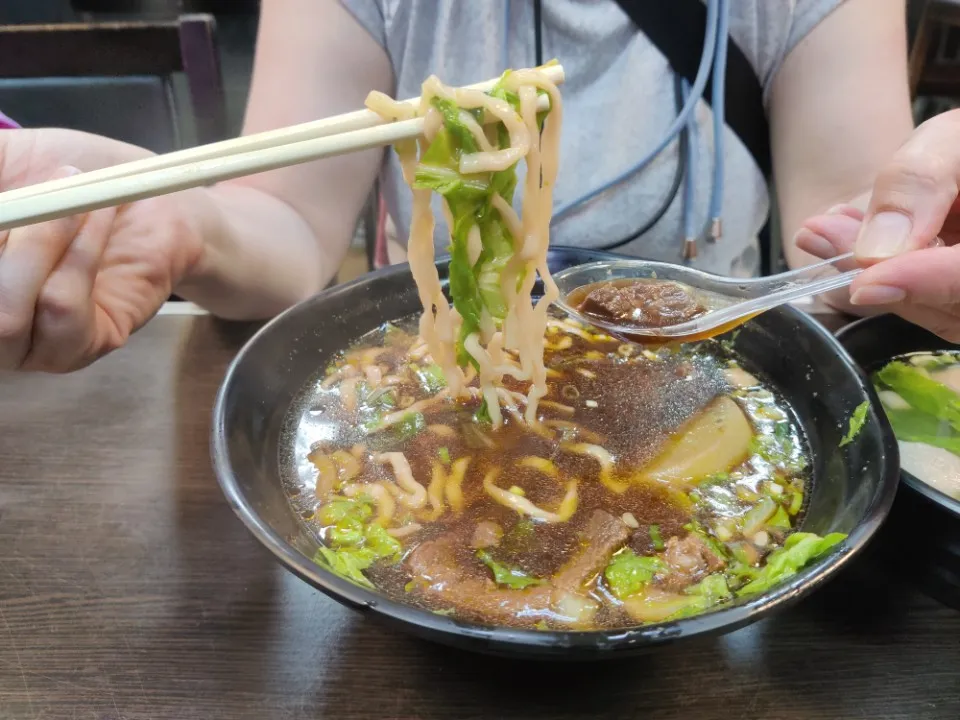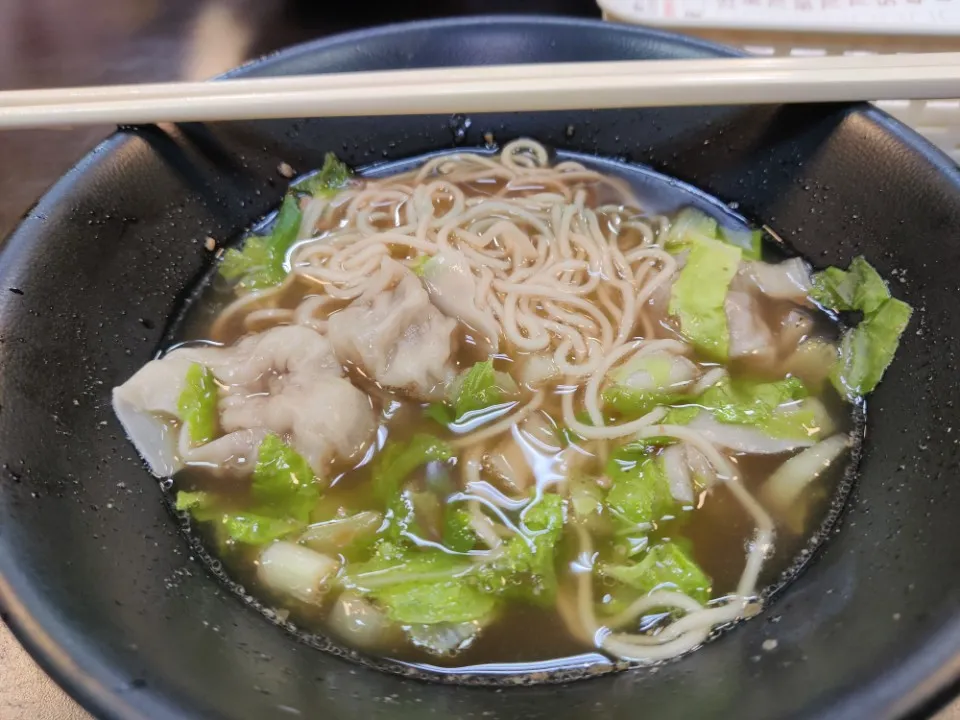 Day 9: Jinguashi (金瓜石; Transit Day; Rental Car)
From beaches to mountains
Xiaoliuqiu is a fairly small island. If we visit again, we'd do 2-3 full days on the island which would allow us to get all 4 hikes in and plenty of beach time. From Xiaoliuqiu, we sought out a complete change of scenery and headed back to Taipei and the north east coast. The north and east of Taiwan are quite remote so plan to hire a driver or rent a car. If you rent a car, prepare an International Permit before leaving your home country. Like many services, we arranged this over Line (app). Speed limits are relatively low in Taiwan so there's no need to rent a high powered car; you won't get to use any of the extra HP and the fuel is expensive! Our mountain stay was quite remote and up a very windy road. Because of how remote it was, there are very few dining options so be sure to eat down below before heading up.
Visit
Guanghua Electronics Plaza
If you find yourself needing any gear for your camera, this is a good place to stop. We needed a new battery charger and we popped in here and picked one up.
Golden Waterfall 黃金瀑布
Along the way up to the B&B.
Stay
Jinguashih 101 B&B - Booked via booking.com
https://goo.gl/maps/5amPWJ6TnTRZ7MH19 phone# +886 988 131 032 Line
Transit
Depart from Xiaoliuqiu to Zuoying HSR
This is a 1-2hr trip. We arranged the transit with the cab driver from the previous day. They are happy to come pick you up from the ferry or you can take a shuttle directly from the ferry (cheaper if you are only 1-2 travelers).
Zuoying HSR to Taipei Main Station HSR
2 hour trip; this is pricey for 4.
Rental Car
Union car rental https://www.uflc.com.tw/ . The paperwork is all in Chinese so you'll need to use Google Translate. A lot of the arrangements were done via Line app. Be sure to bring an International Permit.
Photos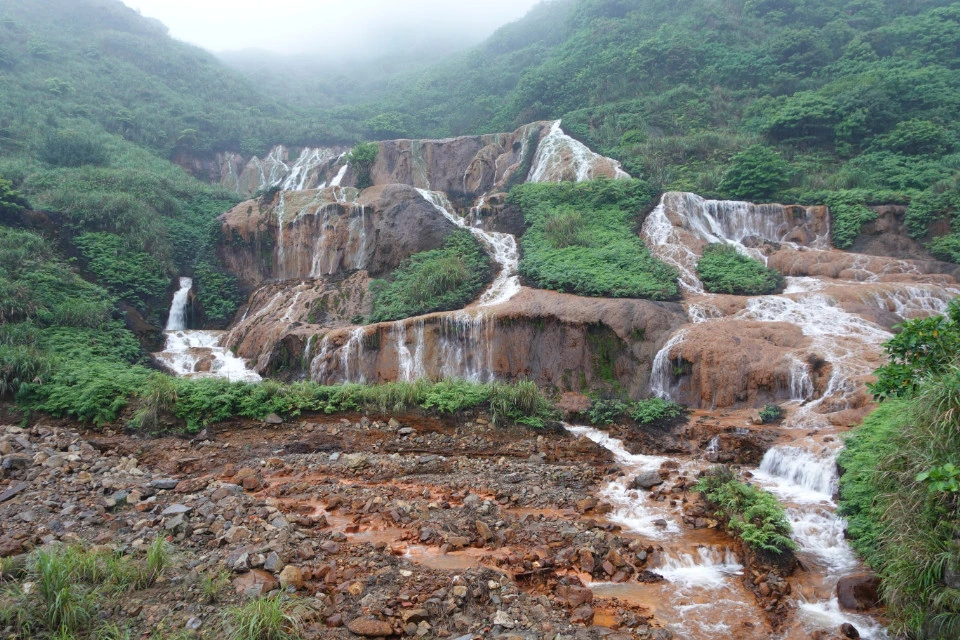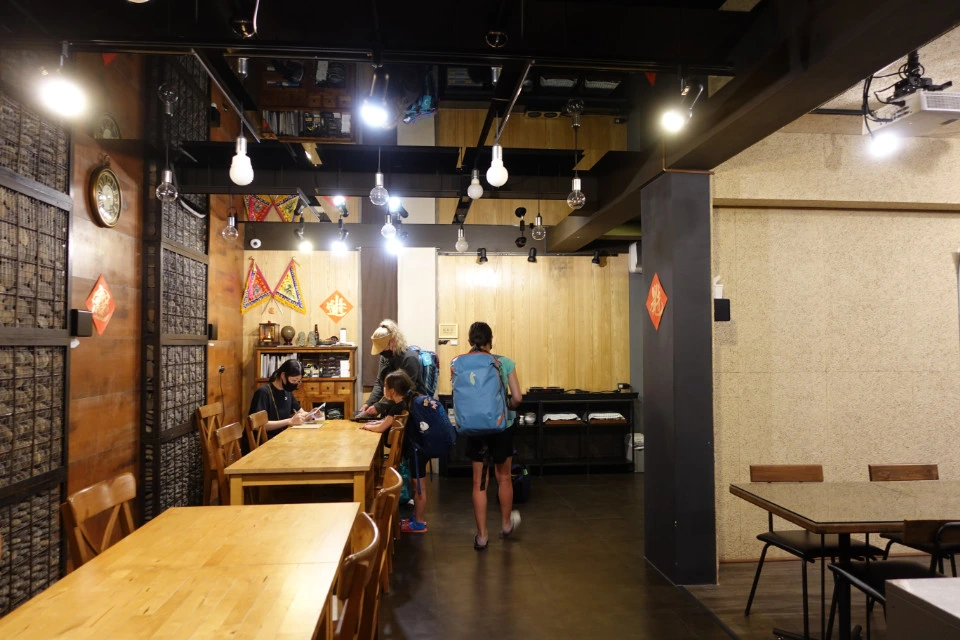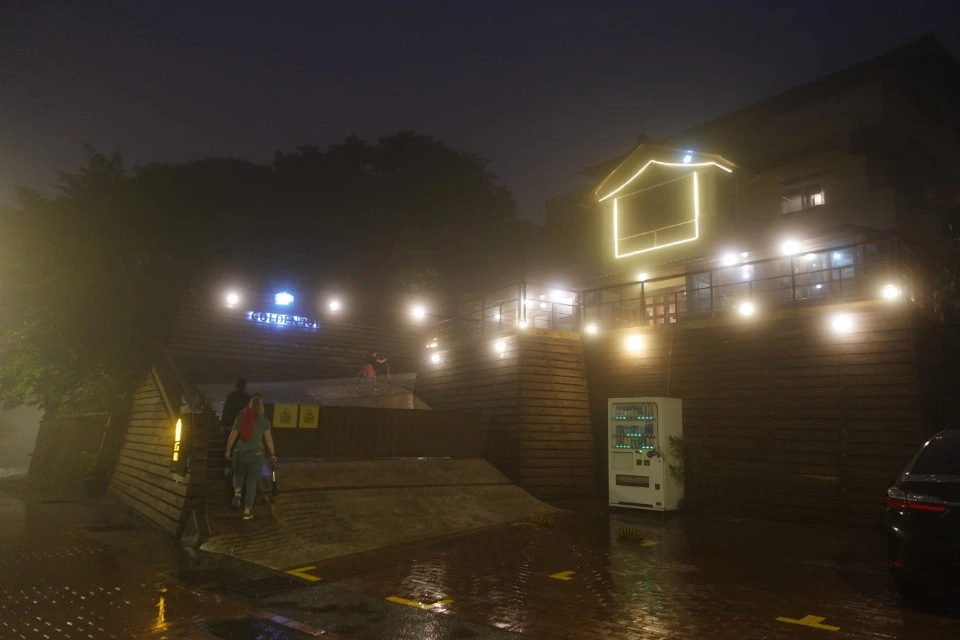 Day 10: Wanggu (望古), Houtong (侯硐), Shifen (十分), Jiufen (九份老街)
Tracing the Pinxi Line
From our B&B in Jinguashi, we took a taxi to Wanggu (pricey) as we wanted to work our way backwards towards Jiufen. You can also take the taxi to Ruifang instead and hop on the train. From Taipei, you can access this route via train as well. At Wanggu, there's a short hike to a very picturesque waterfall. From there, hop on the train north one stop to Shifen. Here, you can stroll through the old street, pick up lunch, and take a short trek to the Shifen waterfall. Skip the sky lanterns: they produce a lot of rubbish once they land! If you have time, there are plenty of awesome trails and hikes at almost every stop along the Pingxi line!
Visit
Wanggu Waterfall (望古瀑布)
The hike to Wanggu waterfall is easy and you just follow along the rail line towards the southwest and you'll see the trail entrance.
Shifen Waterfall (十分瀑布)
Take the train from Wanggu to Shifen and grab lunch along the old street and then hike to the waterfall. There are lots of interesting things to eat! Skip the lanterns; they generate trash everywhere!
Houtong (侯硐) Cat Village
From Shifen, take the train up to Houtong (just a few stops). You'll want any train headed towards Taipei. From here, you can alight for an hour or so and see the cats and wander the shops.
Jiufen Old Street (九份老街)
An iconic Taiwan tourist spot; it's worth the visit for the spectacle of it all. Lots of little shops to eat and explore. Note that things are pricey here! If you can, buy your souvenirs elsewhere as there is a premium paid for anything you end up buying here. Shops close early on weeknights (7PM).
Mount Keelung Trail (雞籠山登山步道)
Squeeze this in if you have time!
Sandiaoling Trail (三貂嶺步道)
There are lots of little stops like this along the way where there are nearby waterfalls. Check Google Maps for details and see which stops along the Pingxi line you want to alight at.
Eat
Meow Meow
MEOW MEOW 喵喵 https://maps.app.goo.gl/ffQyGNpts3WDFGBN9
Annie Bakery cute cat pastries
Annie Bakery (Houtong Shop) +886 2 2497 9898 https://maps.app.goo.gl/SLSco5DtFSxnERUW9
Hide and Seek Cafe cute snacks
Hide & Seek Café (Hide and Seek) +886 922 823 717 https://maps.app.goo.gl/HmziPi818js3eARKA
68 Eatery noodles
68 Eatery +886 2 2496 0688 https://maps.app.goo.gl/r4oG7fLvLUmzFCid7
迷迷路 close to hotel
迷迷路 +886 2 2496 1008 https://maps.app.goo.gl/8kV3RHmKTZ9cV7tT8
Transit
Ruifang Train Station
This will be the major transit hub. The other stops along the Pingxi line are quite small and may not have buses or taxis. Transit from Shifen or Houtong here to take a bus or taxi over to Jiufen. It's worth taking the taxi for a large party. You'll save time this way and the price is reasonable.
Photos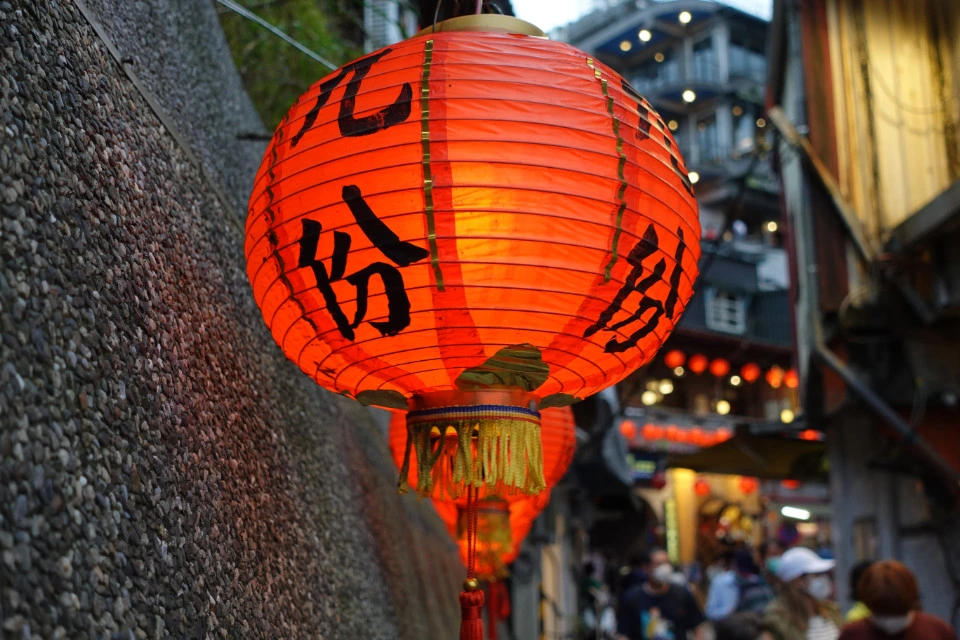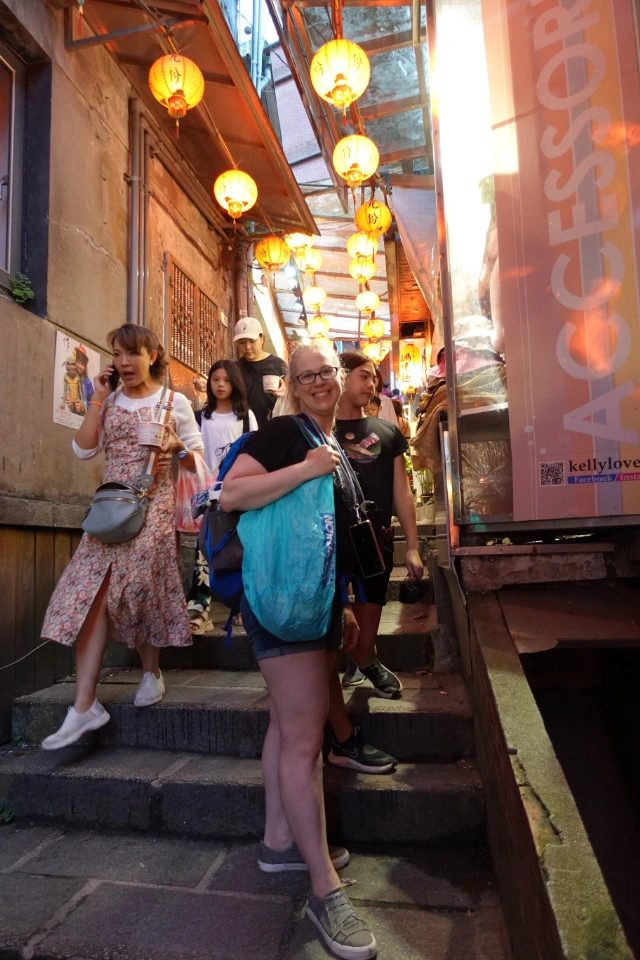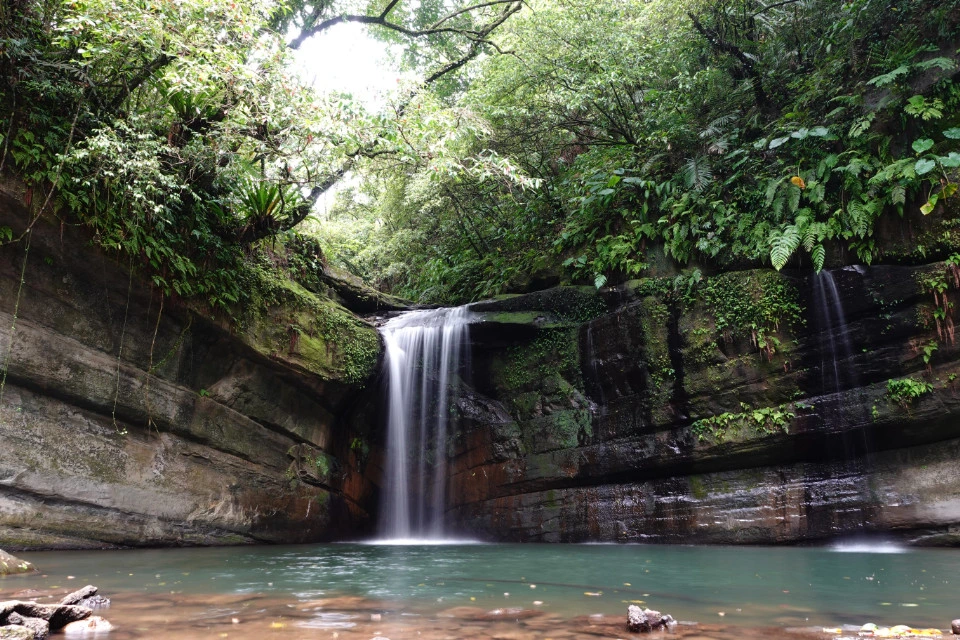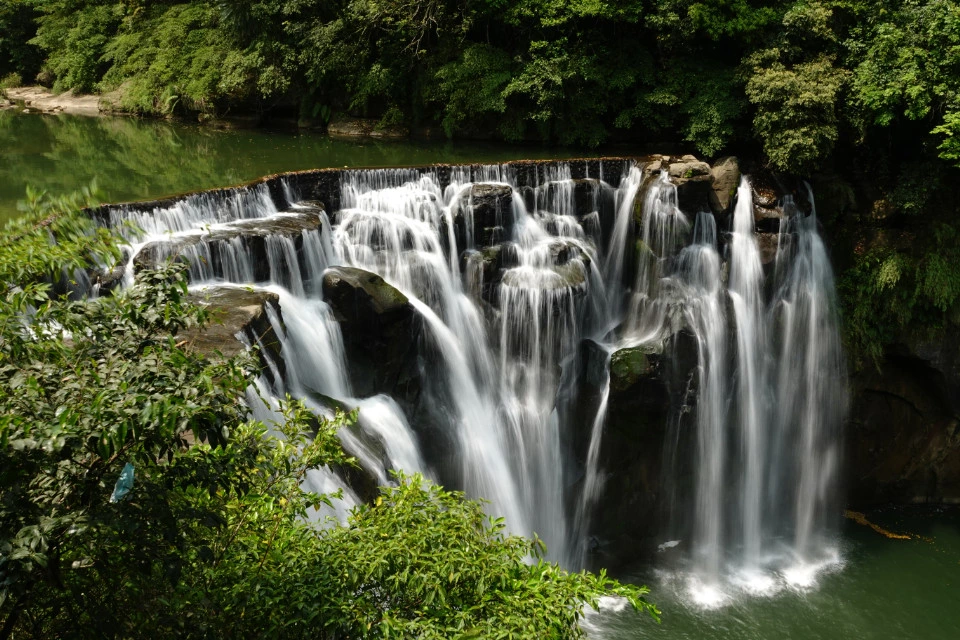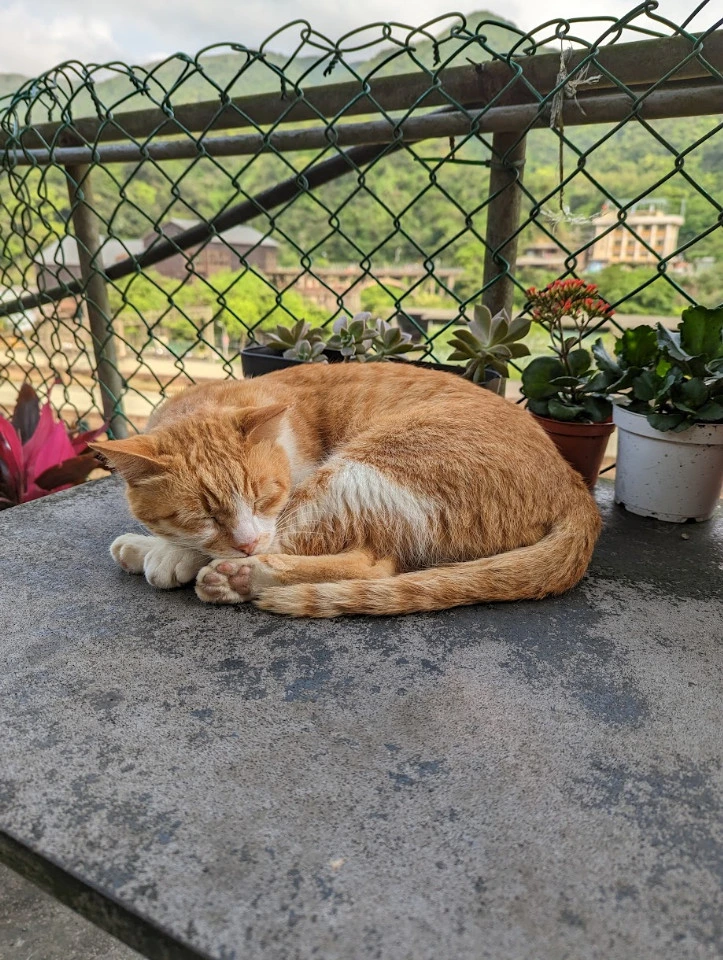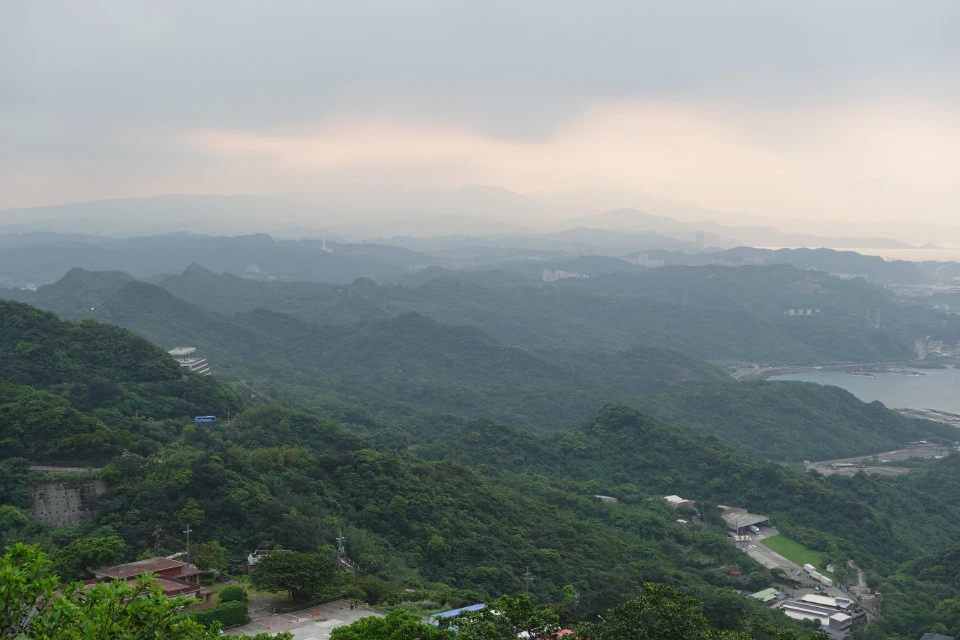 Day 11: East Coast; Beaches (鼻頭角步道, 龍洞, 南雅奇岩)
Curious rock formations and remote beaches
The north and east coast of Taiwan are more remote and known for the varied rock formations and remote beaches. There are TONS of amazing hikes in this area and interesting sights to see. The Dragon Caves offer amazing outdoor climbing (maybe a future trip!) and swimming in the summer seasons. Fulong beach is a great place for day trip. Kids will love the shallow beaches and everyone will enjoy seeing the massive sand sculptures this beach is known for.
Visit
Bitoujiao Trail (鼻頭角步道)
East coast
Fulong Beach (福隆海水浴場)
Resort area with shallow, sandy beaches. Known for its massive sand sculptures. Kids will love the shallow beach here. Even in April, the water is warm enough to swim.
Dragon Caves
龍洞岩場
Longdong Bay Park Visitor Center
Worth the visit in the summer, but it is closed from December through April.
Nanya Rocks 南雅奇岩
Unique rock formations that are worth the stop to explore during the transit down or back from Fulong/Dragon cave.s
Eat
聽濤cafe +886 2 2491 1040
Cute cafe on trail
Cafe & Me (Near B&B)
Cafe & me +886 916 036 633 https://maps.app.goo.gl/PJCB2gNCMzQy7sYz5; closes early. Google Maps hours are definitely wrong!
B1 Ocean Cafe
B1 Ocean Cafe +886 2 2491 1149 https://maps.app.goo.gl/uoeFdxfvwUmr2m5HA
Transit
Scenic Route? (不厭亭)
An iconic drive that has twisty, scenic roads along the mountain peaks.
Photos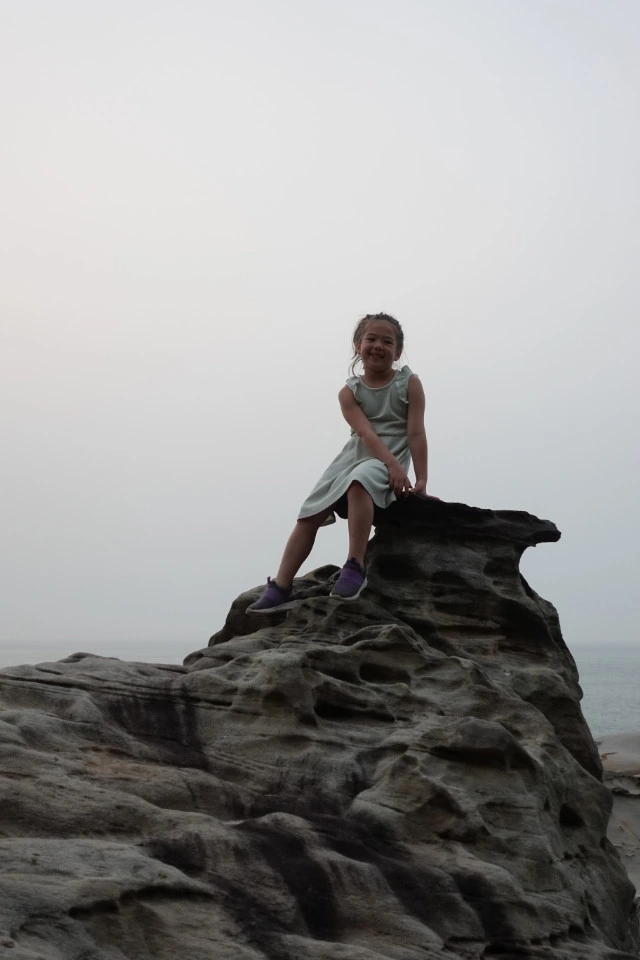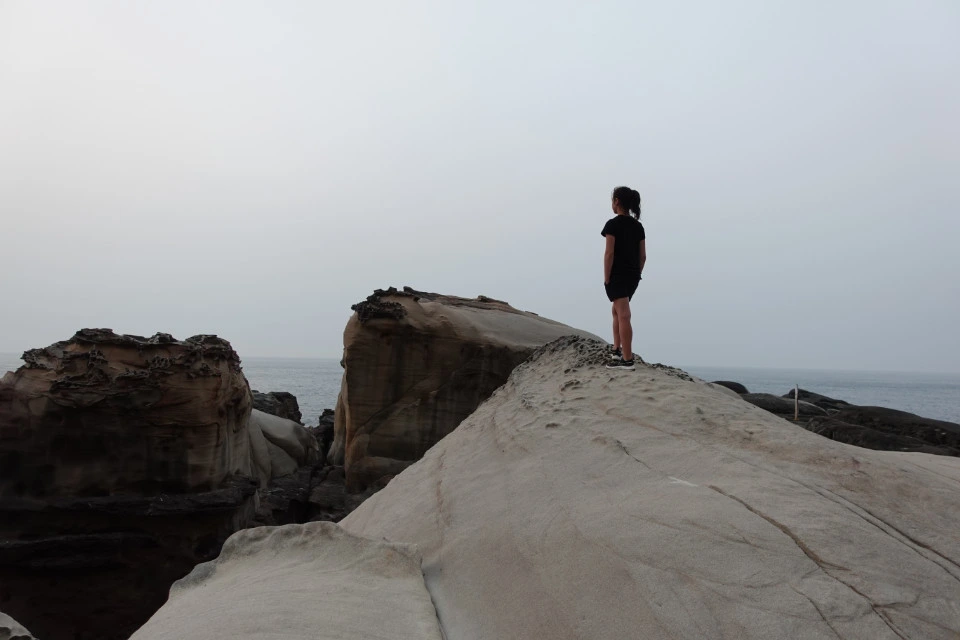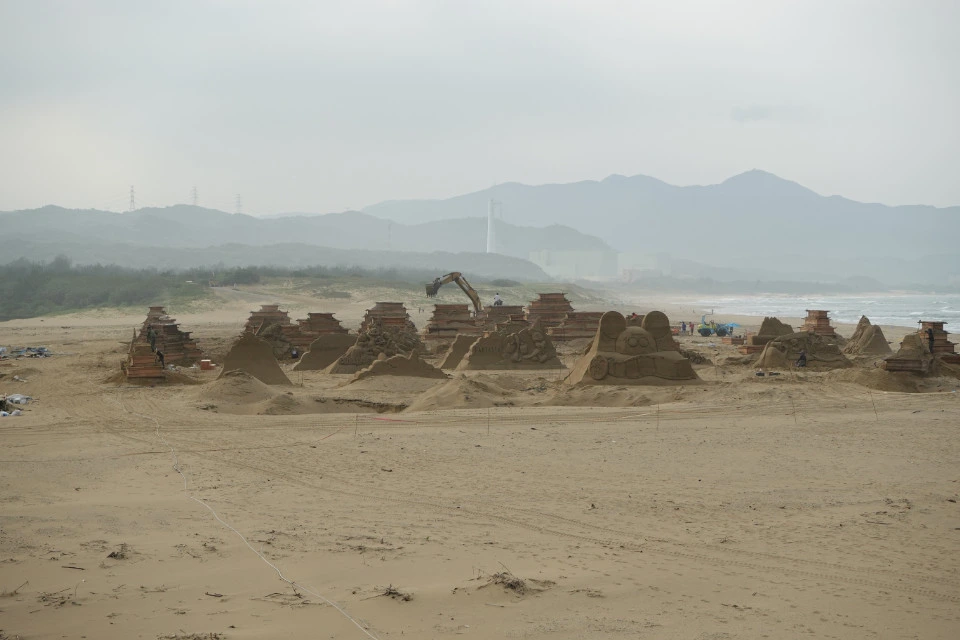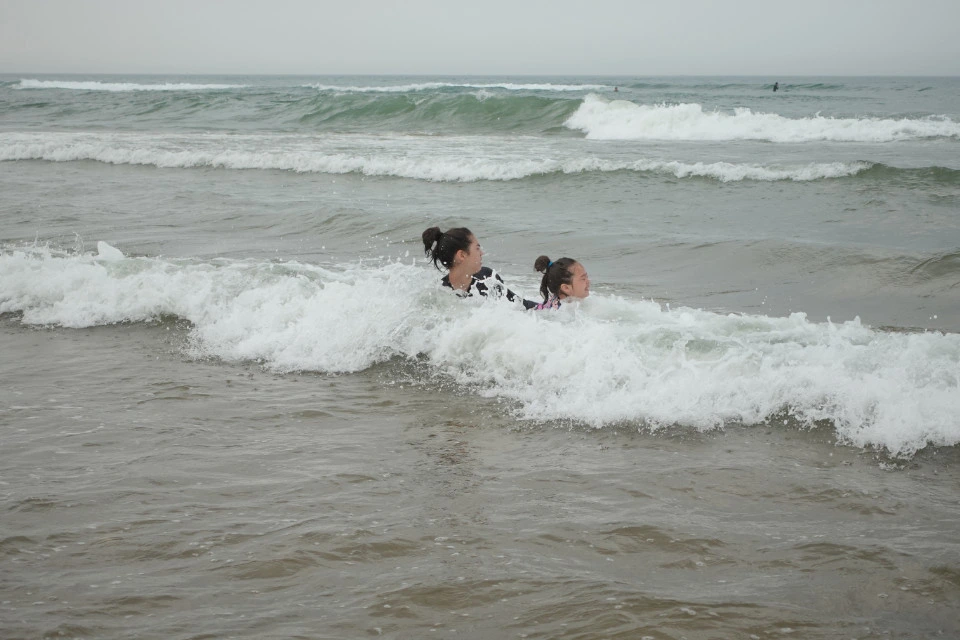 Day 12: Taipei, Zhongxiao Dunhua (LAUNDRY)
Modern and trendy
For the last leg of our trip, we returned to Taipei to see more sights. If your trip is more focused on destinations like Xiaoliuqiu, the HSR is convenient enough that you can leave Xiaoliuqiu and take the HSR north directly to the airport. We wanted to see more of Taipei and stayed on the eastern part of the city. This area is more modern, trendy, and upscale. There are plenty of small shops in the back streets in the area so be sure to explore! Whether you're looking for unique dining experiences, shopping, or snacks, you'll find it here. The Tonghua night market is walkable from the Hej Hotel, but you can also opt for the larger night markets like Roahe or Shilin instead.
Eat
Citylink Nangang
Pick up eats at Citylink along the way as you transit. Lots of shops on the B2 floor to pick from. We picked up some fried chicken, bentos, and snacks.
Tonghua Night Market
A night market within walking distance of the hotel. We stopped and got yellow watermelon shaved ice and snacked our way through the night market.
Stay
Hej Hotel (艾爾行旅)
https://goo.gl/maps/qHv7itQkzbxEU9Ef8 Booked via Agoda.com. Located on the 7th floor. Entrance is not well marked but right at exit 11 off of the Bannan line MRT. The location is very convenient.
24 Hour Coin Laundry (24小時投幣自助洗衣店)
If you need to do laundry (like we did), stop here. It's about a 10 minute walk from the Hej. We snacked along the way!
Transit
Return Rental Car
Return the rental car to Union Rental.
Nangang MRT to Zhongxiao Dunhua
After returning the car, take the MRT from the Nanggang station back into Taipei. The Hej Hotel is located at exit 11 of the Zhongxiao Dunhua station.
Photos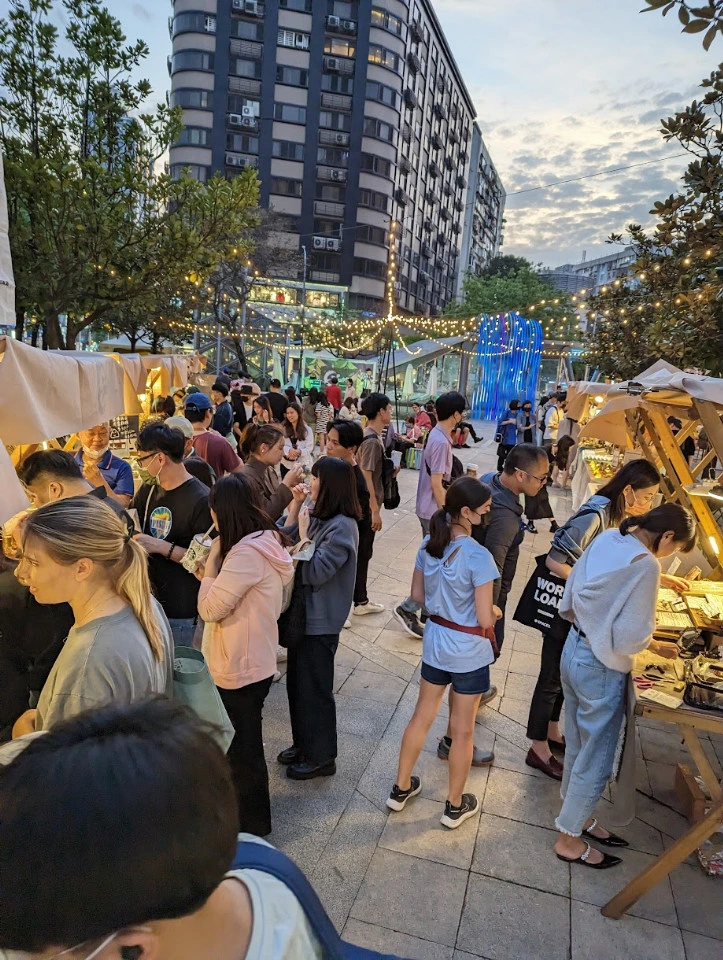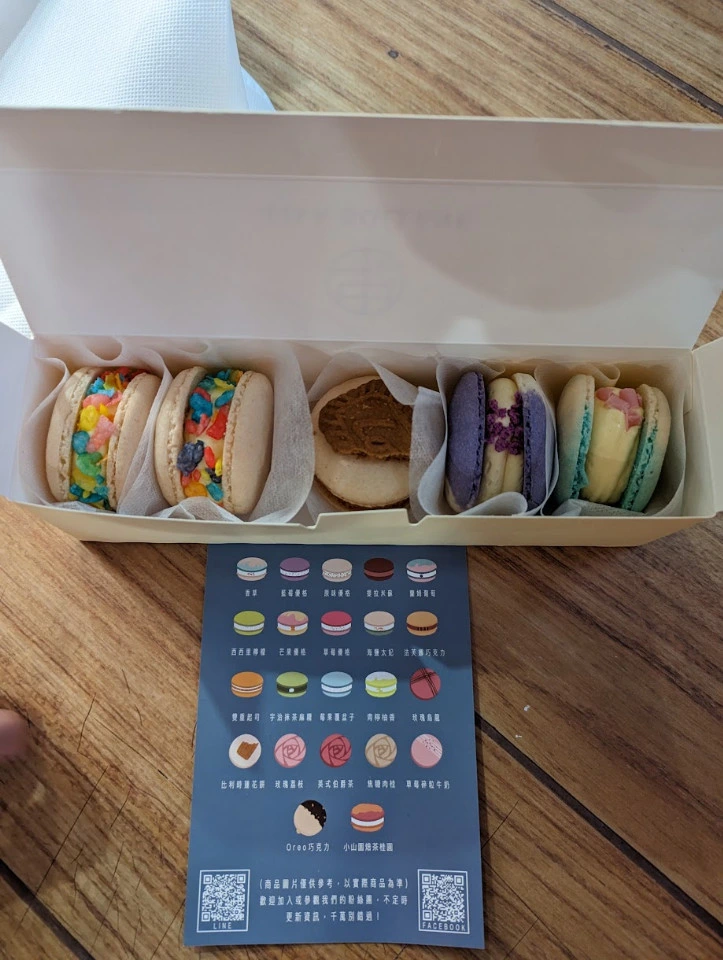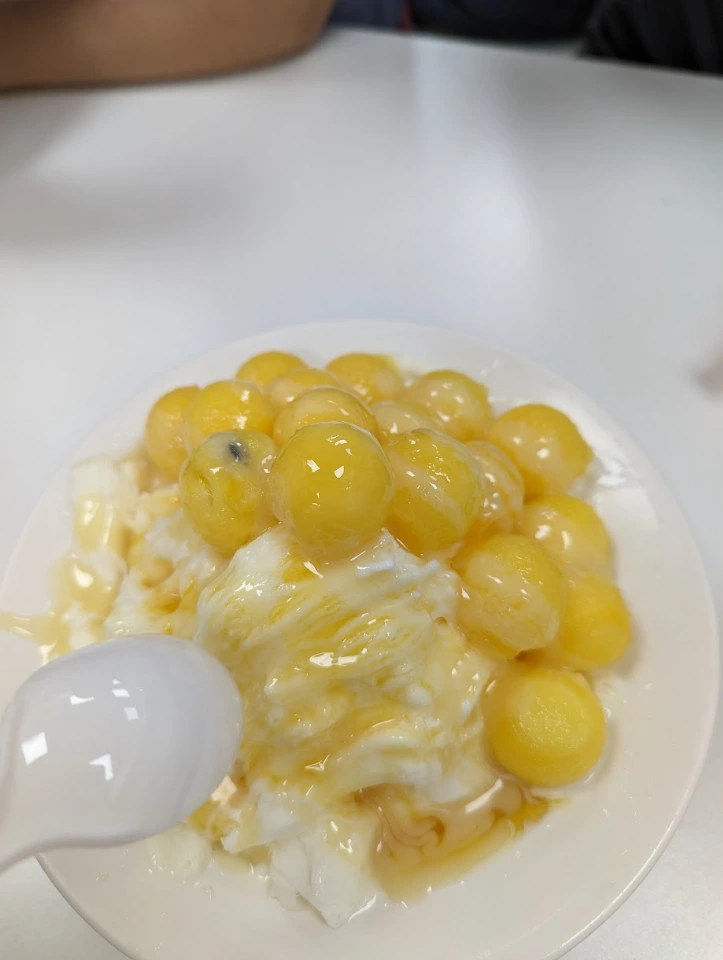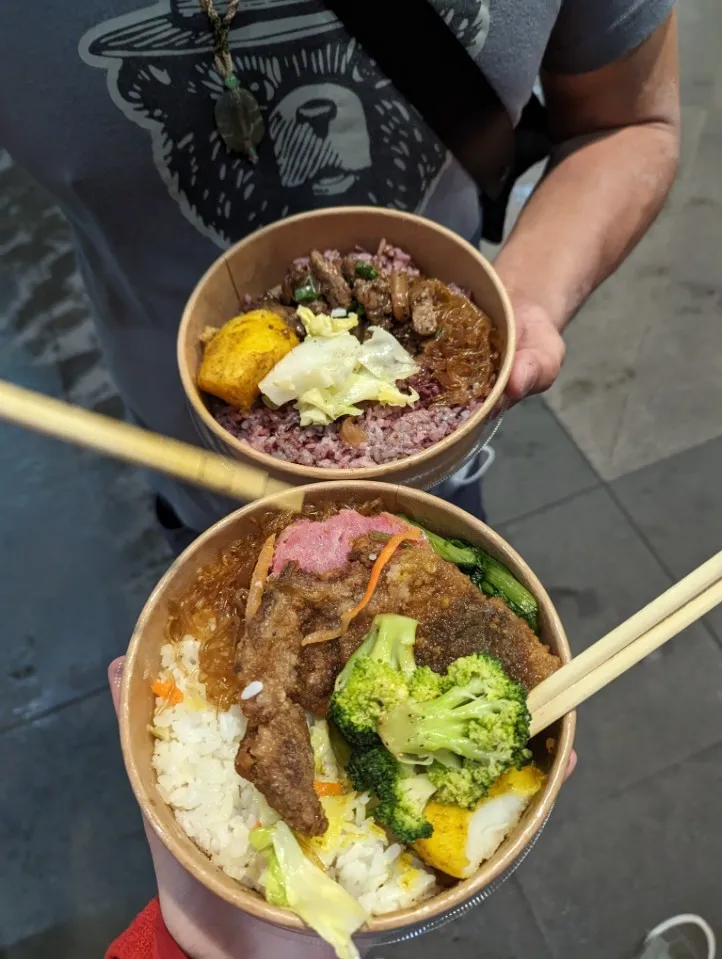 Day 13: Taipei (台北) Jade and Flower Market, Taipei 101, Shopping
Shopping and sightseeing.
Our final full day in Taiwan started with a stroll through the weekend Jade and Flower Market. This market is only open on weekend mornings so be sure to plan accordingly. From there, we spent the day exploring the various sights around the city including the Sun Yat-Sen Memorial hall and Taipei 101. The ride up to the observation deck in Taipei 101 is worth the price of admission to get panoramic views of Taipei. There are also plenty of Insta worthy setups for taking pictures. The vibe is really amazing up there! Grab dinner in the basement food court before heading out. The area around Taipei 101 is filled to the brim with high end shopping and is just a bustling place. Even at 9:30 PM on a Sunday evening, there was no sign of closing down! There's live music and food trucks as well in the plazas around Taipei 101.
Visit
Jianguo Jade and Flower Market
This is a weekend fixture that everyone should visit. If this day of your trip doesn't land on a weekend, shift it around so you can visit this place!
Taipei 101
For the best views, visit at night. The ride up to the top is pricey but worth it! The plaza outside of 101 is alive at night with plenty of music performers.
Sun Yat Sen Memorial
Walk here from the hotel on your way to Taipei 101. There are often live music performers and of course, the museum itself.
Jinmian Mountain Hiking Trail 金面山親山步道
https://goo.gl/maps/bhMpns2zcp3gtnDD9
Eat
永和豆漿大王 Breakfast Place
Delicious, fresh, handmade breakfast foods at a great price.
Transit
Sun Yat Sen Memorial → Taipei 101
Estimated 13 minutes by walking
Photos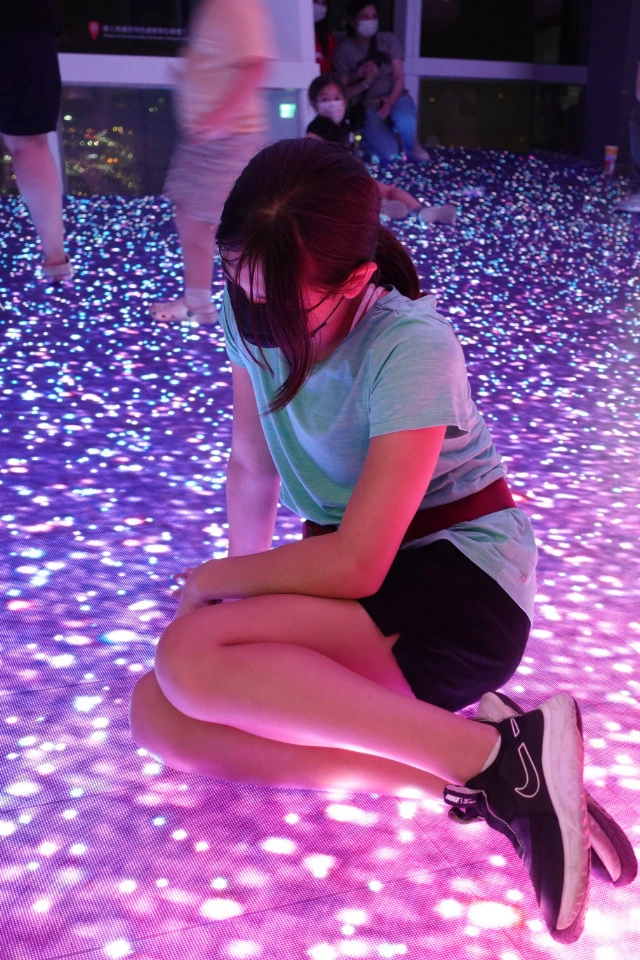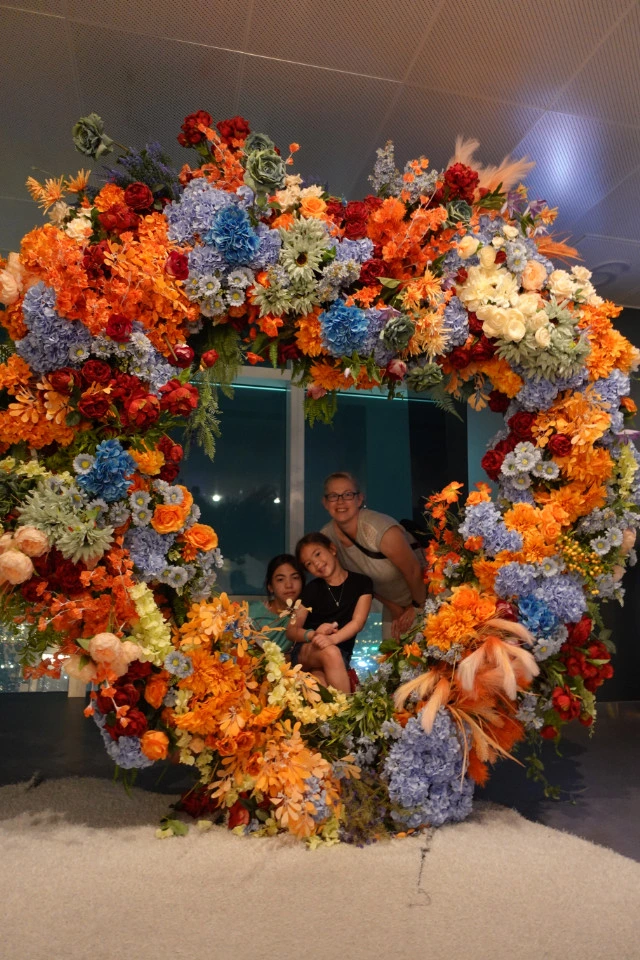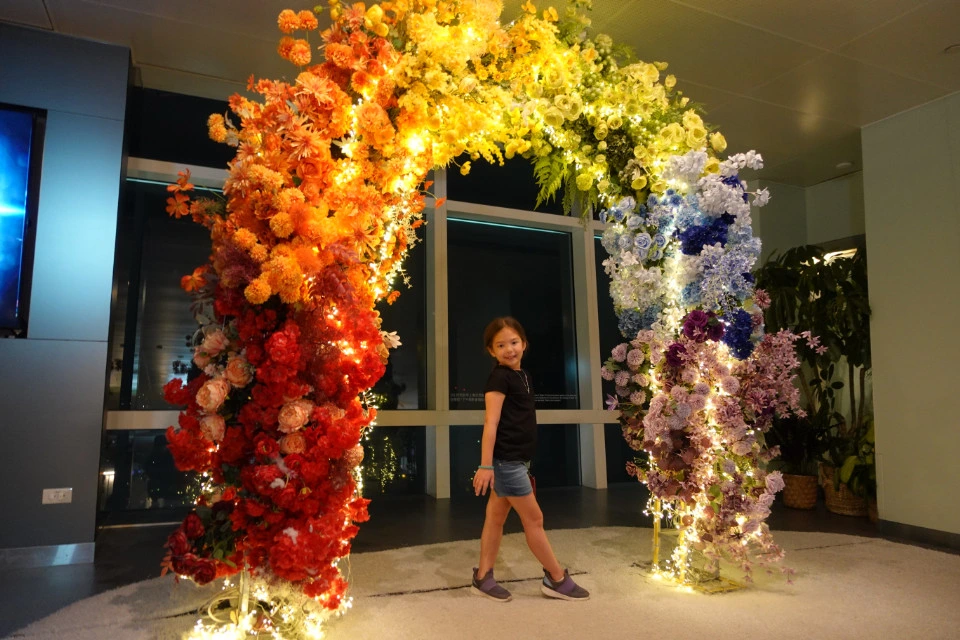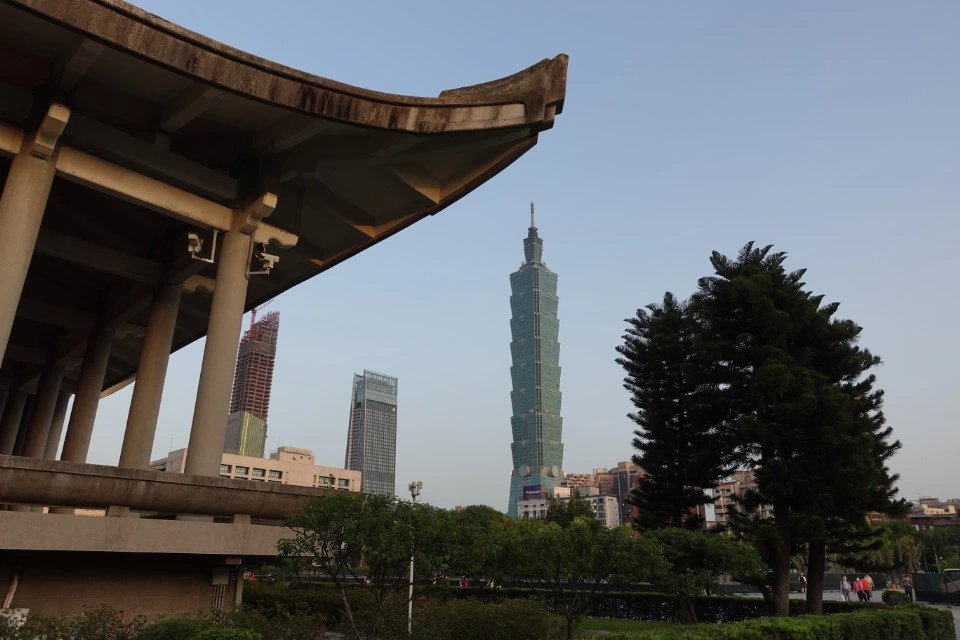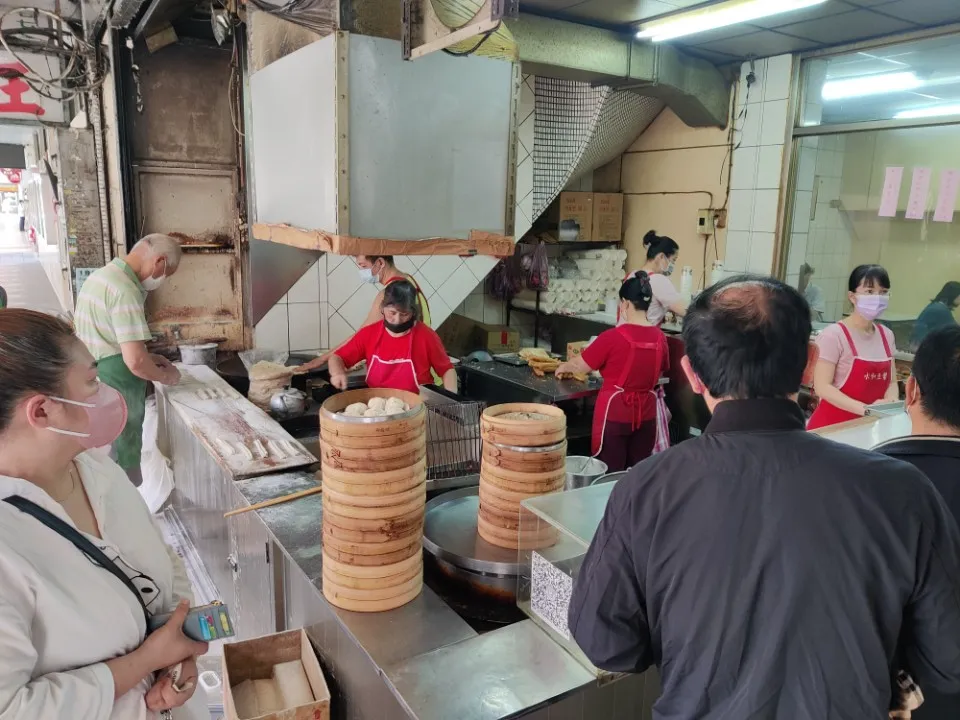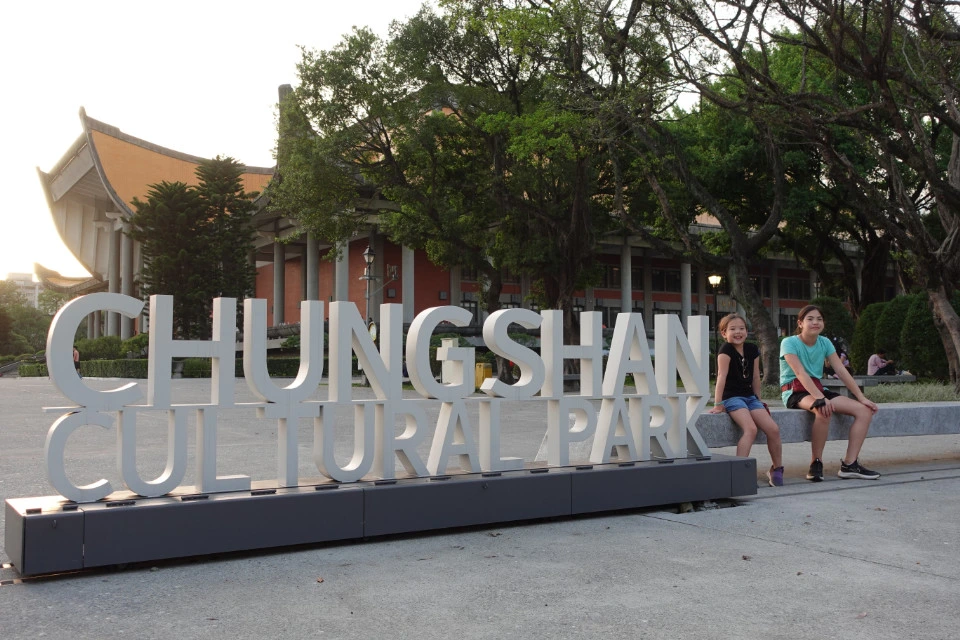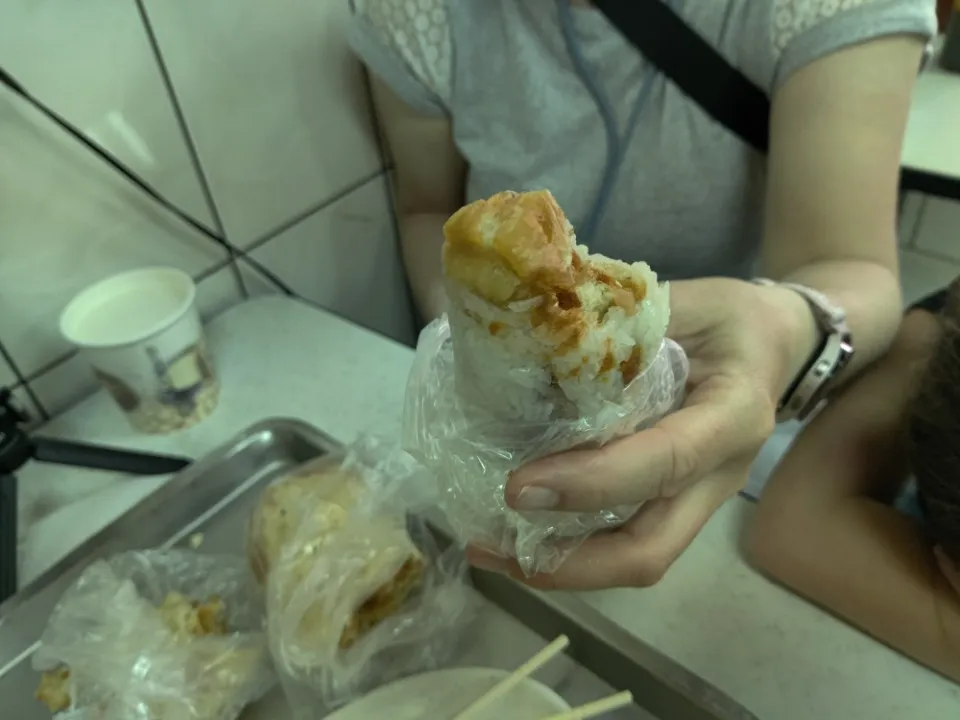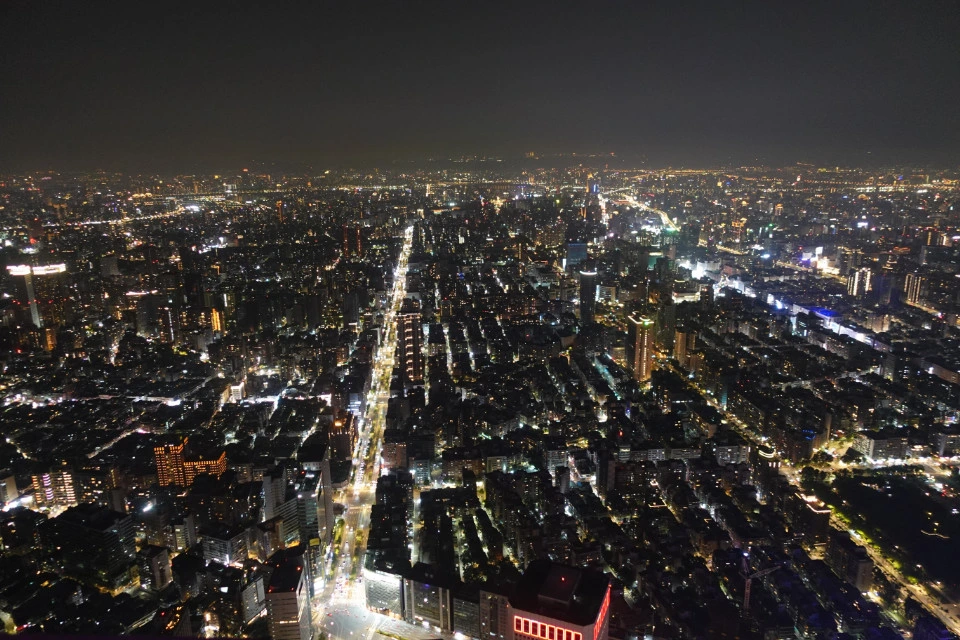 Day 14: Taipei (台北), Return Home @ 7 PM
Hiking and departure
A 7 PM flight to JFK means that you'll have a very solid half day to explore the city. Xiangshan is at the end of the red line so we left our luggage at the hotel counter and headed out for a hike. After exiting the MRT station, walk south through the park and then uphill along the road at the end to the entrance (ask a local if you get lost). The hike isn't easy! It's stairs, stairs, and more stairs! Pack water and a snack before heading up. The views from the various observation decks are astounding and worth the effort! It's a great way to cap your visit to Taipei before heading back to TPE. No matter what you do during your last day, you'll need to transport back to Taipei Main Station where you'll take the Taoyuan MRT line to TPE. Be sure to catch the express train as the commuter train takes longer. Plan to depart from Taipei Main Station no later than 3 PM to give yourself time to get into the airport and check in.
Visit
Xiangshan, Taipei
This is a great day hike for an abbreviated day. It's at the end of the red line and you walk through the park to get to the start of the trail. It's not an easy hike! In warmer months, be sure to bring water and snacks as it's stairs all the ways up!
Transit
Flight from TPE
7 PM flight; need to arrive at airport around 4 PM?
Taipei Main Station to TPE
No matter where you are in Taipei, you'll need to transfer at Taipei Main Station to the TPE Taoyuan MRT line. Follow the signs and look for the big purple passageway which leads to the Taoyuan MRT line. It can take over an hour if you end up on the commuter line so be prepared. The JFK flight (BR32) leaves at 7 PM, but you'll want to start transiting through Taipei Main Station by 3 PM the latest.
Photos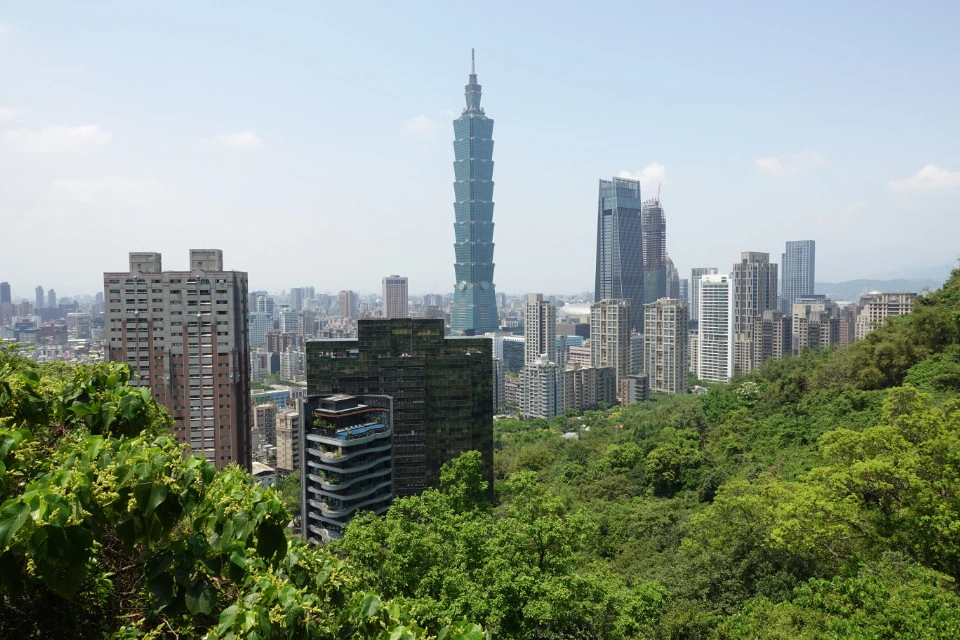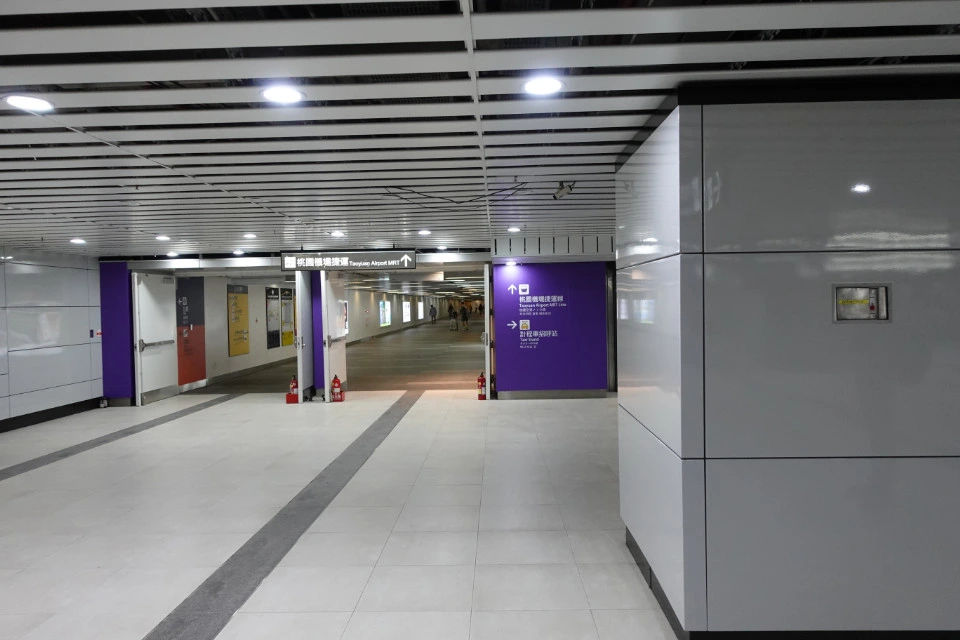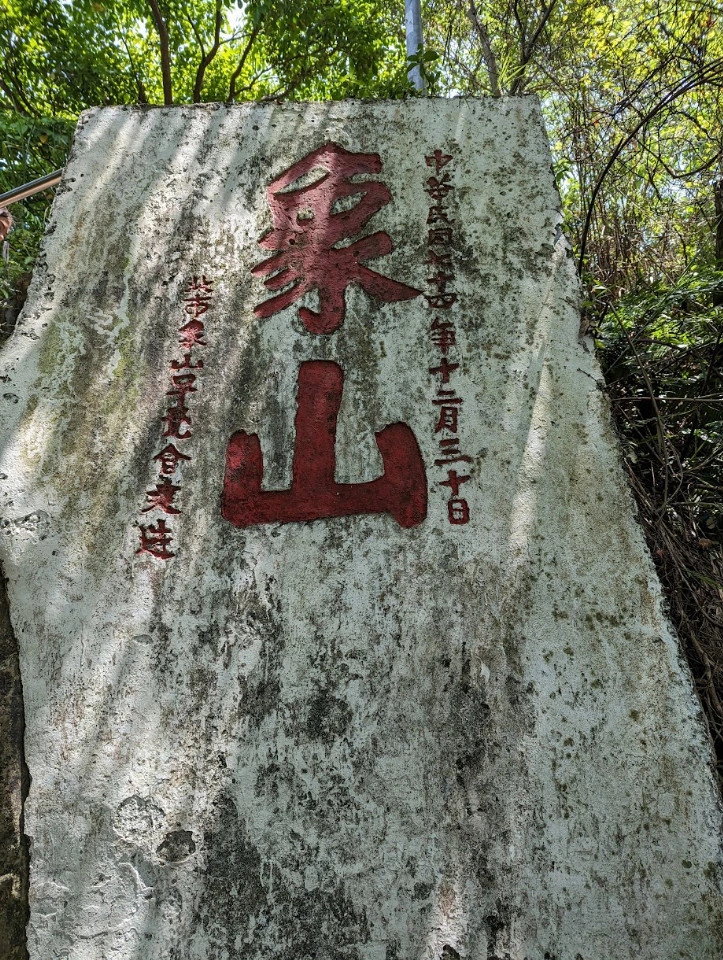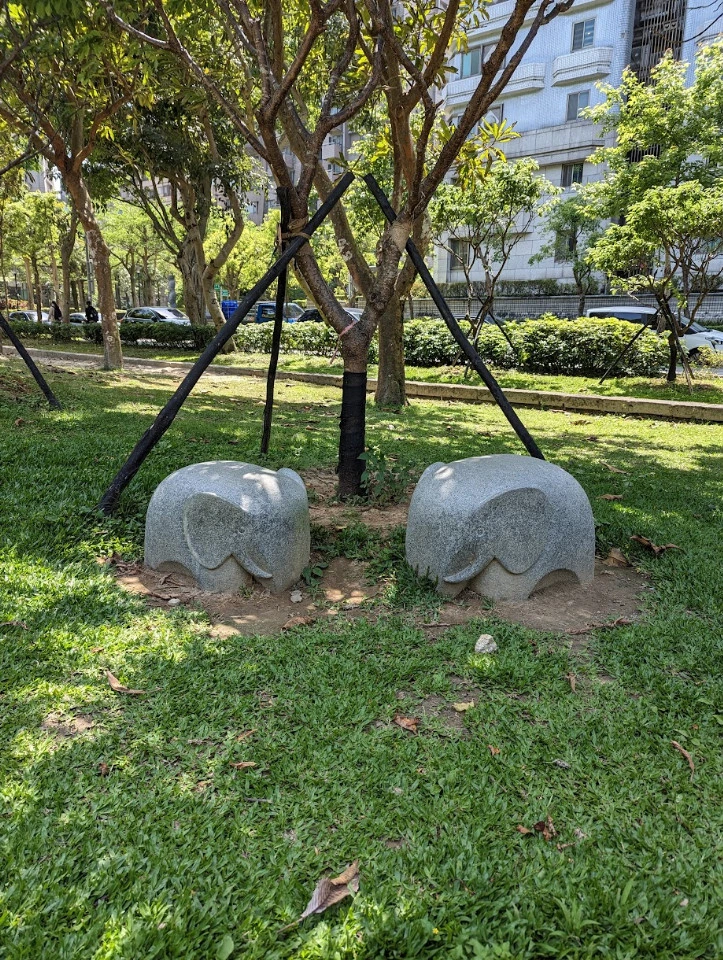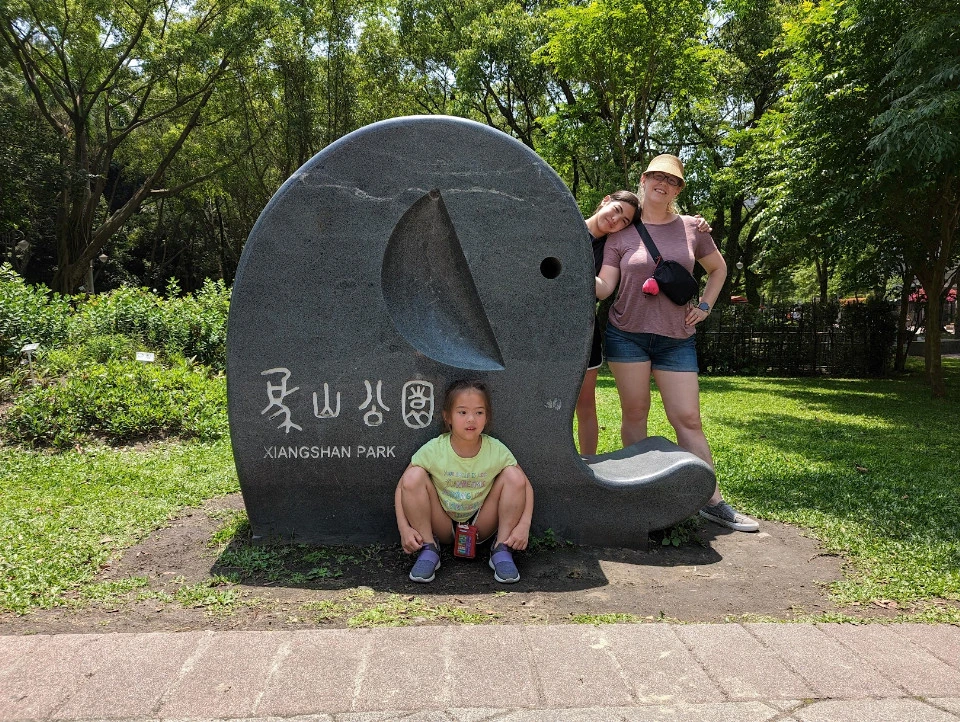 ---
Checklists
Checklist: Suggested packing list
Travel umbrellas if you have (or pick up as needed) for sun and rain.
Packable day pack
Packable carry bag for shopping
Lightweight water bottle; plenty of places to refill water
Pack of hand sanitizing wipes, spritz bottle for alcohol.
Pack of tissues or napkins
Reusable utensils like chopsticks, spoons, forks; spork recommended as not all places will have forks/spoons available.
Large plastic bag for laundry
Packable towels for beach days. Microfiber towels work well.
Long sleeve swim tops and swim leggings for beach days and hiking.
First aid kit for hikes, beach days (coral is sharp!)
Checklist: Key phrases to practice
Hello! → 你好 → nǐ hǎo
How much does it cost? → 多少錢 → duōshǎo qián?
Thank you! → 謝謝 → xièxiè
Restroom → 洗手間 → xǐshǒujiān
MRT → 捷運 → Jié yùn (Mass Rapid Transit; light rail system in Taipei)
HSR → 高鐵 → gāotiě (High Speed Rail; high speed transit between cities in Taiwan)
One serving → 一份 → yī fèn (If a vendor asks you how many you want)
---
Notes
Most places in Taiwan use Line to communicate. Much of our trip was organized over Line with the different hotels and services.

Line has a built-in translation app. Check Google and Youtube for instructions on how to install.

All MRT stations have well maintained restrooms. If you need to use a restroom while out in public, your best bet in Taipei is to seek out an MRT station.

On Xiaoliuqiu, there are restrooms at all of the major tourist areas like the hikes.

In more remote areas, be prepared to use a restroom if you pass one (just in case)!

Reduce your packing load by planning for laundry during the trip. For a 12 day trip, this can mean packing for 4 days instead of 12 (if doing laundry 3 times).

Don't fret, though; you can always buy clothes as needed in Taiwan (very convenient).
---
FAQ
Do I need a visa to visit Taiwan?

US citizens do not require a visa to visit Taiwan. However, the maximum duration of the stay is limited to 90 days. For other countries, please check with your consulate.

Are COVID quarantine procedures still in place?

No. As of October 13, 2022, Taiwan ended all COVID-19 quarantine procedures which were previously required upon arrival. For the latest updates, please check with the Taiwan CDC: www.cdc.gov.tw

Should I rent a car when visiting Taiwan?

Taiwan's excellent public transportation system means that it's not necessary to rent a vehicle when visiting most metro areas. In Taipei, the MRT will provide easy access to the majority of the city and taxis are readily available. To reach more remote parts of Taiwan along the east coast, you should take the train or consider hiring a driver. More importantly, parking spaces in metro areas are sparse and expensive! I would recommend only renting a car to access more remote areas of Taiwan. Note that rental insurance in Taiwan doesn't work the same way as in the US; it only covers a limited amount of damage.

How much Mandarin should I know before visiting Taiwan?

In most metro areas, there are plenty of English speakers. All major signage includes multiple languages including English and Japanese. In tourist heavy areas like Jiufen and Xiaoliuqiu, most vendors will speak English. However, it's useful to pick up a few phrases!

Where do I throw away garbage in Taiwan?! There's no trash cans anywhere!

Taiwan generally does not have many public trash cans (yet the metros are very clean!). While you are out walking, you should hold on to your garbage until you find one (typically in a MRT station). I often re-use a bag to hold garbage and tuck it into the side of my backpack.

Is the street food safe to eat?

Yes! Taiwan is known for it's amazing night markets and abundant street food around every corner. I've visited Taiwan many times and have never had any gastrointestinal issues with the street food. Follow some basic common sense guidelines: sanitize or clean your hands before handling food, look for well traveled stalls where food hasn't been sitting too long, follow the lines -- locals will often favor specific vendors, and enjoy!

What's the best time of year to visit Taiwan?

The best time of year to visit Taiwan is definitely in the cooler spring and autumn seasons. Beginning in May, Taiwan's temperature and humidity will rise dramatically, making it quite uncomfortable to be outdoors! Additionally, the summer months also tend to have more rainfall. To make the most of your adventure, I strongly recommend visiting in months like April where the weather is still quite dry and mild. The waters off the coast are still warm enough to swim without a wet suit and you won't be dripping with sweat!
---
Summary: Taiwan
Taiwan is absolutely a magical place to visit.
Our trip focused on the variety of scenery in Taiwan. Whether you're more interested in beaches, mountain hiking, or culinary delights, Taiwan's density and ease of access makes it a great destination!
---
---