The Ultimate 10-Day Egypt Itinerary
Here's my 10-day Egypt itinerary!
Egypt is one of the most magical destinations I've ever visited. As a child, I think Egypt was probably the first place I put on my travel bucket list. Ancient Egyptian history has always fascinated me. And, I can now confirm that after traveling here it's more amazing than I could have ever imagined.
This is the best Egypt itinerary, in my humble option, that will take you from Cairo to some of the best ancient Egyptian sites and beyond!

See the original: https://www.theblondeabroad.com/ultimate-10-day-egypt-itinerary/
---
Days
Day 1: Arrive in Cairo
Use the first day in Cairo, Egypt to relax and get used to the time difference. After settling into your accommodations, you can head out and grab something to eat.
Day 2: Saqqara, the Pyramids of Giza, and the Great Sphinx
At the start of your second day, head to Saqqara to visit the Step Pyramid of Djoser, which is the oldest pyramid in Egypt! I recommend grabbing lunch at 9 Pyramids Lounge for great views of the pyramids. Then, finish your day of sightseeing at the Great Sphinx. Spend the rest of the day relaxing at your accommodation, then return to Giza for a camel ride at sunset!
Visit
Saqqara Necropolis
An Egyptian village in the markaz of Badrashin in the Giza Governorate, that contains ancient burial grounds of Egyptian royalty
Step Pyramid of Djoser
Oldest pyramid in Egypt
Giza Necropolis
The Giza complex closes at 2:00 pm at certain times of the year, so make sure that you get there with plenty of time to get pictures and see everything.
The Great Pyramid of Giza
The Great Pyramid of Giza is the largest Egyptian pyramid and served as the tomb of pharaoh Khufu, who ruled under the Fourth Dynasty of the Old Kingdom. https://www.theblondeabroad.com/how-to-get-amazing-photos-at-the-pyramids-of-giza/
Pyramid of Khafre
The middle of the three Ancient Egyptian Pyramids of Giza, the second tallest and second largest of the group.
Pyramid of Menkaure
The smallest of the three main pyramids of the Giza pyramid complex
Great Sphinx of Giza
Archaeological evidence suggests that it was created by ancient Egyptians of the Old Kingdom during 2558–2532 BC!
Camel Ride
Enjoy a camel ride at Giza Pyramids for 2 hours during the sun set. Mount a camel and ride it through the desert to the base of the Great Pyramid.
Photos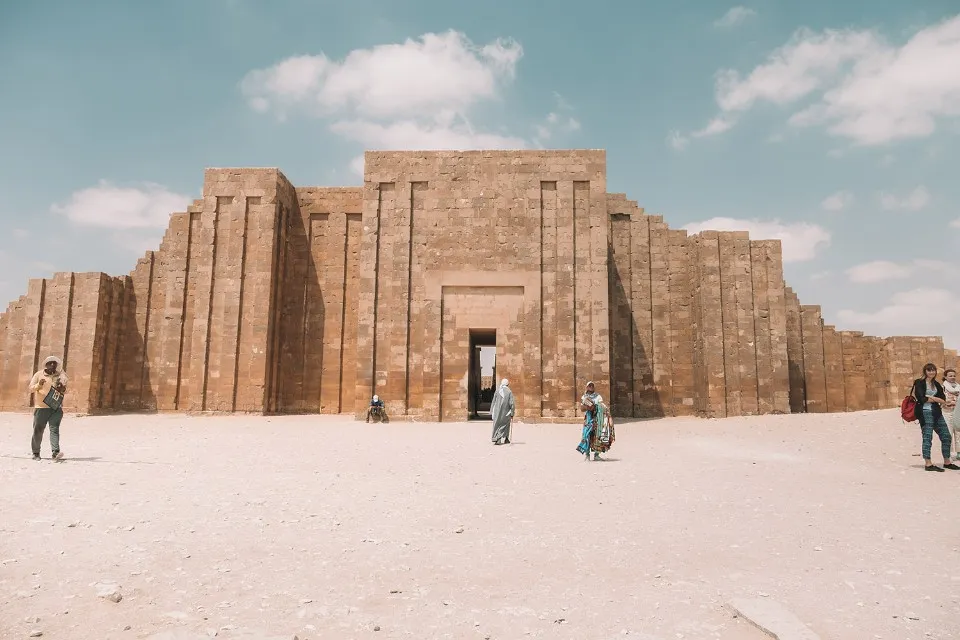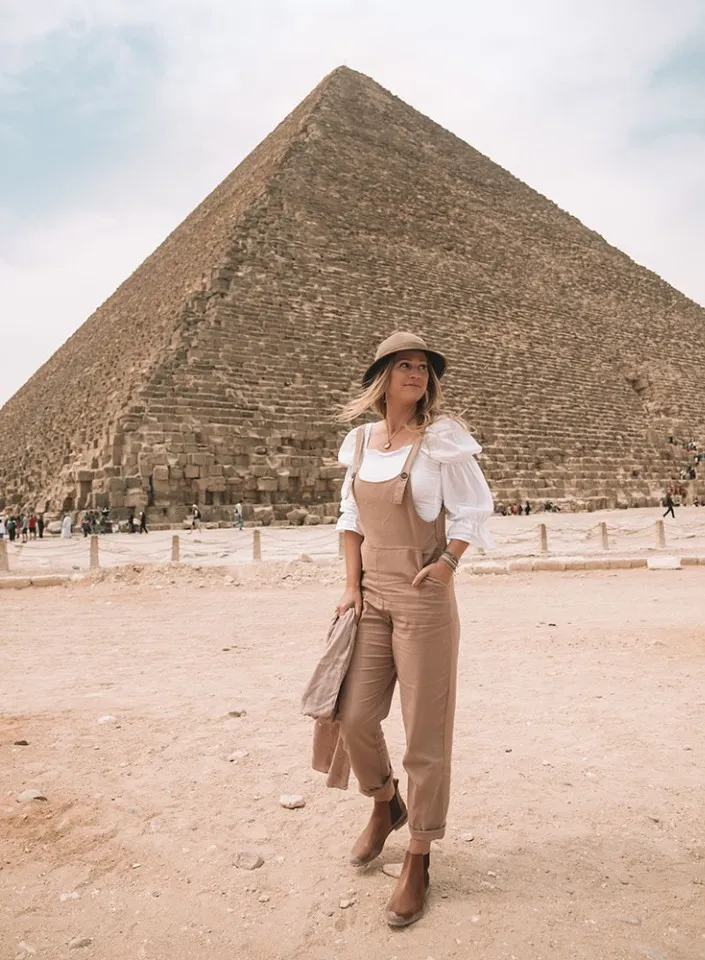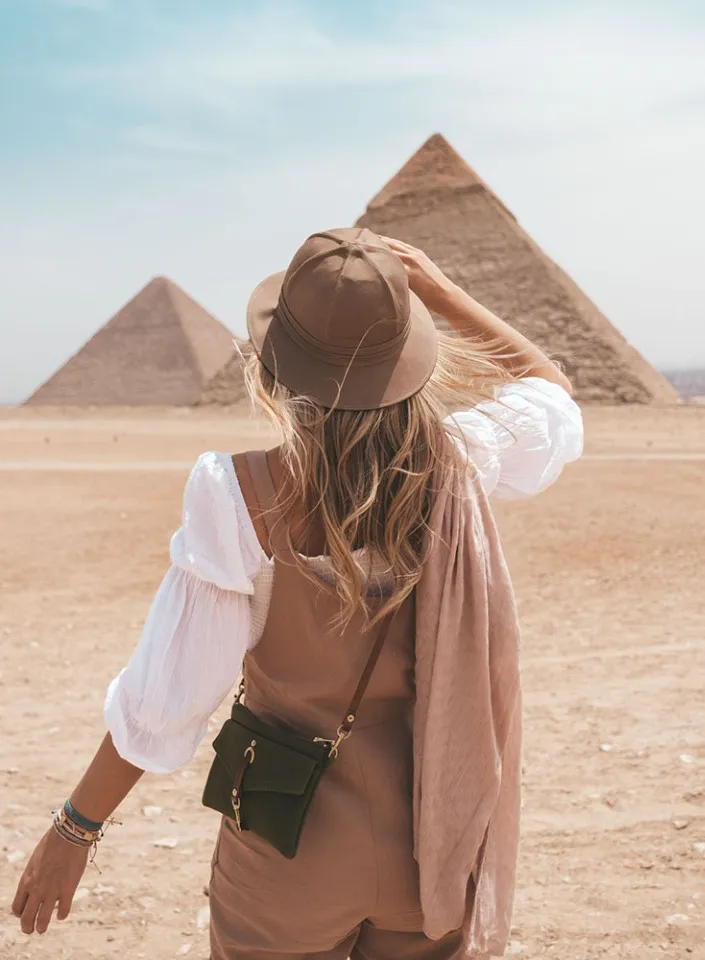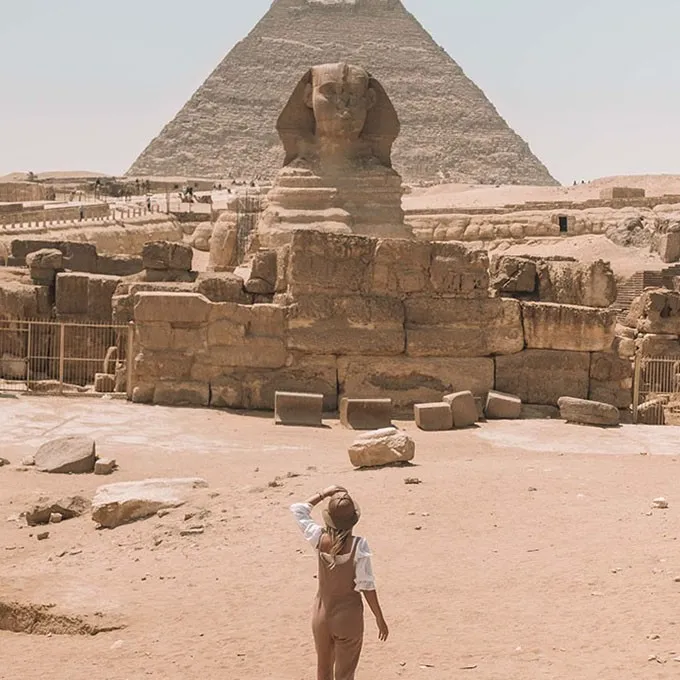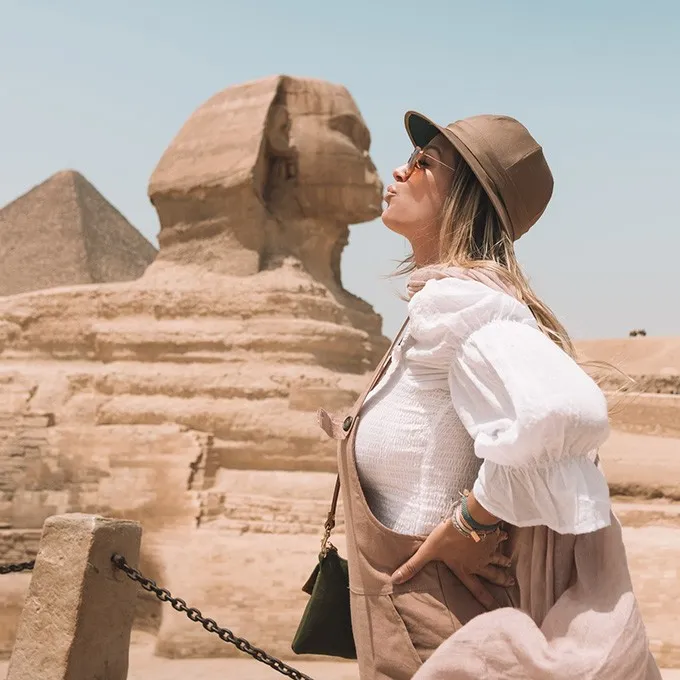 Day 3: Museums and Mosque of Muhammad Ali
Start the day by either visiting The Museum of Egyptian Antiquities. The Grand Egyptian Museum is slated to open in November of 2022 and will replace the smaller Museum of Egyptian Antiquities. After getting your fill of history at the museum, enjoy lunch in Al Hazar Park before going to the Citadel of Salah El-Din. Al Hazar Park is one of the best spots in the city for a panoramic view of Cairo. If you have time in the evening, try to get back to this area for an amazing sunset. Enjoy the rest of the day exploring Cairo before heading back to your Cairo accommodations.
Visit
Museum of Egyptian Antiquities
This museum houses many Egyptian antiques and treasures, including those from King Tutankhamun.
Salah Al-Din Al-Ayoubi Citadel
While visiting the Citadel of Salah El-Din, be sure to check out the Mosque of Muhammad Ali which is inside the Citadel complex.
Mosque of Muhammad Ali
The Great Mosque of Muhammad Ali Pasha or Alabaster Mosque is a mosque situated in the Citadel of Cairo in Egypt and was commissioned by Muhammad Ali Pasha between 1830 and 1848.
Photos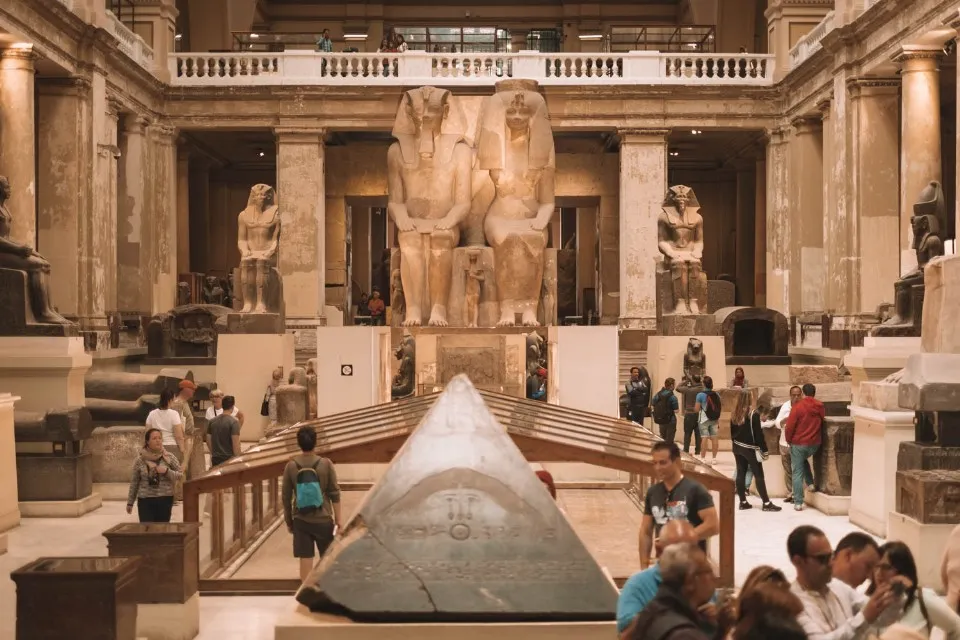 Day 4: Abu Simbel and Aswan
If you would like to visit Abu Simbel, one of the most picturesque complexes in all of Egypt, you can fly there by connecting in Aswan. I would highly recommend opting for the flight, but keep in mind flights are limited, so be sure to book well in advance.
Visit
Abu Simbel Temples
Visitors can tour the magnificent Abu Simbel complex and learn about how the temple was moved to higher ground. I'd recommend watching this fascinating Abu Simbel documentary by UNESCO on how it was moved! https://www.youtube.com/watch?v=OhtMtoex2uA
Stay
Old Cataract Hotel
https://www.booking.com/hotel/eg/sohitel-legend-old-cataract.en.html?aid=2180862&no_rooms=1&group_adults=2
Transit
Connecting flight to Abu Simbel
Keep in mind flights are limited, so be sure to book well in advance.
Fly to Aswan

Photos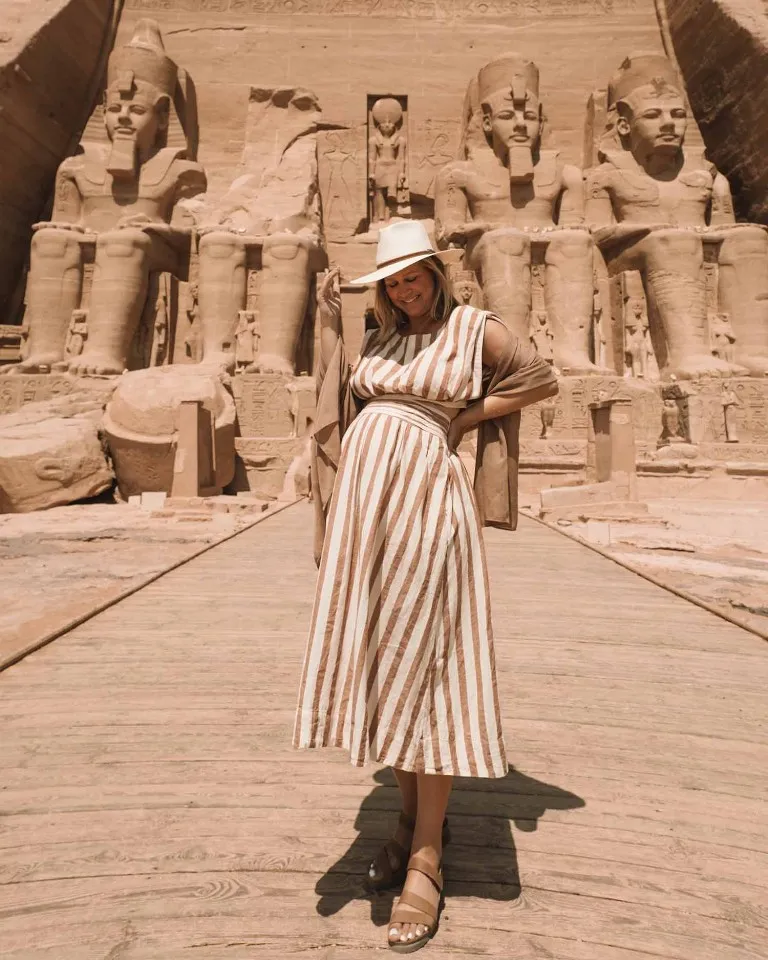 Day 5: Board a Nile Cruise
Before you board your Nile cruise, go on a felucca ride in Aswan. Feluccas are ancient Egyptian boats that are normally made from wood and have a canvas sail. There are a lot of Nile Cruises, so explore what works for your budget and the number of nights you want to sail. I will discuss a typical itinerary for a 3-night cruise! Visitors will take a short motorboat ride to visit the romantic and majestic Philae Temple on the Island of Agilika. After, you will visit the Granite Quarries, which supplied the ancient Egyptians with most of the hard stone used in pyramids and temples and still hold a huge unfinished obelisk.
Visit
Felucca Ride
You should see the feluccas sailing from the hotel.
Phile Temple
This complex was created for the goddess Isis and includes Egyptian, Greek, and Roman aspects.
Unfinished Obelisk
The unfinished obelisk is the largest known ancient obelisk.
Stay
Nile Cruise
https://nilecruisers.com/movenpick-sunray/?68/
Photos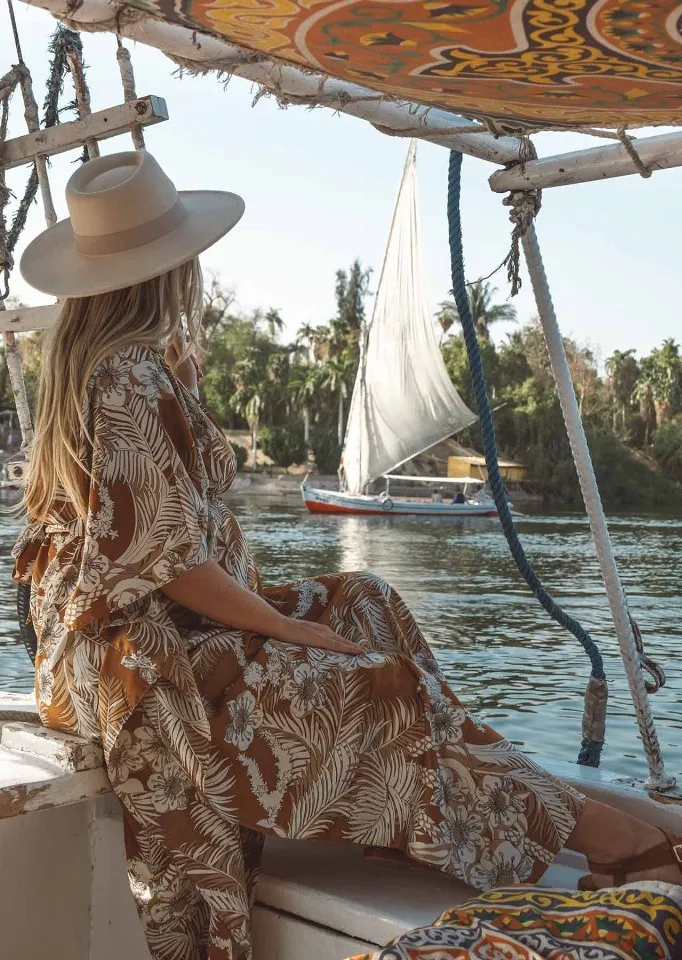 Day 6: Visit Kom Ombo and Edfu Temple
On the second day of your Nile Cruise, you will disembark and explore the Kom Ombo temple, which was dedicated to the gods Sobek, the crocodile god, and Haroeris, the sun god. After Kom Ombo, board the cruise to head sail the 2 hours to Edfu. Once there, visitors can explore the Temple of Edfu. Edfu is one of the best-preserved temples in Egypt and is dedicated to the god Horus. End the evening back on the Nile Cruise for dinner.
Visit
Kom Ombo Temple
This unique historical site features a crocodile museum where you can see mummified crocodiles!
Temple of Edfu
Edfu is one of the best-preserved temples in Egypt and is dedicated to the god Horus.
Eat
Dinner on the Nile Cruise

Photos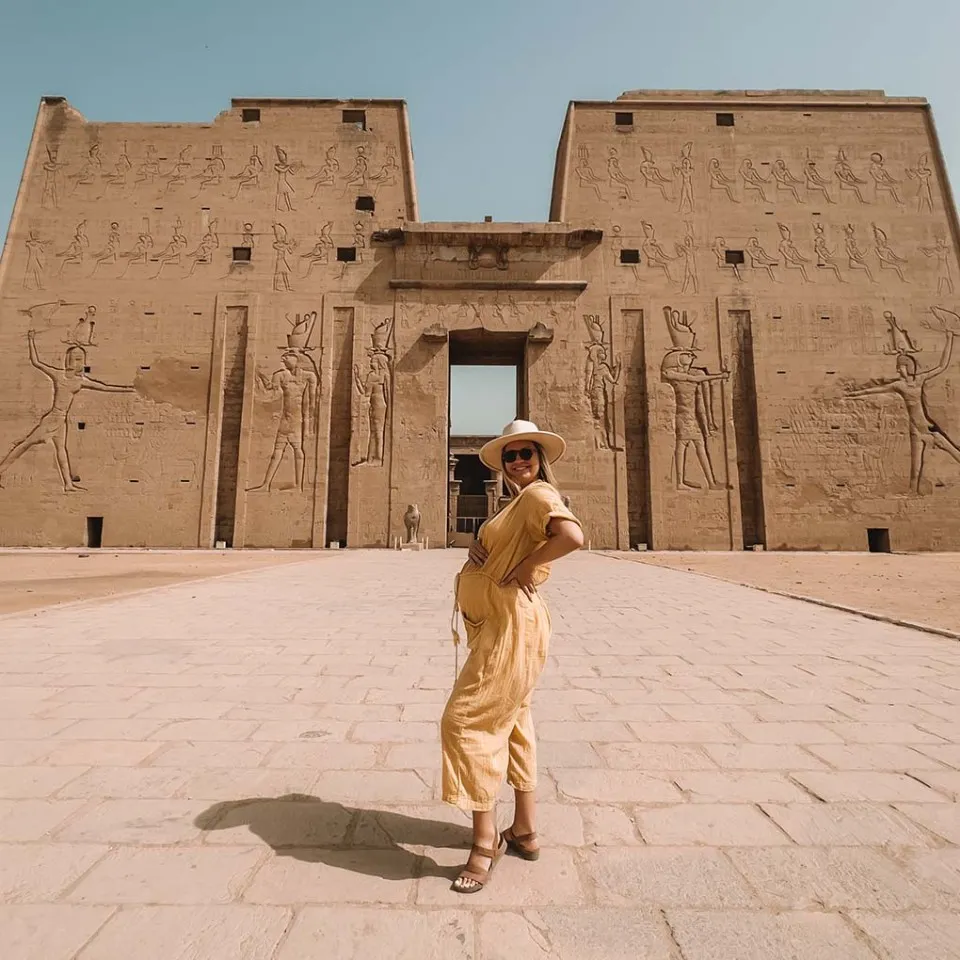 Day 7: Luxor's East and West Bank
Luxor's West Bank is where you'll visit mortuary temples dedicated to the dead (where the sun sets) whereas the East bank is where ancient Egyptians lived (where the sun rises). There are a number of tombs in the Valley of the Kings—some tombs you can pay extra to see like King Tut's tomb. In the Valley of the Queens, you definitely will want to visit the Tomb of Queen Hatshepsut. In the afternoon, you'll visit the Temple of Karnak, the largest temple complex in Egypt. This was one of my favorite sites during all of our travels through Egypt! The Great Hypostyle Hall at Karnak features 134 inscribed columns—it's truly something to marvel at!
Visit
Valley of the Kings
There are a number of tombs in the Valley of the Kings—some tombs you can pay extra to see like King Tut's tomb.
Valley of the Queens
In the Valley of the Queens, you definitely will want to visit the Tomb of Queen Hatshepsut.
QV66 Tomb of Nefertari
Known for being one of the most incredible ones to visit. It's about $100 to go in, but I've heard it's worth it.
Colossi of Memnon
The Colossi of Memnon are two massive stone statues of the Pharaoh Amenhotep III.
Karnak
The largest temple complex in Egypt.
Luxor Temple
I'd recommend waiting to visit the final site, Luxor Temple, until after the sun goes down. It's a unique experience to see it after dark and all lit up!
Photos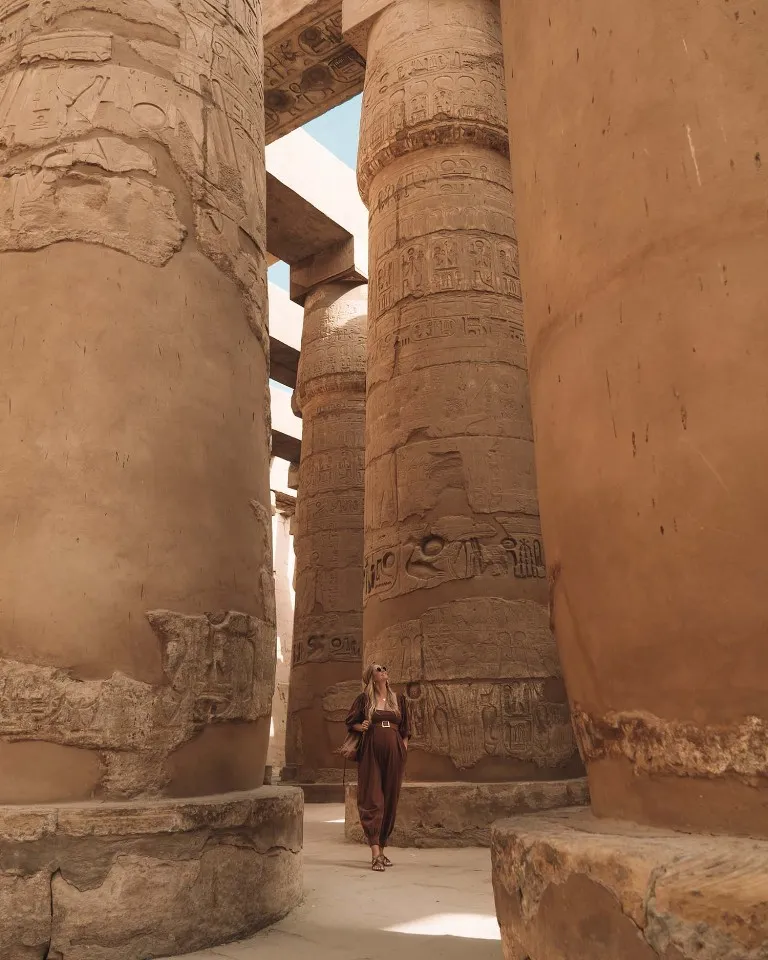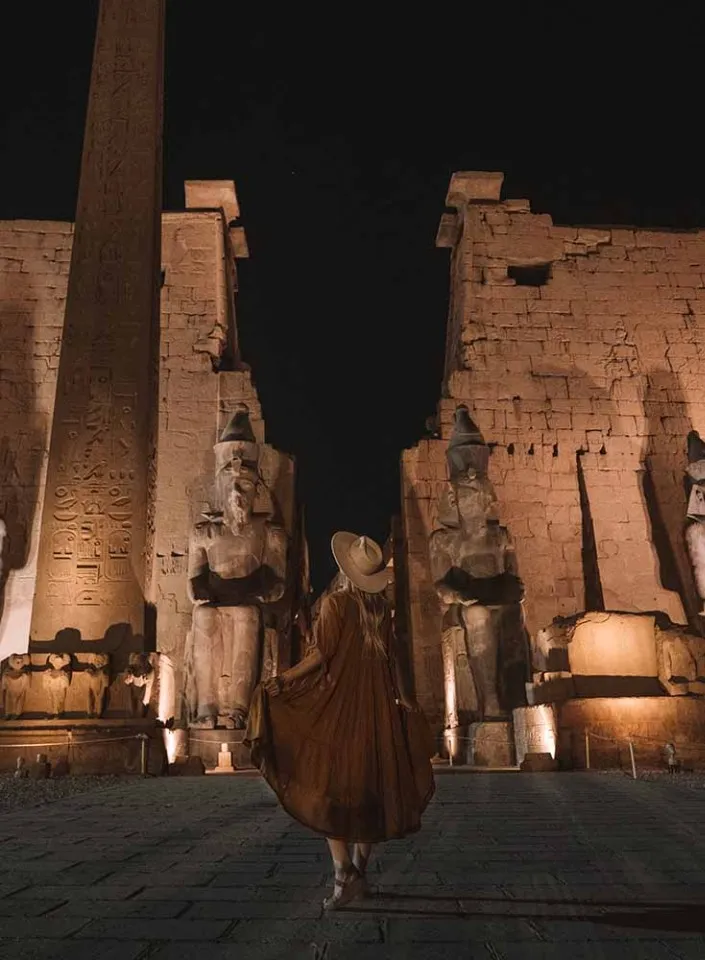 Day 8: Sunrise Hot Air Balloon Ride over Luxor
Rise early and start your morning with a sunrise hot air balloon ride over Luxor. This is a once-in-a-lifetime opportunity and one I highly recommend. Make sure that you book this well in advance. Head back to the Nile Cruise to check out. Drive to El Gouna by bus to your Red Sea resort. Luxor to El Gouna is about a 3.5-hour drive.
Visit
Hot Air Balloons Luxor
Make sure that you book this well in advance.
Transit
Head back to the Nile Cruise to check out

Bus ride to El Gouna (3.5hrs)

Photos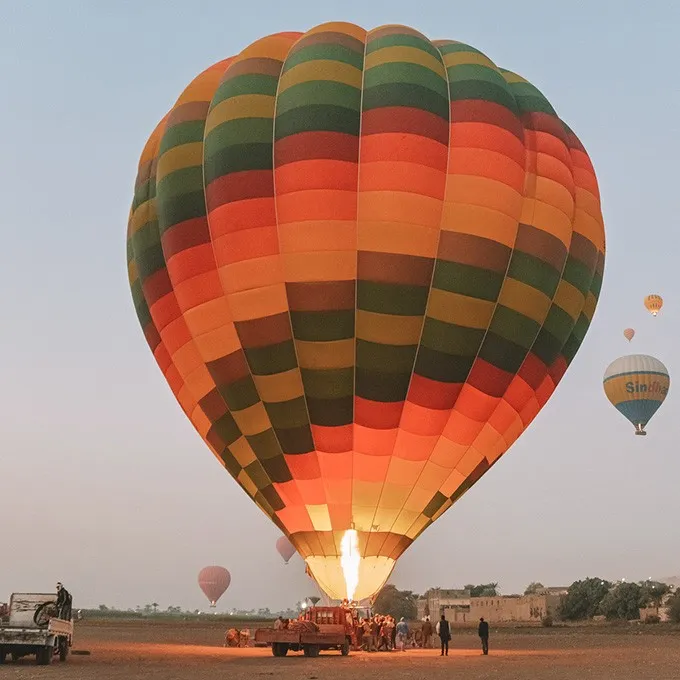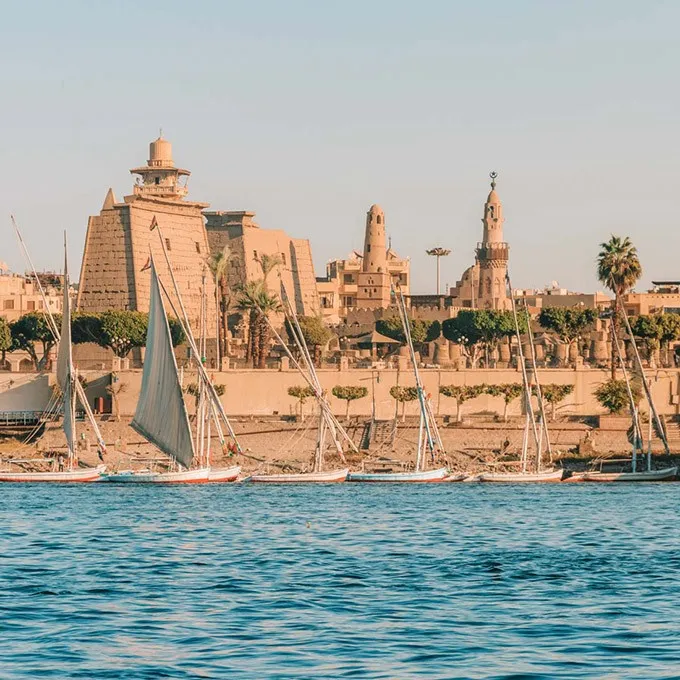 Day 9: El Gouna
El Gouna is known for its amazing kitesurfing. That said, expect windy weather! El Gouna is a very unique part of Egypt and will feel very different from everywhere you've visited until this point. It's essentially a gated resort town where Tuk Tuk is the main mode of transport. You'll find more "Western" restaurants here and the entire town is very safe and easy to navigate. El Gouna sits on the Red Sea where some of the best underwater sites are—snorkeling or scuba diving is a must! Head to the beach, lounge by your hotel pool, or try your luck at kitesurfing.
Visit
Enjoy the Beach
There are a variety of options such as snorkeling and scuba diving.
Photos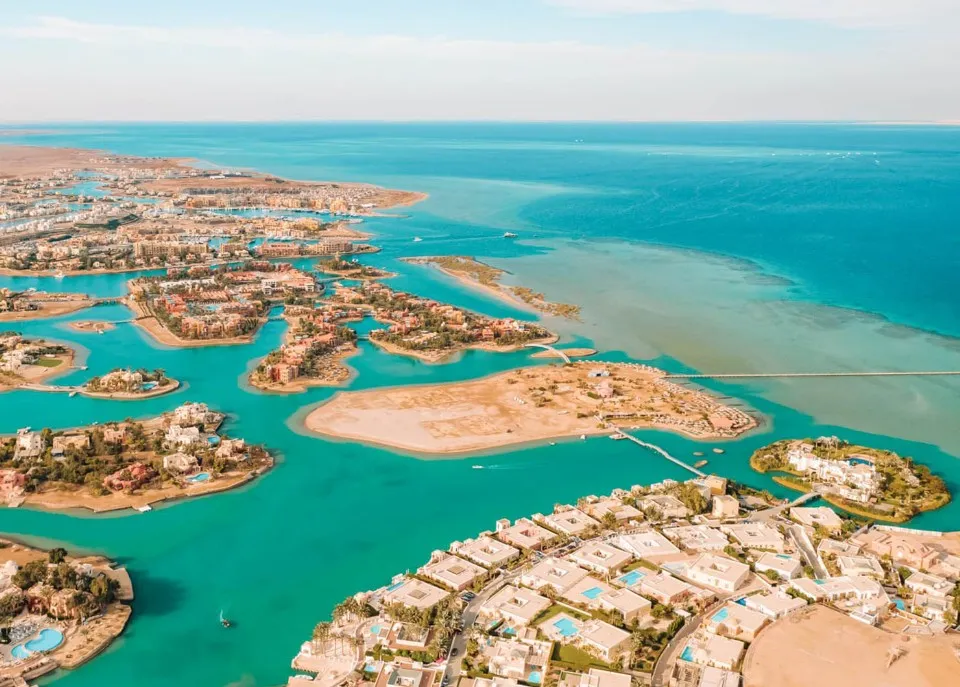 Day 10: El Gouna to Cairo
The closest airport to El Gouna is in Hurghada (approximately a 30-minute drive). Spend your last day in Cairo wandering around the captivating Khan El-Khalili Bazaar, which is said to be the largest bazaar in the Middle East.
Visit
Khan El Khalili Bazaar
Largest bazaar in the Middle East.
Transit
Hurghada International Airport → Cairo International Airport (CAI)
Hurghada International Airport → Cairo International Airport (CAI)
Fly Home!

Photos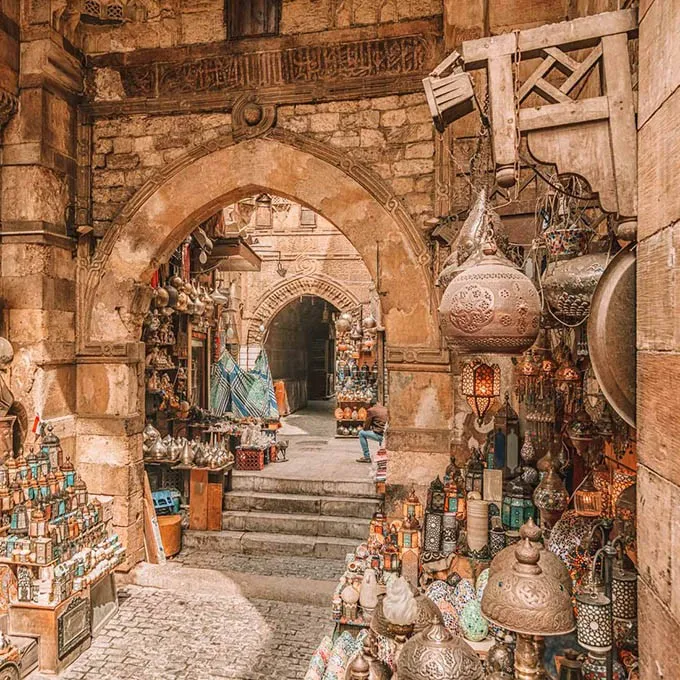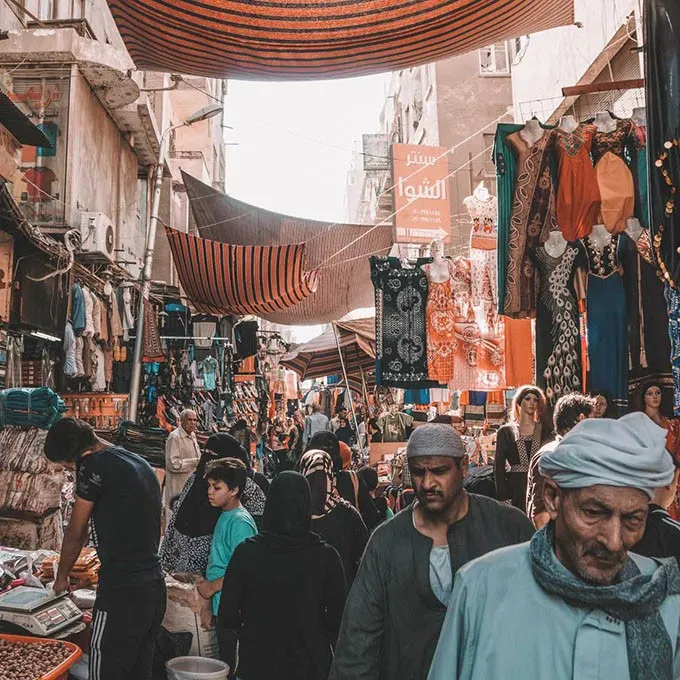 ---
Checklists
Checklist: Items you should pack to stay cool
Cooling Towels: these are an absolute life saver and you don't need to use cold water! It can be any temperature and it will get cool and provide a lot of relief.
Footwear: I tend to overheat when I'm in shoes like sneakers, though some people prefer to wear shoes because it's uncomfortable for them to spend long days in sandals. That said, if you don't have much experience in hot weather, plan for both — as in bringing sandals and other shoes.
Hats: Hats are a saving grace in an area that doesn't have much shade. Do be mindful that it can get sweaty under your cap, though.
Personal Fan: Sometimes I feel so silly for carrying this around but when you're somewhere so hot that you're about to lose it, you don't care as long as you can find relief.
Small Packable Umbrella: Bring your own shade, especially if you're traveling somewhere very exposed like Egypt, and visiting historical places without shade.
---
---
FAQ
What to Wear in Egypt as a Female Traveler

Opt for garments that come below the knee, keep your shoulders covered, and the looser your clothing, the better. Long jumpsuits that are made of breathable materials are a fantastic option in Egypt. And for a bit of fun, rocking a pair of overalls with a breezy shirt underneath is a really fun ensemble. When it comes to pairing shirts with skirts, find lightweight fabrics like linen or cotton that will let air flow through. The sticky sweat is real here!

What is the best Time to Travel to Egypt?

Springtime in Egypt is one of the most popular times to visit. The weather is warmer but it's still quite pleasant. April and May are also considered to be the best months to enjoy the Red Sea for diving, swimming, and soaking up the Egyptian sun. Much like spring, fall in Egypt brings cooler temperatures and affordable prices. Though it's still warm out, the sea breeze picks up, making it much more bearable. The Mediterranean Sea is still warm yet uncrowded so beach conditions are ideal. During September, Wafaa Al Nil—the ancient festival devoted to the Nile River—is celebrated. The festival is filled with art competitions, poetry readings, concerts, and scientific discussions about health and pollution. Winter is the peak season for tourism in Egypt. Because the weather has cooled, tourists flock to the ancient sites, making the lines longer and the hotel prices skyrocket. During Christmas and New Years, hotels and cruises raise their rates significantly.

Credit Cards & ATMs

In Egypt, you will find that the trendier clubs, bars, restaurants, shops, and hotels will take major debit and credit cards. Some shops will have a sign near their entrance that tells you whether or not they accept foreign cards. To be safe, it's always worth asking a cashier or waiter if cards are accepted before ordering or purchasing anything. If you're looking to carry some cash during your visit, you can find many ATMs throughout big cities like Cairo and Alexandria. They are less common in smaller cities and almost impossible to find in rural areas.

What type of electic plugs do I need for egypt?

In Egypt, the power plugs are type C and F. The standard voltage is 220 V, and the standard frequency is 50 Hz. I recommend buying a universal adapter (make sure it has surge protection) and using a converter for hairdryers and hot tools.

How safe is it to travel Egypt as a solo female?

After the revolution of 2011, tourism drastically dropped in Egypt. However, In recent years, the political situation in Egypt has stabilized, bringing higher tourism rates. Overall, it is a safe country, but there are a few things to keep in mind. Safety depends on where you're visiting. The northern half of Sinai is unstable, so it is best to avoid it. If visiting the pyramids or other large tourist attractions, play it safe by taking a tour or hiring a private guide as I did. Check out my tips for your first trip to Egypt before traveling!
---
More from
The Blonde Abroad
Hi, I'm Kiki, a California native, who left my career in corporate wealth management in 2011 to embark on a summer of soul-searching that would change the course of my life forever.
The Blonde Abroad's Turas.app profile
Follow and discover more.
---